Gotta be the shoes: Leyland recalls '63 signing
Gotta be the shoes: Leyland recalls '63 signing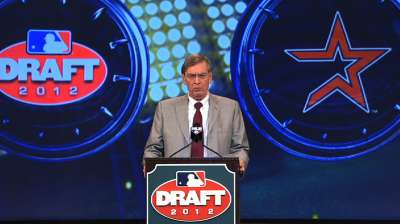 DETROIT -- Tigers manager Jim Leyland readily admits to knowing little about this year's First-Year Player Draft. He's the manager of the current team, concerned about right now, not part of the front office worried about many years into the future.
But the 68-year-old skipper shares the same experience with some of the kids who will be drafted Thursday, in that he understands how big a day it is for them.
It's a momentous occasion in their lives, from Thursday's first- and second-round Draft picks, to the ones drafted in the later rounds later this weekend. Leyland remembers going through it in 1963, when the Tigers signed him as a catcher.
"Well, I was at home," Leyland recalled, "I signed for nothing, no bonus, with $400 a month. I thought I was the richest son of a [gun] you ever saw in your life."
As far as what he bought with that first paycheck: Florsheim Wingtips -- a pair of dress shoes.
"They were expensive. That was a big thing," Leyland said. "I was so proud of them, but I couldn't get the shirt and pants, because I had to save for those. I think I had to wait two paychecks to save up. But I got them and when I took them home at the end of the season, I thought I was hot [stuff]."
Anthony Odoardi is a contributor to MLB.com. This story was not subject to the approval of Major League Baseball or its clubs.