Astros take Houston native Appel with top pick
Astros take Houston native Appel with top pick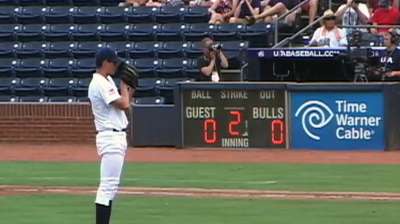 HOUSTON -- The Astros had two years to do a vast amount of homework on Stanford pitcher Mark Appel, whom the club considered taking with the top overall pick last year. They've scouted him numerous times, met with his family, talked to his advisors and knew pretty much all there is to know about him.
They were impressed with the strides Appel made in his smooth delivery and how much his stuff improved from his junior season, they were awed by his makeup and work ethic, and they were confident he would be a key piece to their pitching rotation for years to come.
The Astros tabbed Appel, a Houston native who cheered the Astros as a kid, with the top pick in Thursday's First-Year Player Draft and are confident they'll be able to sign him. The Pirates took Appel No. 8 overall last year and he choose to go back to Stanford for his senior season.
"It's incredibly special", said Appel about being drafted by the Astros. "We're a tight family. Both my parents were born [in Houston] and raised there, and I lived there for 12 years before moving to California. All my family lives there. It's very exciting. "
Astros general manager Jeff Luhnow said Appel fills several needs.
"He just checks all the boxes for us," Luhnow said. "We see him as a future ace and the type of player we need to be adding to the organization. He makes us better. He makes us significantly better."
The Astros added another starting pitcher with the first pick of the second round, taking UC-Irvine right-hander Andrew Thurman at No. 40 overall.
Houston wouldn't have selected Appel, who's represented by Scott Boras, if it wasn't confident it could sign him. The Astros can spend up to $11,698,800 on picks in the top 10 rounds, with the first pick getting an assigned slot value of $7,790,400. Luhnow expects Appel to be pitching in the Astros' system this summer.
"I'm very confident that Mark Appel is going to put on an Astros uniform," Luhnow said. "He's from here, he wants to play here, he's been selected first in the Draft. All the indicators are pointing in the same direction. I would assume it would be a fairly straightforward discussion and he'll sign sometime this summer and get out and start pitching in our Minor League system."
Boras sounded confident when speaking to MLB.com on Thursday that a deal could be reached. He said Astros owner Jim Crane was at his office last year to get to know the agent, and Boras said he has a good relationship with Luhnow, who selected a pair of his clients early last year -- pitcher Lance McCullers Jr. at No. 41 and fourth-round pick Rio Ruiz, an infielder.
"Jeff and I had a very good conversation about the process," Boras said. "We work well together. We're going to do our best to get this wrapped up."
Luhnow said Appel became the standard to which they measured other players they were scouting during the last year.
"We put up a handful of players against him and some got close, but nobody was able to get over the top," he said. "When our name was called, we were ready to make the pick."
The 6-foot-5 right-hander figures to have a chance to move quickly through the Astros' improving Minor League system considering he's 21 years old and about as polished of a college pitcher as you'll find. He's only nine months younger than Astros starting pitcher Jordan Lyles.
Still, the Astros, in the midst of rebuilding the club, feel no need to rush him, especially considering he already has a full college season under his belt this spring.
"We'll give him some time off, get him signed and get him out to the Minor Leagues," Luhnow said. "This is not a player we're going to rush to the big leagues. This is a player who's going to be here for a while. As good as Pac-10 baseball is, professional baseball is harder, and the Major Leagues is a lot harder. We'll have to let his performance dictate that. He certainly is a guy capable of moving quickly based on his experience, but we're not going to put a timetable on it."
Appel's decision to return to Stanford after being picked No. 8 overall by Pittsburgh last year, bypassing a $3.8 million bonus, has paid off. He was actually better than he was as a junior at Stanford, finishing 10-4 with a 2.12 ERA, a .203 batting average against, 130 strikeouts and just 23 walks in 106 1/3 innings this year.
"I don't think I necessarily had an end goal in mind when I turned down the Pirates' offer," said Appel. "My goals were to finish my degree, to become a better baseball player, a better person and better teammate. As far as that goes, I think I accomplished those things. No matter what happened in the Draft, I knew I had done everything that was in my control to put myself in the best situation possible."
Luhnow was impressed by how Appel's secondary pitches improved, with his changeup turning into a plus pitch. He said Appel had more confidence in his command and was more dominant. Scouting director Mike Elias said Appel made huge strides across the board.
"I think, in particular, he made adjustments to get more angle on his fastball, pitching from a slightly higher slot," Elias said. "It made his fastball have more downhill plane, allowed him to get some more ground balls and miss some more bats. He had great success with it and we're very happy to see that. His secondary stuff continued to develop. Plus, his slider was even better this year and his changeup improved. This is somebody who we're seeing year after year getting better."
If the Astros sign Appel, he'll join an impressive group of young arms in the Astros' system that includes Jarred Cosart, Mike Foltynewicz, Asher Wojciechowski, McCullers and Vincent Velasquez, among others.
Appel grew up in Houston before moving to California when he was 12 years old and frequently attended Astros games at the Astrodome as a youth. His father, Patrick Appel, is a lawyer for Chevron and lives in Houston when he's not traveling.
"It's a kid's dream to go first in the Draft and be selected by your hometown team," Luhnow said. "It doesn't get any better than that, and it's a great opportunity for us."
Appel said he has a lot of great memories of his time in Houston.
"I do remember going to a few games in the Astrodome," he said. "I even remember when Minute Maid Park opened and how great of a ballpark that is.
"I remember playing Little League baseball at Post Oak Little League and the great summers I had with a bunch of great friends. The friendships and memories I created while I was in Houston were great, and still even when I'm back to visit family, new memories have been created every single time."
Day 2 of the Draft continues with Rounds 3-10, streamed live on MLB.com on Friday, beginning with a preview show at 11:30 a.m. CT. And Rounds 11-40 will be streamed live on MLB.com on Saturday, starting at Noon.
MLB.com's coverage includes Draft Central, the Top 100 Draft Prospects list and Draft Tracker, a live interactive application that includes a searchable database of Draft-eligible players. You can also keep up to date by following @MLBDraft on Twitter. And get into the Draft conversation by tagging your tweets with #mlbdraft.
Brian McTaggart is a reporter for MLB.com and writes an MLBlog, Tag's Lines. Follow @brianmctaggart on Twitter. This story was not subject to the approval of Major League Baseball or its clubs.