Many rookies shining outside of the spotlight
Many rookies shining outside of the spotlight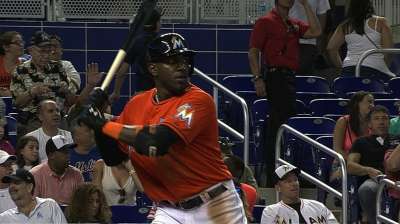 It's no secret that Dodgers phenom Yasiel Puig has made the most of his Major League debut this week.
Likewise, Braves slugger Evan Gattis has burst onto the scene in his first big league season. And Puig's highly sought-after teammate, Hyun-Jin Ryu, has lived up to his lofty expectations in his first Major League season after starting his career in South Korea.
Yet that trio makes up just three of the 88 players who had made their Major League debut over the first two months of the season as of Wednesday night. Many of those players have appeared in just a handful of games -- Puig included -- and another portion has struggled to make an immediate impact at the highest level.
However, while players like Puig, Gattis, Ryu and other closely-watched prospects soak up the rookie spotlight, there has been a fair share of new talent that has also emerged, primarily under the radar.
Here's a look at just a handful of such players and the impact they have had in their debut seasons:
Marcell Ozuna, Marlins
One of the few bright spots for the Marlins this season, Ozuna has hit a blistering .326 entering play Thursday and already turned in the second-longest rookie hitting streak in franchise history.
Ozuna, 22, went on a 16-game streak from May 15-31, during which he hit .356 (21-for-59) with four doubles, one triple and six RBIs. He hasn't showed any signs of slowing down since, tallying multihit games in three of the Marlins' past six contests.
Ozuna's 16-game streak finished just six shy of Edgar Renteria's franchise rookie record of 22 games set in 1996.
"It's exactly what we want to see," Marlins manager Mike Redmond said. "We want guys to take the opportunity and run with it. That's what we've been talking about since Spring Training.
"When you've got young guys, you don't really know what you're going to get out of them, [so] for him to come up and do what he's doing, it's been unbelievable. It's been exciting. It's been fun to watch him."
Seth Maness, Cardinals
In a season when the Cardinals have needed their fair share of bullpen help, Maness has answered the call.
Maness, 24, is one of six Cardinals pitchers to make their Major League debuts already in 2013. None, however, have thrived as much as Maness has.
The right-hander carries a 1.76 ERA through his first 14 career appearances, and he has held the opposition without an earned run in 12 outings. Maness holds a 4-1 record to go along with three holds, and he tossed a career-high 2 1/3 innings against the D-backs on Tuesday, allowing no runs off just one hit while striking out three.
Preston Claiborne, Yankees
Overshadowed by the likes of Mariano Rivera, David Robertson and Joba Chamberlain, rookie Preston Claiborne has provided the Yankees with yet another seemingly reliable arm out of the bullpen.
Claiborne, 25, tossed two hitless shutout innings in his Major League debut on May 5, and he's turned in a handful of similar appearances since. Claiborne sports a near-flawless 0.55 ERA, having allowed just one earned run in 16 1/3 innings over his 11 appearances. Perhaps most impressive is the fact that Claiborne has yet to issue a walk in his young career.
"He's thrown strikes with three different pitches," Yankees manager Joe Girardi said. "His velocity has been good. His location has been good. He's just got the job done."
Ryan Pressly, Twins
Pressly has given the Twins a solid option out of the bullpen in a variety of situations and seems to be improving as the season goes on.
The 24-year-old righty boasts a 1.29 ERA through 18 appearances totaling 28 innings. On May 8, he tossed a season-high four innings without allowing a run against the Red Sox, who originally drafted Pressly in 2007. Minnesota selected Pressly away from Boston in the 2012 Rule 5 Draft.
Pressly is currently in the midst of a stretch in which he hasn't allowed a runner to reach base in any of his past three appearances. He's retired all 11 batters he's faced over that 3 2/3-inning span, including five via strikeout.
Scott Rice, Mets
Rice is not the typical breakout rookie. The 31-year-old career Minor Leaguer has suddenly established himself as a reliable reliever coming out of the Mets' bullpen.
In fact, Rice -- a first-round pick by the Orioles in 1999 -- has made as many appearances this season (32) as any other big league pitcher. Not bad for a guy who has spent more than a decade trying to break through to the Majors.
This past offseason, Rice spent his time in the Dominican Winter League simply focused on mastering his splitter. At 31 years old, he knew he had to bring something different to the table when he arrived in camp this spring, and that's exactly what he did with a much-improved splitter in his arsenal.
"To be honest, it's been a huge surprise," Mets manager Terry Collins said. "This guy spent 14 years to get here. And he just throws strikes."
While Rice isn't the only rookie to come out of nowhere this year, he may have more motivation than anyone else to maintain his newfound success, given his long journey.
"I didn't really think I'd be given this opportunity so early [in the season]," said Rice, who broke camp with the Mets. "But it happened, I was given an opportunity. I've been able to do what they've asked of me so far."
Paul Casella is a reporter for MLB.com. Follow him on Twitter @paul_casella. This story was not subject to the approval of Major League Baseball or its clubs.