Astros draft Rocket's son Kacy Clemens
Astros draft Rocket's son Kacy Clemens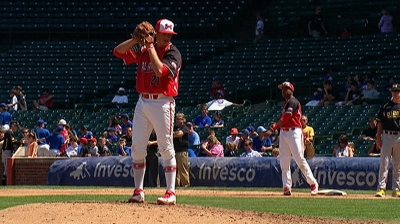 HOUSTON -- When watching Kacy Clemens, it is easy to see resemblances to his father. Like Roger Clemens, Kacy has a very strong build and a smooth delivery. He is aggressive on the mound and has shown a good feel for pitching.
The Astros apparently saw enough similarities, drafting him Saturday in the 35th round of the First-Year Player Draft.
"He throws like his dad, there's no denying that," said Astros director of amateur scouting Mike Elias. "We like him and have followed him throughout his career already. You can see that he'll be successful and has a bright future."
Clemens has a strong commitment to Texas, and it was a common belief that teams would have to take him within the first few rounds in order to sign him. Clemens appears to have his mind made up already.
"Got drafted by the Houston Astros!Pretty cool! But I will still be a Longhorn! Hook'em!," Kacy tweeted after the selection.
The elder Clemens is one of the franchise's most decorated players, despite pitching in Houston for only three seasons. The Rocket won a National League Cy Young Award with the Astros in 2004 and helped lead the '05 squad to an NL pennant while posting a career-low 1.87 ERA.
Kacy's best pitch is a fastball that sits in the high 80s with cutting action. He also throws a curveball that could turn into an above-average offering in the future.
Chris Abshire is an associate reporter for MLB.com. This story was not subject to the approval of Major League Baseball or its clubs.