Beckett hopes to avoid surgery
Beckett hopes to avoid surgery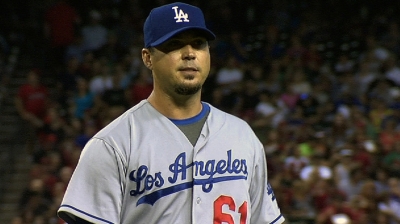 LOS ANGELES -- Injured Dodgers starting pitcher Josh Beckett hopes four weeks of aggressive rehabilitation on his right shoulder will keep him out of the operating room.
Beckett had been pitching for much of the season despite numbness and tingling in the fingers of his pitching hand before going on the disabled list last month. He met with nerve specialist Dr. Gregory Pearl on Monday in Dallas, where he learned his condition is similar to a number of pitchers, including Chris Carpenter of the Cardinals, Mike Adams of the Phillies and Matt Harrison of the Rangers.
Each of those pitchers, though, had surgery for thoracic outlet syndrome, a procedure that involves removing an upper rib that compresses nerve tissue near the neck and shoulder.
"You always want to avoid surgery, if you can," said Beckett, who spoke about his condition with Carpenter and plans to contact Harrison. "We're going to try a lot of different things in the next four weeks and then reassess things. If it works, great. That's the best-case scenario. The worst-case scenario, there's been guys that have come back from this surgery in three months."
Beckett said he could rehab longer than four weeks if he feels he's progressing, but he doesn't want this to "leak into next year, either."
"I think at some point, we just have to make a decision on what's best for me and what's best for the organization moving forward," Beckett said. "I think that those two things go together. What's best for the organization is being healthy and helping this team win next year if I can't do it this year."
Regardless, Beckett has a long road ahead of him before he's able to step back on a mound.
"It's tough," he said. "I don't want to walk around here in a ski mask and steal paychecks. That's not fun. I want to help these guys win and be a part of that."
Ken Gurnick is a reporter for MLB.com. Austin Laymance is an associate reporter for MLB.com. This story was not subject to the approval of Major League Baseball or its clubs.