Red Sox can't rally after Rangers get to Uehara
Red Sox can't rally after Rangers get to Uehara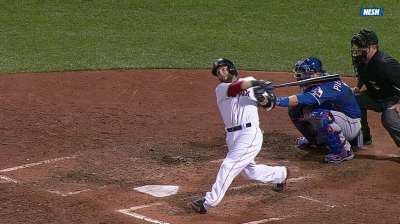 BOSTON -- Koji Uehara's custom is to come back to the dugout after a job well done and crack up his teammates with a string of emphatic high-fives. Understandably so, the right-hander was not in the mood for such festivities on Wednesday night.
Uehara came out of the bullpen in the top of the seventh inning with two on and one out and the game tied. Elvis Andrus walloped Uehara's first pitch to the wall for a two-run double that proved to be the difference, as the Red Sox suffered a 3-2 loss to the Rangers.
"I think it was just the location that I missed," Uehara said through an interpreter. "Strategy-wise, I think I was perfectly fine. It is difficult. But the manager had confidence in me, so I wanted to try to do my best and get out of that situation."
After playing with Uehara last season, Andrus knew what to expect and he pounced.
"Koji is always aggressive," said Andrus. "He's always trying to get on top of hitters, so I was trying to stay focused and look for my pitch."
On the plus side for the Red Sox, John Lackey turned in his fourth solid start in a row, giving up five hits and a run over six innings.
Though his record is 3-5, Lackey's 2.79 ERA is a far better indicator of how he has pitched in his first season back after undergoing Tommy John surgery.
"I feel pretty good," said Lackey. "Tonight, my fastball command was pretty good. I was able to work in and out with my fastball quite a bit. I was pretty happy with it for the most part."
He was left with a no decision on a night the Boston bats were tamed, both by starter Alexi Ogando and the Rangers' bullpen.
By the time Dustin Pedroia stepped to the plate with two outs in the sixth, Boston had just two hits against Ogando. But the third one was a big one, as Pedroia drove one over the Green Monster to tie the game at 1.
The momentum was short-lived when Lackey gave way to the bullpen in the seventh. Mitch Moreland greeted Craig Breslow with a double down the line in right. With one out, Craig Gentry drew a walk.
That was all for Breslow. Uehara, who has been so reliable for the Red Sox this season, gave up that first-pitch double to Andrus, and Boston was down, 3-1.
"You know, he's trying to go down and away with a fastball first pitch to Andrus," said Red Sox manager John Farrell. "It leaks back to the middle and he squares the ball up for the difference in this ballgame."
The Red Sox had the makings of a rally to start the seventh. Stephen Drew opened with a walk. Jose Iglesias went the other way for a single. But Jackie Bradley Jr. couldn't get a bunt down and then struck out. Daniel Nava grounded weakly to the catcher. And Jonny Gomes, pinch-hitting for Mike Carp, hit a medium depth flyout to center to end the threat.
Jarrod Saltalamacchia looped a two-out double down the line in right in the eighth, and Mike Napoli roared home from first, slicing the deficit to a run.
"I can't say enough the way we continue to provide or give ourselves opportunities late," said Farrell. "I know we missed some opportunities. We hit a number of balls hard, right at some people. This is a team that's got a lot of fight in it."
Lackey held the Rangers off the board over the first three innings, allowing just one hit. In the fourth, Adrian Beltre took a big swing, hammering a two-out solo shot into the bleachers in center to make it a 1-0 game.
"I gave up one run. He's a good hitter," said Lackey. "I was definitely disappointed with the pitch. It's a slider I overthrew and hung it in the middle of the plate."
Meanwhile, the Red Sox couldn't get anything accomplished against Ogando in the early to mid innings. Drew led off the third by hitting one toward the gap in left-center. David Murphy did a nice job cutting it off and fired to second to nail Drew.
Ian Browne is a reporter for MLB.com. Read his blog, Brownie Points, and follow him on Twitter @IanMBrowne. This story was not subject to the approval of Major League Baseball or its clubs.