Gordon's cannon racking up assists for Royals
Gordon's cannon racking up assists for Royals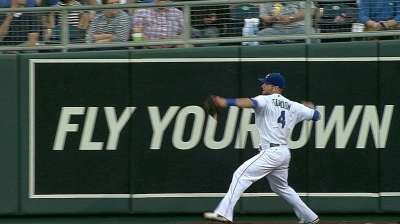 KANSAS CITY -- With the Royals struggling to score, it's all the more important to have strong fielding and keeping teams leery about trying to take an extra base. Left fielder Alex Gordon is leading the charge with a team-high six outfield assists.
Gordon got his sixth on Tuesday night, throwing out the Twins' Chris Parmelee at second base. That tied him for second in the Majors behind Alex Rios of the White Sox. For the Royals, Lorenzo Cain and Jeff Francoeur each have three assists, David Lough has two and Jarrod Dyson one.
"He's a huge asset out there," manager Ned Yost said. "He could be the best throwing outfielder in all of baseball. Especially when you aren't scoring runs, you better keep the opposing team from scoring runs, and he does that with great frequency."
Entering Wednesday's action, the Royals were second in the Majors with 15 outfield assists behind Minnesota's 17. Since 2011, the Royals have 117 assists, 34 more than next best Houston's 83.
Since making the move to the outfield in 2011, Gordon has turned in a big league-best 43 assists from left field.
Dick Kaegel is a reporter for MLB.com. Kathleen Gier is an associate reporter for MLB.com. This story was not subject to the approval of Major League Baseball or its clubs.