Doumit simplifies approach on RBI surge
Doumit simplifies approach on RBI surge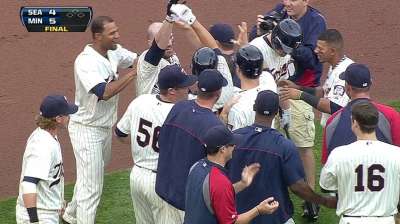 KANSAS CITY -- The Twins' rise in the standings over the past two weeks has coincided with Ryan Doumit's rise in the RBI department.
Doumit entered Wednesday's game against the Royals with 13 RBIs over an eight-game stretch. That's the most in the American League since May 27 and the second most in the Major Leagues behind Dominic Brown of the Phillies with 15.
"It feels good. It feels like every time I'm at bat there's somebody in scoring position," Doumit said. "It's a testament to the guys who are hitting in front of me."
Manager Ron Gardenhire used Doumit as his designated hitter on Wednesday. Doumit was in the No. 5 slot behind Eduardo Escobar, Joe Mauer, Josh Willingham and Justin Morneau.
"I'm just getting back to basics," Doumit said. "After a slow start, I watched some video and just tried to get back and simplify things. I'm in a little bit of a groove right now."
Gardenhire has enjoyed watching Doumit's recent RBI spree, which included four homers, two doubles and a triple over a seven-game span.
"He has been getting a lot of big base hits," Gardenhire said. "I feel pretty good about our offense and Doumit especially. We're putting ourselves in a lot of situations to get hits and knock in runs."
Robert Falkoff is a contributor to MLB.com. This story was not subject to the approval of Major League Baseball or its clubs.