Rangers take right turn on Day 2
Rangers take right turn on Day 2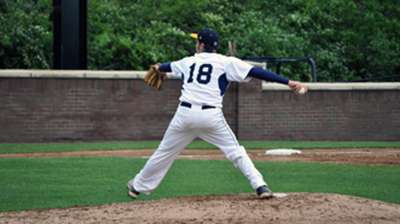 The Rangers continued to stock up on pitchers in Day 2 of the First-Year Player Draft.
They took five pitchers, all right-handed, with their eight picks Friday, starting the day by selecting David Ledbetter in the third round. He is the first player drafted from Cedarville University in Cedarville, Ohio, in 26 years. Ledbetter is listed at 6-foot and 190 pounds. He was named the Great Midwest Athletic Conference Pitcher of the Year this season as a junior. He went 6-5 with a 3.15 ERA in 14 appearances and made 13 starts.
"The strength of the Draft was right-handed pitching," amateur scouting director Kip Fagg said. "We went out and did our work on these guys. We identified guys we wanted to get and felt they were good fits for the Texas Rangers. Being the strength of the Draft, that's where you got to go."
The Rangers selected pitchers Sam Wolff and Nick Gardewine in the sixth and seventh rounds. Wolff attended the University of New Mexico, and he's listed at 6-foot-1, 190 pounds. He went 7-3 with a 2.90 ERA in 16 starts this season. It's the third time he's been drafted. He was selected by the Angels in the 42nd round in 2009 and by the Red Sox in the 47nd round in 2011.
Gardewine went to Kaskaskia Community College in Illinois and listed at 6-foot-1, 160 pounds. He went 9-1 with a 2.12 ERA in 13 starts this season. Three out of his four shutouts were complete games, including a no-hitter in his third collegiate start.
"We like the athleticism," Fagg said of Gardewine. "We like the way the arm works. He's an upside guy for us and we expect big things from Nick."
The Rangers finished the day selecting Jose Samayoa and Cole Wiper in the ninth and 10th rounds. Samayoa is listed at 6-foot, 205 pounds. He attended Lee University in Tennessee. The senior went 10-1 in 16 appearances (15 starts) with a 1.73 ERA. He allowed 47 hits in 78 innings pitched, just two were home runs and eight were doubles. He had 83 strikeouts and 19 walks. He had a .173 opposing batting average and had one complete-game shutout this season.
Wiper is a redshirt freshman at Oregon. He went 2-1 in seven appearances (three starts) with a 7.11 ERA. He had a .388 opposing batting average and allowed 19 hits in 12 2/3 innings pitched. Wiper was named All-Kingco as a pitcher and third baseman at Newport High in Bellevue, Wash., his senior season. He was drafted in the 14th round by the Blue Jays in 2011.
"There's some left-handers still on the board, and hopefully we'll be a player there, but we as a group never go in thinking, 'Hey, we got to have a left-handed pitcher,'" Fagg said on the absence of a southpaw selected by the Rangers. "I think it has worked out in the past where we have taken them, but it just didn't work out for us in the first 10 [rounds] this year. We'll see what happens [Saturday]."
The Rangers used three picks on position players Friday, one involved The Citadel catcher Joe Jackson in the fifth round. His great-great-great uncle is former Chicago White Sox outfielder "Shoeless" Joe Jackson. Jackson is listed at 6-foot-1, 190 pounds. The junior hit .279 (64-for-229) in 58 games this season, with a home run and 26 RBIs.
Jackson made the Southern Conference All-Freshman Team in 2011. He was drafted by the Kansas City Royals in the 50th round of the 2010 Draft.
"We really like the makeup of the kid, and we're really excited about him," Fagg said.
Master Tesfatsion is an associate reporter for MLB.com. This story was not subject to the approval of Major League Baseball or its clubs.