Gardenhire recalls own Draft experience
Gardenhire recalls own Draft experience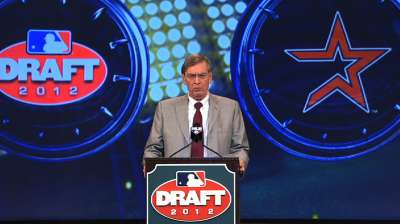 KANSAS CITY -- With Thursday's First-Year Player Draft on the horizon, Twins manager Ron Gardenhire took a trip down memory lane and recalled his own Draft experience as a sixth-round pick of the New York Mets in 1979.
Gardenhire was playing for Texas in the College World Series when he got the word that the Mets had selected him.
"It's a big moment," Gardenhire said. "I was on the field and my dad was in the stands. I was told I was taken by the Mets and I kind of looked up at him. He was pretty excited and my dad wasn't a guy who got excited about too many things. That was pretty neat."
Gardenhire said he thinks it's a good adjustment that the Draft is no longer held in the midst of the College World Series because of potential distractions.
"There was a lot of disappointment on our team during that Draft," Gardenhire said. "Some guys didn't get drafted as early as they thought they would. So, it kind of affected our team. We didn't play very well during that World Series and we had a pretty good team."
Gardenhire received a $5,000 signing bonus as a sixth-round pick but had to borrow money from his father before traveling to Lynchburg, Va., for his initial Minor League assignment.
"I was happy with it," Gardenhire said. "But I didn't get it for a while. It's not like it came before I took off. The sixth-round money has changed just a little bit."
Robert Falkoff is a contributor to MLB.com. This story was not subject to the approval of Major League Baseball or its clubs.