Sveum likes upside of Cubs' options at No. 2
Sveum likes upside of Cubs' options at No. 2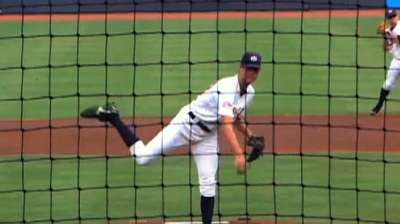 ANAHEIM -- The Cubs have the No. 2 pick overall in Thursday's First-Year Player Draft and have narrowed their choice to four players. Manager Dale Sveum has seen video and offered his opinion. Does he have a preference?
"They want the guy to be an impact player," Sveum said of the Cubs front office, including Theo Epstein, president of baseball operations. "Nothing's guaranteed, we all know that. The key to those high picks like that is it's easy to say, 'Make sure it's an impact player.' Whether it's a position player or a pitcher, you want him to be an impact player in a couple years when you're drafting that high."
The Cubs' final four includes pitchers Jonathan Gray of Oklahoma and Mark Appel of Stanford and third basemen Kris Bryant of San Diego and Colin Moran of North Carolina.
"Appel is pretty ahead of the game as far as development," Sveum said. "Position players, sometimes you really don't know until they get a wood bat in their hands and play at a faster pace and play every day, and obviously are facing velocity and all that. The one thing about position players in the top five, 10 picks, is they've been pretty good."
Sveum said he might stop by the Cubs' war room Thursday when they make the pick. The Cubs are expected to make their pick around 6:15 p.m. CT Thursday. Live Draft coverage from MLB Network's Studio 42 begins at 6 p.m. CT, with the top 73 picks being streamed on MLB.com and broadcast on MLB Network.
Will the Cubs manager have the deciding vote?
"I'm sure there will be no consultation," he said, laughing. "I've already said my piece. That's their job."
He's given his scouting report on the quartet.
"As far as picking one guy, there's so much involved in that," Sveum said. "You've got a position player who has out-homered 200 Division I schools [in Bryant], and you've got a starting pitcher who maybe can step right in your rotation right now [in Appel], and you have a guy with a dominating fastball who can throw the ball by anybody at any time [in Gray]. You have Moran, who's a professional quality left-handed hitter who knows the strike zone.
"That's why those four guys are mentioned. They all have their qualities that could benefit in the long run."
Carrie Muskat is a reporter for MLB.com. She writes a blog, Muskat Ramblings, and you can follow her on Twitter @CarrieMuskat. This story was not subject to the approval of Major League Baseball or its clubs.