Cubs struggling to get lead to closer Gregg
Cubs struggling to get lead to closer Gregg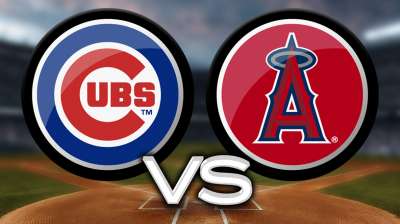 ANAHEIM -- Albert Pujols beat the Cubs on Tuesday, hitting a two-run homer in the eighth off Carlos Villanueva, who threw a pitch he wasn't supposed to.
"We were not supposed to even come close to calling or throwing that pitch in that situation," Cubs manager Dale Sveum said after the game about the 89 mph fastball. "It's the human factor. Somewhere along the line, we lose the scouting report from the bullpen to the mound."
On Wednesday, Sveum was asked if he had considered having the bench call the pitches.
"You're not going to do that," he said. "There are suggestions that come from the bench, but you don't do it every pitch. That's part of the reason we put so much work into the advance reports and spend so much time.
"We're not the only victims. We see other teams and say, 'Why did they throw that pitch in that situation?'"
One of Villanueva's strengths is his ability to use all of his pitches and take advantage of a hitter's weaknesses. Pujols doesn't have many.
"He's come down to being more human, that's for sure," Sveum said. "At one point in his career, it's pitch around him, you walk him, you do all kinds of things because you don't want him to beat you. He's now been able to be pitched to."
The problem the Cubs are having is bridging the gap from the starter to closer Kevin Gregg. James Russell is one option for the eighth.
"There's no doubt I think about it a lot," Sveum said. "The bottom line is how to get to Gregg after the sixth inning."
Carrie Muskat is a reporter for MLB.com. She writes a blog, Muskat Ramblings, and you can follow her on Twitter @CarrieMuskat. This story was not subject to the approval of Major League Baseball or its clubs.