Hannahan makes first start at second base
Hannahan makes first start at second base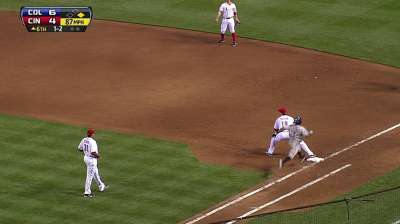 CINCINNATI -- For the first time in his Major League career, Reds infielder Jack Hannahan made the start at second base on Wednesday against the Rockies. With Brandon Phillips still not at 100 percent due to a left forearm contusion, manager Dusty Baker hinted that he might give Hannahan -- usually a third baseman -- a chance to play second earlier this week.
However, Wednesday might be the last time Hannahan plays second base for the Reds in the foreseeable future, as Phillips will be back in the starting lineup Friday against the Cardinals.
"[Phillips] could have maybe been ready today, but he's still a little sore, and I want him as close to normal as possible," Baker said. "He hadn't check-swung yet, he hadn't slid yet or dove on it. There's a lot of things he could do to make it continue to be sore."
In an emergency, Baker said he would use Phillips on Wednesday to get him back into the swing of things before National League Central leader St. Louis comes to town, but he wants his All-Star second baseman to be as close to normal as possible this weekend.
For Phillips, he can't get back on the field soon enough. Not used to sitting on the bench, he said he's been restless, resorting to hitting the snack table in the clubhouse.
"I'm eating up everything in there," Phillips said, joking.
Playing hurt has never been an issue for the 31-year-old Phillips, but he said it wasn't possible with the forearm injury that prevented him from being able to cleanly field ground balls. He had no problems in the field or in the batters' box before Wednesday's game, though, and he's more than ready to be back in the lineup.
"I don't want my timing to get off," said Phillips, who was batting .296 with 45 RBIs before the injury last Saturday. "I want to go back and just keep on producing like I've been producing all year. Hopefully, I can do that Friday."
Jeremy Warnemuende is an associate reporter for MLB.com. This story was not subject to the approval of Major League Baseball or its clubs.