Bourjos aiming for Monday return to Angels
Bourjos aiming for Monday return to Angels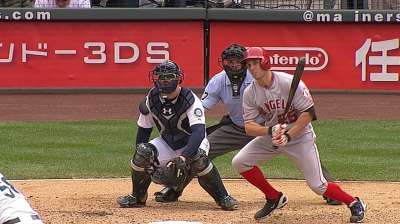 ANAHEIM -- It appears Peter Bourjos' return to the Angels' lineup could come on Monday, when the team opens a three-game set in Baltimore.
Bourjos -- who has been out since April 29 with a strained left hamstring -- will play center field for Class A Inland Empire on Thursday night, then join Triple-A Salt Lake for the rest of his rehab.
"Three days in Salt Lake, then we'll see where he is," Angels manager Mike Scioscia said. "Hopefully he's ready."
While Scioscia did not say anything definitive, Bourjos plans to play with Salt Lake on Thursday, Friday and Saturday. The Bees have a night game Saturday, and the Angels have a day game in Boston on Sunday, so barring any setbacks, Monday against the Orioles looks like Bourjos' target date.
In two games with Inland Empire, Bourjos is 2-for-7 with a triple and a home run.
Upon returning, Bourjos will take over center-field duties with Mike Trout moving back to left. In the 22 games prior to his injury, Bourjos hit .313 for the Angels.
William Boor is an associate reporter for MLB.com. This story was not subject to the approval of Major League Baseball or its clubs.