Halos make 'tough' call, send Williams back to 'pen
Halos make 'tough' call, send Williams back to 'pen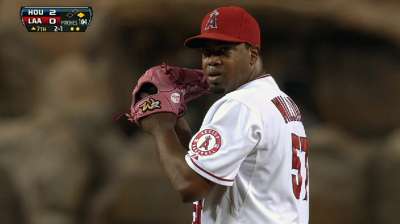 ANAHEIM -- Despite Jerome Williams' five straight quality starts, the Angels have moved the veteran right-hander from the starting rotation to the bullpen.
"The bottom line is we have six guys that are starting for us, that are throwing the ball well," Angels manager Mike Scioscia said. "I think Jerome has the opportunity to be a wild card, whether he's back in the rotation or helping us with an appreciable role in the bullpen. He's going to help us and right now, as we pare down to five, there's definitely a role for him in the 'pen."
Although Williams was 3-2 with a 3.08 ERA as a starter, the move did not surprise him as he expected the team to stick with its initial rotation of Jered Weaver, C.J. Wilson, Jason Vargas, Tommy Hanson and Joe Blanton.
"I've kind of seen it coming," Williams said. "But in this game you never know. All I've got to do is go out there and prepare myself in a certain way."
While the writing may have been on the wall for Williams, the decision was not easy for him to take.
"Of course I'm disappointed, but you know what, that's their decision," Williams said. "Like I said the day before, I'll do anything I have to do to have a winning team. If that means going to the bullpen, I'll go to the bullpen."
Because of Williams' recent success in the rotation, Scioscia said the decision was "tough," but having six pitchers throwing well is a good problem for a team to have.
Williams may have temporarily lost his spot in the rotation, but he appears to have earned himself a more prominent role in the bullpen than the long-relief role he held when the season began.
Scioscia also did not rule out the possibility of Williams returning to the rotation if the situation should arise.
In the meantime, Williams is not worried about any of that and is is simply going to take the ball when called upon.
"It doesn't matter," Williams said. "Anytime I get the ball, I'll perform."
William Boor is an associate reporter for MLB.com. This story was not subject to the approval of Major League Baseball or its clubs.