Torres enjoying great success at home
Torres enjoying great success at home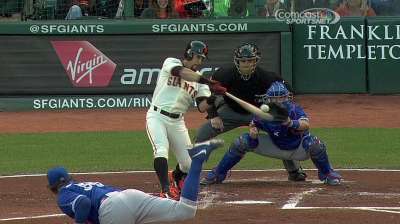 SAN FRANCISCO -- Andres Torres had no explanation for the vast disparity between his hitting at AT&T Park and on the road, though he suggested that sheer enthusiasm could be a factor.
"I love to play here," Torres said Wednesday. "This is home for me. I don't know, it's one of those things, huh? Crazy."
Torres entered Wednesday's series finale against Toronto with a .371 home batting average (26-for-70), compared with .143 (7-for-49) on the road.
Smarter preparation could be another source of Torres' effectiveness, though it doesn't account for the home-road dichotomy. At 35, Torres has learned that, quite often, less is more. He formerly took batting practice as many as three or four times before games, which didn't leave him with much on his swing when it counted.
"You don't see [Buster] Posey or Marco [Scutaro] do a lot," Torres said. "They just take BP and keep their energy for the games. So I've been trying to get a little smarter with that."
Chris Haft is a reporter for MLB.com. This story was not subject to the approval of Major League Baseball or its clubs.