Crawford, Belt recall former teammate Wheeler
Crawford, Belt recall former teammate Wheeler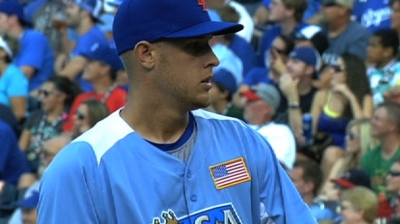 SAN FRANCISCO -- Two years, give or take a few months, have passed since Brandon Crawford and Brandon Belt were teammates with Zack Wheeler. But time hasn't erased their memories of Wheeler's remarkable right arm.
Wheeler, the Giants' No. 1 selection in the 2009 First-Year Player Draft, is expected to be promoted to the New York Mets from their Triple-A Las Vegas affiliate in less than two weeks. Trying to strengthen their postseason bid, the Giants traded Wheeler to the Mets for right fielder Carlos Beltran at the 2011 Trade Deadline.
The Giants knew they were parting with a potential top-of-the-rotation pitcher. Crawford and Belt received close-up views of Wheeler's ability.
"He was still a little raw, but he had an explosive fastball and kind of a slurve that was good," said Crawford, who played alongside Wheeler at Class A San Jose in 2011. "He was working on a changeup. That's the piece he didn't really have. He was inconsistent with it.
"They were just working on him throwing more strikes. When he was throwing strikes, he was pretty much unhittable. He was dominant during the two weeks I was there."
Belt recalled participating in instructional league with Wheeler after the 2010 season.
"He had a really loose arm," Belt said. "It just popped out like a lightning bolt. He was able to keep his composure at a young age, too. I think that's helped him advance. Overall, he knows how to pitch. He knew what he did well and he did it a lot."
Belt added a personal note: "He's a good guy. I enjoyed being around him."
Chris Haft is a reporter for MLB.com. This story was not subject to the approval of Major League Baseball or its clubs.