After early duel, five-run seventh sinks Marlins
After early duel, five-run seventh sinks Marlins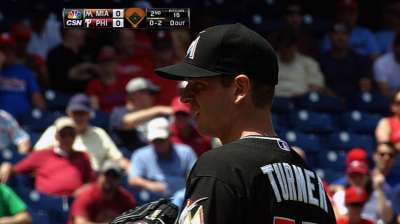 PHILADELPHIA -- The Marlins showed a glimpse of power when Derek Dietrich connected on a home run off Cole Hamels. But the Phillies once again showed explosiveness.
Ryan Howard delivered a two-run triple and Domonic Brown blasted a two-run homer in a five-run seventh inning that lifted the Phillies to a 6-1 victory over the Marlins on Wednesday in front of 38,643 at Citizens Bank Park.
The Phillies' outburst off reliever A.J. Ramos gave them a three-game sweep over the Marlins, who came into Philadelphia having taken three straight against the Mets.
A telling statistic all series was home run production. The Phillies connected on six, while Miami had just one.
"Once again, you come in here, and they're able to put the ball in the seats and we're not," Marlins manager Mike Redmond said. "One run in this ballpark, it's tough to win ballgames. Over the course of the series, if you look, we hit one home run in the series, and they hit six. Tough for us. Tough for our pitchers to be perfect every night."
Off on Thursday, the Marlins will close out their road trip with three games at the Mets beginning on Friday.
Hamels was able to shut the Marlins down on an afternoon Jacob Turner was solid. The right-hander gave up one run in six innings. And in his two starts since being called up from Triple-A New Orleans, Turner has allowed one run in 13 innings.
"I think that's the sign that he's improving, and that was one of the things we looked at in Spring Training," Redmond said. "We knew he needed work on pounding the strike zone and controlling the situations. He went down there and worked hard. I'm pumped for him. You always want to see a guy who goes down and gets his work in, improves and comes back and has success.
"That was a great job. He gave us a chance to win today. We just weren't able to get any run support for him."
Turner wasn't overpowering, striking out four and walking four. But he was able to adjust along the way and make quality pitches when he needed them most.
"I didn't feel like I had my best stuff today," the 22-year-old said. "I was able to get out of some jams when I got into them. The defense really played well behind me, especially in those situations."
Still, his effort wasn't enough because Hamels struck out 11 and gave up one run in seven innings. The lefty had dropped six straight decisions, including one on May 20 at Marlins Park.
"That was a good game for six innings," Redmond said. "Hamels was much better today than when we've seen him the last couple of times. He threw some nasty pitches."
Dietrich provided Miami's lone run with his solo shot which tied the game in the fourth inning.
Once Turner exited, Philadelphia jumped on Ramos, scoring five runs. Jimmy Rollins drove in the go-ahead run with a two-out RBI single. Howard tripled in two runs, and Brown put an exclamation point on the inning with his two-run homer to right.
"My big pitch today was my changeup," Ramos said. "I was leaving it up.
"My changeup has been up for the past three outings. I'm just going to work on getting it down, because when it's down it's a good pitch. Lately, it's been up."
It was Brown's 18th homer of the season, and fifth off Miami pitching.
The game was delayed in the bottom of the seventh inning when home-plate umpire John Hirschbeck was clipped on the right hand and right thigh area. The incident occurred when Ramos' inside pitch tipped off the bat of Freddy Galvis.
Hirschbeck was replaced by second-base umpire Jim Reynolds, and the rest of the game was handled by three umpires.
Ramos isn't using the delay as an excuse. He sat for a while in the dugout, and threw five warmup pitches before the game resumed.
"You've got to learn to deal with adjustments like that," Ramos said. "I'm not going to blame that. I just didn't make pitches today. It was kind of weird, but stuff like that happens, and you've got to learn to adjust to that.
In the first two games of the series, the Marlins were the team to score first. In both games, they claimed early 2-0 leads only to let them slip away.
On Wednesday, it was the Phillies who claimed the early advantage.
With two outs in the second inning, Philadelphia pushed across a run. John Mayberry Jr., who hit two home runs -- including a walk-off grand slam in the 11th inning -- on Tuesday, singled to left, and he scored on Erik Kratz's double down the line in left.
Given the early lead, Hamels settled into a nice groove, and the left-hander gave up one hit heading into the fourth inning. But with one out, the Marlins tied it at 1 on Dietrich's home run to right.
After Dietrich's homer, the Marlins didn't have a player reach second the rest of the way.
"Ultimately, it's about going out there and trying to make pitches," Hamels said. "I think the big thing today was keeping my pitch count down. The guys are playing well."
Joe Frisaro is a reporter for MLB.com. He writes a blog, called The Fish Pond. Follow him on Twitter @JoeFrisaro. This story was not subject to the approval of Major League Baseball or its clubs.