Orioles unable to overcome Garcia's early struggles
Orioles unable to overcome Garcia's early struggles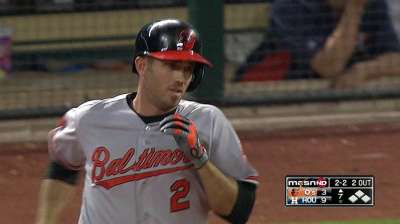 HOUSTON -- Eight Orioles players and various members of the team's front office and staff visited the NASA training facility on Wednesday afternoon, getting a special tour and behind-the-scenes look at the Johnson Space Center.
Starter Freddy Garcia wasn't one of them, but the 36-year-old still saw plenty of rocket ships. Garcia was hit hard, surrendering four home runs over three-plus frames in which the Astros took to the batter's box as their own personal launching pad, evening the series by handing the Orioles an 11-7 loss at Minute Maid Park.
"I don't think I made any good pitches," Garcia said of the 63-pitch outing. "I got my [butt] kicked tonight. That's part of this game. Sometimes you pitch one game you're dealing and the next game something like that happens."
The defeat -- the Orioles' fifth in their last 15 games -- saw the Astros hit six home runs, their most since Aug. 9, 2006, against the Pirates, with three of those coming within Garcia's first 34 pitches. The righty, fresh off a dominant eight scoreless innings on Thursday, struggled from the get-go, with Houston going deep twice in the first inning. Jason Castro sent the first-pitch of his at-bat into the seats for a two-run homer, and one out later, Carlos Pena added a two-run shot of his own.
Garcia allowed a one-out solo shot to Marwin Gonzalez in the second, and after pitching out of two-out trouble in the third, Matt Dominguez's homer to left field in the fourth chased him from the game. The four homers were a season high for Garcia and tied the most he's allowed in his 15-year career.
"All the things he had working for him last time he didn't have," manager Buck Showalter said of Garcia, who was charged with six earned runs. "He elevated [the fastball], didn't have some depth to it, that offspeed pitch didn't have it. A team like this, any team for that matter, you make those mistakes you are going to pay."
Garcia, who took his first loss in four starts, exited without recording an out in favor of right-hander Steve Johnson, but the homers kept coming for Houston. After a pair of strikeouts, Johnson, who felt discomfort in his left oblique while warming up, surrendered a solo shot to Jose Altuve and J.D. Martinez followed, sending a ball into the left-center-field concourse to also score Castro.
"Sometimes it gets better the more loose it gets, but it was bothering me a little bit," Johnson said of his oblique, which will be reexamined on Thursday. "[I] had trouble getting over my front side and really locating the outside pitch on the corner. [I] was able to kind of gut it out as best as I could and try to just kind of save the bullpen a little bit."
Johnson, who had a right lat strain sideline him this spring and take him out of the running to make the Opening Day roster, iced the area and was hopeful it would improve overnight.
"Really, when I need to finish the pitch and get out in front and locate that pitch, I was leaving a lot of balls arm-side," Johnson said. "It was frustrating. I was getting behind and leaving a lot of balls up and they hit them. I feel it a little bit [now], but hopefully I can come back tomorrow and it will be a lot better -- but I have no idea."
Showalter said Johnson, who exited after 2 1/3 innings, would have come out of the game at the same point even without the issue, and lefty Troy Patton became the third consecutive O's pitcher to give up runs with a pair in the seventh.
"Troy pitched well for us last year and seems like every time I think he's ready to get in that groove, he takes a step back," Showalter said. "It's one step forward and another step back. Going to try to trust his track record and hope he gets it going."
The Orioles' offense, stagnant for most of the night, got it going late in the game to make things interesting. They scored a trio of runs in the seventh, their first offense since the first inning, to pull the score within five. After starter Dallas Keuchel left after allowing a run on five hits and a pair of walks, the O's jumped on reliever Paul Clemens. Steve Pearce beat out an infield single and scored on Alexi Casilla's triple. Nate McLouth, who scored in the first, followed with a sacrifice fly to plate Casilla. Shortstop J.J. Hardy turned loose on a 2-2 pitch for his 13th homer of the year, picking up his second RBI of the night in the process.
The O's scored another pair on Matt Wieters' eighth-inning homer off Travis Blackley and kept threatening from there. Danny Valencia and Casilla worked walks and McLouth's one-out single loaded the bases and prompted Astros manager Bo Porter to insert Hector Ambriz. Manny Machado responded with an RBI single into left field, closing the gap to four and bringing the tying run to the plate in Hardy. However, the shortstop couldn't come through for a third hit, grounding into an inning-ending double play instead.
"That's what you call good old-fashioned American League baseball," Porter said. "I tell you what, that's a good ballclub they have over there. To battle the way they battled after getting down early, that's a credit to their guys and Buck Showalter and his staff."
Brittany Ghiroli is a reporter for MLB.com. Read her blog, Britt's Bird Watch, and follow her on Twitter @britt_ghiroli. This story was not subject to the approval of Major League Baseball or its clubs.