Pierre wants Marlins to build off early struggles
Pierre wants Marlins to build off early struggles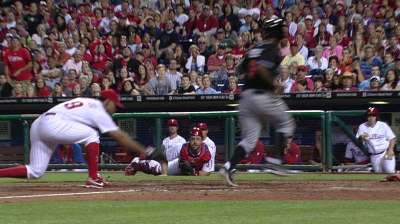 PHILADELPHIA -- If the youthful Marlins learn from the mistakes of today, they should enjoy a brighter tomorrow.
That's a message veteran outfielder Juan Pierre is delivering to the club.
"These are the days when everybody is counting you out," Pierre said. "On the road, fans are saying, 'You're the worst team in baseball.' You remember these times, and you don't want to feel them again. I think it makes you strong, especially guys who are struggling for the first time, guys going through 1-for-15 stretches like that."
The Marlins are enduring their share of growing pains, suffering tough losses since the season opened.
Like the rest of the team, Pierre also has had his struggles -- batting .238 with a .296 on-base percentage. He has been stringing together better at-bats of late, entering Wednesday with three straight two-hit games. And in his last 10 games, he is hitting .270.
"You just have to stay after it," Pierre said. "Just like when it seems like there is no tomorrow, and you keep losing, then the turning point will happen. You just have to have that trust and faith."
The losing is draining, but it hasn't deterred Pierre's unrelenting work ethic.
"It's frustrating coming in everyday when you put in all the work and it seems like you're accomplishing nothing," Pierre said. "I remember my first time going through this type of deal has definitely made me stronger for times like this, meaning, not to panic and stuff."
Quiet by nature, Pierre is finding himself talking more this year to players.
"Younger guys are asking questions, which is good," he said. "I'm not the type who goes into lockers and says stuff. I'm able to share. But I'm going through it, too. It ain't like I'm batting .350. I'm in the same boat as the younger guys.
"Hopefully, they see that I go out and prepare every day, whether I'm 0-for-20 or 10-for-20. It doesn't change. Hopefully, they can take that one thing from watching me. You just have to get your work done."
Joe Frisaro is a reporter for MLB.com. He writes a blog, called The Fish Pond. Follow him on Twitter Share This