Slick-fielding Simmons in groove with lumber
Slick-fielding Simmons in groove with lumber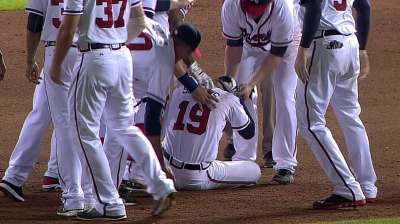 ATLANTA -- It's no secret Andrelton Simmons is a hit in the field.
Now he's becoming one of baseball's best-kept secrets hitting out of the leadoff spot.
The consistency with which Simmons has been getting the job done -- his first-inning infield hit against Pittsburgh's Wandy Rodriguez on Wednesday afternoon extended his hitting stark to a career-long 11 games -- has been something of a surprise, even to him.
"It kind of snuck up on me," said Simmons, who is hitting .360 (18-for-50) during the streak after his 2-for-5 effort in Wednesday's 5-0 win. "Some days I've been feeling good, some days not so good, but still, I'm going up there and battling every at-bat, trying to make contact, trying to get good pitches to hit and not swing at bad pitches or minimize the times I swing at bad pitches. Just try to make good contact, and sometimes they'll fall."
They've been falling plenty for Simmons, who is batting .259, the highest his average has been since May 10. He was hitting .229 at the start of play on May 25 against the New York Mets at Citi Field. He went 2-for-5 that day and was off on a tear, as that marked the first of five multihit games during his hit streak.
Simmons has been doing more out of the leadoff spot, since he's decided to scale back his expectations.
"It took a little bit to not try [too hard], just let it happen. Just do what I'm supposed to do instead of trying to do stuff," he said. "Lately I haven't been trying to do anything. Just go up there, and it's becoming more automatic."
As automatic as he's been in the field.
"I'm a defensive guy. So going out there and making all the plays is my premier thing," Simmons said. "Whenever I get an at-bat, I try to put good at-bats up and drive in runs or get on base. But whenever I'm in the field -- most of the time I'm on the field more than hitting -- I try to do that and focus on keeping that top notch."
Jon Cooper is a contributor to MLB.com. This story was not subject to the approval of Major League Baseball or its clubs.