Early miscue sets tone as rallying Indians fall
Early miscue sets tone as rallying Indians fall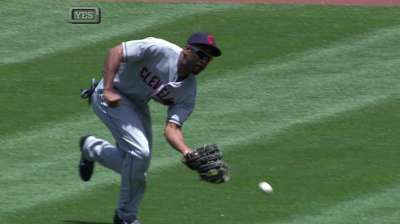 NEW YORK -- Michael Bourn glided in as he usually does, preparing to make a routine catch in center field in the first inning for the Indians. That is when the baseball that soared from Robinson Cano's bat glanced off the glove of the outfielder and dropped to the grass.
It was a rare gaffe for one of the game's best defenders.
"That just kind of seems like how things are going for us right now," Indians first baseman Nick Swisher said.
The error was indeed symbolic of the Indians' last few weeks. Bourn's miscue helped the Yankees to an early outburst against Corey Kluber that was sufficient in sending Cleveland to a 6-4 loss at Yankee Stadium on Wednesday. The defeat completed a three-game sweep at the hands of New York and marked the Tribe's 12th loss in the past 16 contests.
CC Sabathia spun a complete game for the Yankees to put the final touch on the Bronx brooming.
Throughout this season, whether during Cleveland's 18-4 run that began in late April or throughout the subsequent 4-12 slide, Indians manager Terry Francona has stressed a horse-blinder mentality. The most important game is the one taking place. The games behind and the ones coming up should not influence a team's daily approach.
Francona again emphasized that attitude prior to Wednesday's loss.
"You can ask me every which way you want," Francona said, "but my answer is always going to be the same, because that's how I feel. I can't change how I feel, and I don't have to force myself to do that. You play a game and then you move on. You make a mistake, you try to work to correct it. You figure out why you did it and move on.
"Every game is its own game, especially in our game. So much depends on the starting pitcher. I really don't value showing up up or down, depending on what you did the night before. That doesn't make much sense to me. If it helped us, I'd do it. But I don't see that happening."
Putting that philosophy to work can be tough for the players going through the slump, but the Indians are trying not to get wrapped up in the recent struggles.
"We kind of try to take the mentality of our manager, man," Swisher said. "We kind of go one game at a time."
Kluber was on the wrong end of the loss -- the fourth in a row for the Tribe. The right-hander finished strong for Cleveland, but the six runs he surrendered in the first two innings were too much for the club to overcome.
The early onslaught for New York started in the first inning, when Bourn's blunder allowed Cano to reach safely. Two batters later, former Cleveland slugger Travis Hafner turned on a pitch from Kluber, sending it into the second deck beyond the right-field wall for a two-out, two-run home run. The blast was Hafner's 10th of the season for the Yankees.
Both runs were unearned due to the error.
"He chased it down and just didn't catch it," Francona said. "He went a long way and he got to it, but it didn't stay in his glove."
Things continued to unravel on Kluber in the second inning in the form of four hits relinquished. Following a one-out RBI single from catcher Chris Stewart, Brett Gardner yanked a pitch from the right-hander deep to right field for a three-run home run that pushed the Indians behind, 6-0.
Kluber (3-4) allowed just two hits to the next 16 batters he faced, but the damage had been done.
"I just left a few balls over the heart of the plate a little bit too much early on," said Kluber, who ended with eight strikeouts and one walk in his six innings. "I don't know what the difference was -- I just didn't make those mistakes after that point."
Sabathia (6-4) breezed through Cleveland's order for the first five innings, navigating his way perfectly through 14 hitters before finally giving up a base hit to Mike Aviles. The Indians broke through for a pair of runs in the sixth inning, when Jason Kipnis hit an RBI single and Nick Swisher brought one more across with a fielder's-choice groundout.
In the seventh inning, Sabathia allowed a two-out base hit to Michael Brantley, bringing Indians catcher Yan Gomes to the plate. The catcher turned on the first pitch he received from the big lefty, pulling it down the left-field line and into the seats for a home run that cut New York's lead to 6-4. That was where the comeback ended against Sabathia, who struck out nine in a complete game.
"He was different today -- way different," said Swisher, who was a teammate of Sabathia's in recent years. "A lot of breaking balls first pitch, man. He was really spotting that up. You go into the batter's box, and you're used to seeing 94-95 mph, and all of a sudden you're seeing these backdoor breaking balls coming."
That created a difficult formula for Cleveland to solve.
"We had to dig out of a hole," Francona said. "[Kluber] gave us a chance. That says a lot for him and his competitiveness. That's just a pretty big hole to dig out of with CC pitching."
The goal now is to make sure the hole being carved by the Indians lately does not get any bigger.
Swisher said there is one possible solution.
"A day off," he said.
Fortunately, the Indians have one on Thursday.
"That's much needed," Swisher added.
Jordan Bastian is a reporter for MLB.com. Read his blog, Major League Bastian, and follow him on Twitter @MLBastian. This story was not subject to the approval of Major League Baseball or its clubs.