Westbrook makes rehab start for Double-A Springfield
Westbrook makes rehab start for Double-A Springfield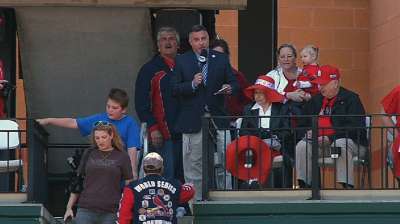 ST. LOUIS -- Jake Westbrook took another step toward rejoining the Cardinals rotation.
Westbrook made his first rehab start Tuesday night as he recovers from right elbow inflammation. The 35-year-old right-hander threw 60 pitches over 3 2/3 innings with Double-A Springfield, allowing six hits and one earned run while striking out five. Forty-five of his 60 pitches were strikes.
"I felt pretty good," Westbrook said. "It was good to get up four times, get into the fourth inning. Threw a few long innings the first couple, but everything felt good, which was good.
"I was a little erratic with my pitches, but I guess that's understandable the first time out. It wasn't terrible by any means, but I was not as sharp as I would liked to have been."
Westbrook was placed on the 15-day disabled list on May 12, and a setback extended his stay. He will throw another bullpen in a few days and intends to increase his pitch count to about 75-80 for another rehab start at Single-A Peoria on Sunday. After that start, he said he expects to be ready to return to the Cardinals.
"With the 60 [pitches] and hopefully 75-80 next start, then the next start could be 100, which is where they would want me to be," Westbrook said. "If I was able to throw 100 pitches, I would obviously feel like I could be capable of doing that in the big leagues."
Chad Thornburg is an associate reporter for MLB.com. This story was not subject to the approval of Major League Baseball or its clubs.