Vargas' momentum slowed as Halos fall in 10
Vargas' momentum slowed as Halos fall in 10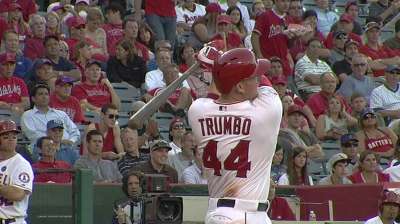 ANAHEIM -- When the calendar rolled over from May to June, Jason Vargas' momentum was left behind.
The Angels' left-hander had a perfect record and was the American League's Pitcher of the Month in May, but he struggled in his first June start as the Angels lost, 8-6, to the Cubs in 10 innings on Wednesday night at Angel Stadium.
Mark Trumbo's home run -- a shot to lead off the eighth -- tied the game at 5, but Robert Coello gave up a three-run double to Cubs first baseman Anthony Rizzo in the top of the 10th as the Angels finished their eight-game homestand with a 3-5 record.
"That was a fastball," Coello said. "It was a fastball we threw to Rizzo. Like I said, an inch more this way, we have a ground ball. That's crazy, but that's how it went."
"It felt good to get a win and sneak a ground ball past the first baseman, too," said Rizzo, who had grounded out to first in his first four at-bats. "I want to be in that situation [in the 10th]."
Two games into the homestand, the Angels had won 10 of their previous 12 games. The team was four games under .500 and appeared to be gaining momentum.
Although the homestand ended with losses in four of the final five games, Angels manager Mike Scioscia was able to take away some positives.
"I think the overall picture is that we are pitching much better," Scioscia said. "That has to continue and our offense needs to turn the corner and start to produce enough to win some of the games that we lost this week."
After throwing at least seven innings in each of his past four starts, Vargas lasted just five-plus innings and allowed five runs on a season-high 11 hits.
"There's no doubt that some of the balls that were hit were elevated changeups not quite in the right zone," Scioscia said. "Jason, he's been on a great roll. Had a lead and let it get away from us."
The Cubs scored one in the third when center fielder Ryan Sweeney tripled and scored on a groundout.
After Dioner Navarro and Darwin Barney singled in the fifth, Cody Ransom launched his fifth home run of the season as he hit a first-pitch changeup down the left-field line.
"The difference was the homer to Cody Ransom," Vargas said. "That's really what got them going -- let them back in the ballgame. I feel like I made a dumb mistake. We were up three runs and I decided to go after him like it was a pretty close ballgame. Three runs isn't a huge lead, but definitely a mental mistake on my part.
"I feel like I cost us the game in that at-bat right there."
In the sixth, Vargas' struggles continued as he allowed hits to the first three batters before Michael Kohn and Scott Downs came in to finish the inning.
Cubs shortstop Starlin Castro doubled, Navarro followed with an infield single and Sweeney gave the Cubs a 5-4 lead with an RBI single.
Howie Kendrick -- the only regular in the Angels lineup with a .300 batting average -- continued to impress at the plate. After a 3-for-3 game on Tuesday, Kendrick followed Josh Hamilton's second-inning double with a two-run home run to right field and finished with four hits.
The home run was Kendrick's eighth of the season, matching his total from last season. Kendrick also singled in the fourth and sixth to give him six hits in his last six at-bats. However, a strikeout in the eighth ended that streak.
"Howie's really comfortable where he is in the lineup," Scioscia said. "He's comfortable in the batter's box. He just keeps hitting the ball hard -- had a great afternoon today, has definitely been our most consistent hitter."
The Angels scored two in the fourth when Chris Iannetta and J.B. Shuck each had RBI singles. Shuck had what would have been his first Major League home run overturned by instant replay and ruled foul in the second.
After Shuck's RBI single, Cubs starter Matt Garza retired seven of the next nine Angels. Garza allowed four earned runs in 6 1/3 innings.
The Angels are eight games under .500 and have a lot of work to do if they want to get back into the playoff picture, but Scioscia wants his club to focus on the next game -- Friday's contest against the Red Sox -- rather than the 102 left.
"I think we've dug a little bit of a hole, obviously, and you want it to happen tomorrow, but we still need to be patient and bring the team together remembering you can only win one game on a certain day," Scioscia said.
William Boor is an associate reporter for MLB.com. This story was not subject to the approval of Major League Baseball or its clubs.