Johnson bested despite strong return vs. Giants
Johnson bested despite strong return vs. Giants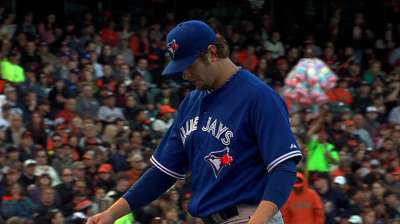 SAN FRANCISCO -- It didn't make much of a difference in the win column but Josh Johnson made a dominant return to the mound Tuesday night, and that can only mean good things for the Blue Jays' starting rotation.
Toronto's right-hander was the best he has been all year despite taking the mound for the first time since the end of April following a right triceps injury. He consistently hit 92-93 mph on the radar gun while displaying impressive movement on his secondary pitches.
The problem is that none of that seemed to matter because Giants right-hander Tim Lincecum was arguably even better as the Blue Jays' offense struggled in a 2-1 loss at AT&T Park.
"It felt good to be out there and to go to battle with these guys," said Johnson, who allowed just the two runs over seven strong innings. "Unfortunately I made a couple of mistakes I can't take back but they were huge."
Johnson's only real difficulty came in the second inning, but it also was a by-product of Toronto's seemingly endless struggles on defense.
Edwin Encarnacion began that frame with a throwing error on a routine grounder to third. During the very next at-bat, Emilio Bonifacio received a tailor-made double-play ball but he was unable to cleanly field it and instead had to settle for the out at first.
San Francisco's Andres Torres immediately made the Blue Jays pay when he sent a 1-1 changeup over the wall in center field for a two-run shot. A second run never should have scored, but Blue Jays manager John Gibbons was quick to defend his team -- especially Encarnacion, who is playing out of position in the absence of the injured Brett Lawrie.
"We have guys playing out of position a little bit and we have guys that are not known as defenders. They're hitters; it bites you sometimes," Gibbons said. "If you look at it realistically, that's what it is. It's not from a lack of work or anything like that. They turn double plays every day, at least 20-25 apiece. They do everything that everybody else does."
That was the only negative of the night for Johnson, who was relatively flawless the rest of the way. The most impressive aspect of his outing was the sharpness to both his curveball and slider. The curveball, in particular, was something he has struggled with a lot in the past but had little to no difficulty with against San Francisco.
Johnson struck out two batters with the curve and another two with his slider. Both pitches are pivotal to Johnson's future success as he transitions from the stereotypical power pitcher into someone who throws with a little bit less velocity and increased finesse.
The pending free agent said it was a long time coming but he could tell early on that his off-speed pitches were going to be effective.
"I finally had that bite I have been looking for where it wasn't up and out, it was out and then down," Johnson said of the curve. "It kind of keeps the hitters off balance. I was able to change speeds on a couple of them and I think it started with my slider.
"My slider was really good. I noticed that in the second or third inning ... I was like all right, let's trust this, let's go with it, I have a good one today and just ride it out."
As good as Johnson was, Lincecum was slightly better against a Blue Jays lineup that couldn't generate many scoring opportunities. Encarnacion provided the lone bright spot in the first when he crushed a 1-0 fastball to deep straightaway center field. It was Encarnacion's 17th homer of the season and third in his past four games.
Lincecum was almost untouchable from that point on. He faced just one batter over the minimum through the game's first five innings but did find himself in some trouble during a controversial sixth inning.
With one out and runners on first and second, Jose Bautista lined out to Pablo Sandoval at third base. Sandoval turned and attempted to double off Johnson at second but his throw was wide of the bag.
San Francisco's Marco Scutaro dove for the ball while at the same time attempting to step on second base. When Scutaro hit the ground, the ball popped out of his glove and sailed through the air but umpire Alfonso Marquez ruled he had possession of it for a long enough period of time.
Gibbons immediately ran out of the dugout to argue, but the call stood and the Giants got out of the inning.
"[Marquez] thought he was on the bag and he had it," Gibbons said. "I just didn't think he ever had possession of it. It happened so fast and everything was kind of out of control but third out, they're not going to get together and check that. That's the way it goes."
Lincecum was taken out after seven innings having allowed just three hits and one walk while striking out six. It was Toronto's lowest scoring output since the club was shut out May 17 in New York.
"He used all his pitches well and had a great outing, which we needed because their guy Johnson was pitching well," Giants manager Bruce Bochy said.
The Blue Jays have now lost four of their past five games and have once again fallen to 10 games below .500.
Gregor Chisholm is a reporter for MLB.com. Read his blog, North of the Border, and follow him on Twitter @gregorMLB. This story was not subject to the approval of Major League Baseball or its clubs.