Peralta declines comment on Bosch report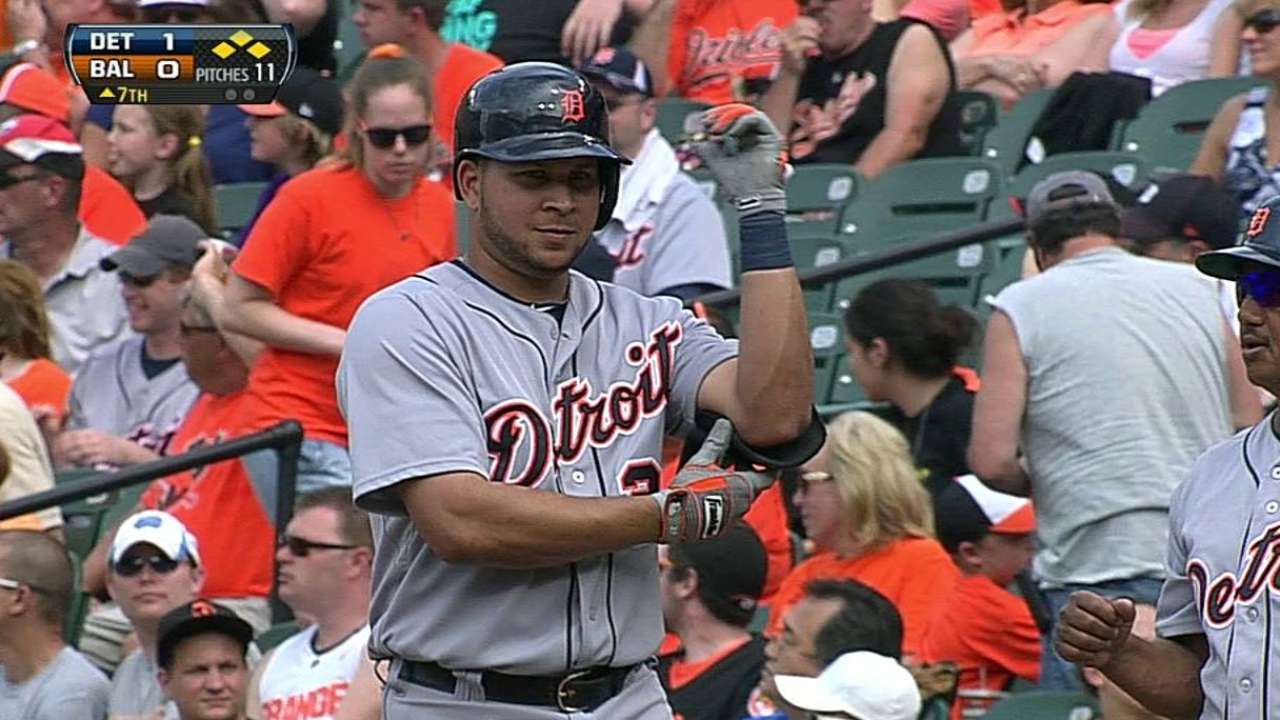 DETROIT -- When Jhonny Peralta reported to Spring Training under the shadow of a Sports Illustrated story reporting that his name was included in the records of Biogenesis founder Anthony Bosch, he declined comment.
His response was much the same to Tuesday's report from ESPN's Outside The Lines -- that Bosch is now prepared to cooperate with investigators for Major League Baseball, which in turn is prepared to use that information to pursue suspensions for as many as 20 players.
The ESPN report lists Peralta among those players.
"I don't have a comment for that right now," Peralta said after his three-hit game in the Tigers' 10-1 win over the Rays. "I play baseball right now. I'm focused to play here right now."
Asked if he was aware of the details of the ESPN report, he said, "I don't really try to pay attention. That's all I have to say right now. I try to play this game."
A Tigers spokesperson said on Tuesday evening that the organization has no comment at this time. Team president/general manager Dave Dombrowski told the Detroit News that the report is the first they had heard about the new developments, but that there was nothing to add.
When the SI report first came out, in early February, the Tigers issued a statement supporting Major League Baseball's Joint Drug Prevention and Treatment Program but declined comment, since the matter was part of an ongoing MLB investigation.
Around that same time, Peralta's attorney, Barry Boss, released a statement on Peralta's behalf denying the accusations.
"I have never used performance-enhancing drugs. Period," the statement read. "Anybody who says otherwise is lying."
Still, the report -- and Peralta's mention in it -- raises the question of what the Tigers would do without their shortstop, especially as he's in the middle of a potential All-Star season at age 31.
Only Triple Crown candidates Miguel Cabrera and Chris Davis have a higher batting average among American League hitters than Peralta, who's batting about 60 points above his career average. His .878 OPS is his highest since his rookie year, 2005.
"I think the older I get, I have more experience," he said.
The Tigers do not have an obvious replacement for Peralta at shortstop in case of an extended absence. Their struggles to develop a shortstop were a big reason they picked up their $6 million contract option on Peralta last October.
Ramon Santiago is the only player on the 25-man roster who has played shortstop the last few years, and he has been Peralta's primary backup the last two-plus seasons, but he has struggled at the plate the last year and a half. Omar Infante came up as a shortstop in the Tigers system years ago but hasn't played a game there since 2010.
Danny Worth has been a strong defensive shortstop throughout his career in the organization, but he hasn't played since April 17 due to an injury to his heel. He's currently working out in extended spring training in Florida, trying to get back to game action for Triple-A Toledo.
Eugenio Suarez is enjoying a solid season as the Tigers' best shortstop prospect, now at Double-A Erie, but he likely isn't ready. Hernan Perez, the best infield prospect in the organization, is hitting .305 at Erie, where he started the year as a shortstop. His future, however, most likely lies at second base.
Jason Beck is a reporter for MLB.com. Read Beck's Blog and follow him on Twitter @beckjason. This story was not subject to the approval of Major League Baseball or its clubs.