Deduno's strong effort keeps Twins trending upward
Righty strikes out five in six scoreless to take opener at Kauffman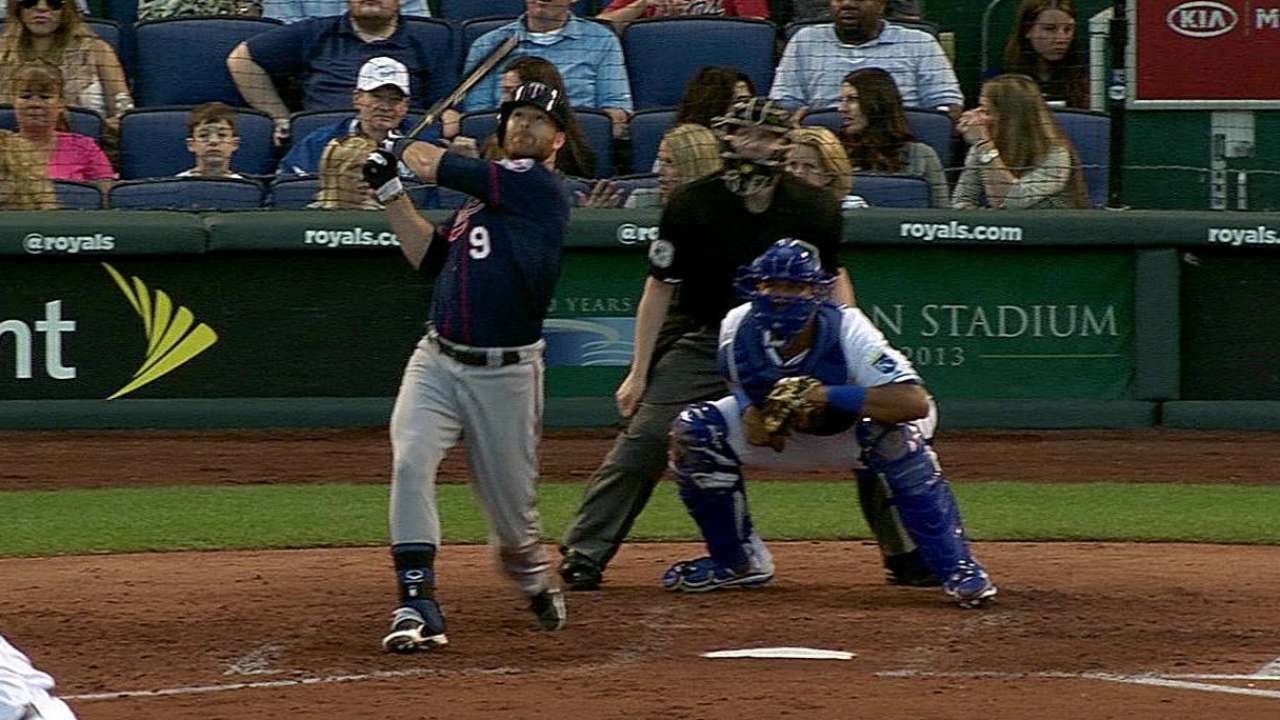 KANSAS CITY -- Slowly but surely, the Twins continue to work their way back from the horrors of a 10-game losing streak. The hole got deep, but Minnesota is climbing, and there was another upward movement Tuesday thanks largely to the efforts of right-hander Samuel Deduno.
With Deduno scattering just four hits over six-plus innings and Ryan Doumit remaining hot at the plate, the Twins slipped past the Royals, 3-0, for their eighth win in the past 10 games. The Royals have been in a prolonged slump, and Deduno made sure they didn't snap out of it as his expense. It was the second consecutive strong start by Deduno, who allowed just four hits and one run over seven innings in his previous outing against Milwaukee.
Deduno's only issue was a pitch count. When Lorenzo Cain led off the Royals' seventh with a double, manager Ron Gardenhire turned to the bullpen, and the quartet of Brian Duensing, Casey Fien, Jared Burton and Glen Perkins finished the shutout in high style. Deduno had thrown 105 pitches.
"It's exactly what you see out of Sammy," Gardenhire said. "He has great stuff. The ball is moving all over the place. The pitch counts jump up pretty quick in some innings, and other innings, he gets us right back in the dugout. The bottom line is he gave us a great chance to win a ballgame, and the bullpen came in and did a fantastic job."
Deduno gave Gardenhire a stare when the Twins manager came out to get him. But Gardenhire never blinked with the chance to turn a three-run lead over to his bullpen. Deduno lowered his ERA to 3.44 and left with a feeling of satisfaction.
"Everything was working," Deduno said. "My fastball had movement, and I've got confidence in it. They hit it, but I got a lot of ground balls."
The Twins took charge in a telling fourth inning, when Doumit homered off Kansas City starter Luis Mendoza and the Royals failed to score after Billy Butler's leadoff double.
Doumit, who finished 2-for-4 with and drove in two runs, has 15 RBIs in his last eight games and four homers in his last seven. After running the count to 3-2 as the leadoff hitter in the fourth, Doumit homered to right-center to jump-start the Minnesota offense.
"I was just battling, trying to get a pitch up and put the bat on the ball," Doumit said. "Once I hit it, I knew I had gotten it. But a home run certainly wasn't my intention. Mendoza has good stuff, but he hung a pitch and made a mistake."
The Royals, who dropped a club-record 11th consecutive home game, tried to answer with Butler's leadoff double in the fourth. But Deduno struck out Cain, then retired Mike Moustakas and Salvador Perez to end the threat.
"We're just not getting the job done right now, plain and simple," Kansas City manager Ned Yost said. "You can come up with all the reasons, all the excuses why. We're just not producing offense for our pitchers. You just keep hoping every day that you come to the park that you're going to break out of it."
The Twins (26-29) got two insurance runs in the fifth on run-scoring singles by Josh Willingham and Doumit. Aaron Hicks popped out with the bases loaded, but three runs proved to be plenty on a night when the pitching was sharp.
"The recipe for success is good pitching and timely hitting," Willingham said. "We've been doing that pretty well lately. We're coming out every day expecting to win."
With their recent surge, the Twins are now just 2 1/2 games behind second-place Cleveland in the American League Central. It's a division that Willingham considers wide open, but he isn't ready to think big picture just two weeks removed from a double-digit losing streak.
"We just need to focus on continuing to play well," Willingham said. "Everything will take care of itself in the end, but there are things we can do to improve. That's where our concentration has to be right now."
Robert Falkoff is a contributor to MLB.com. This story was not subject to the approval of Major League Baseball or its clubs.