Mayberry homers to tie it in 10th, win it in 11th
Slugger first ever to hit two shots in extras with second a walk-off slam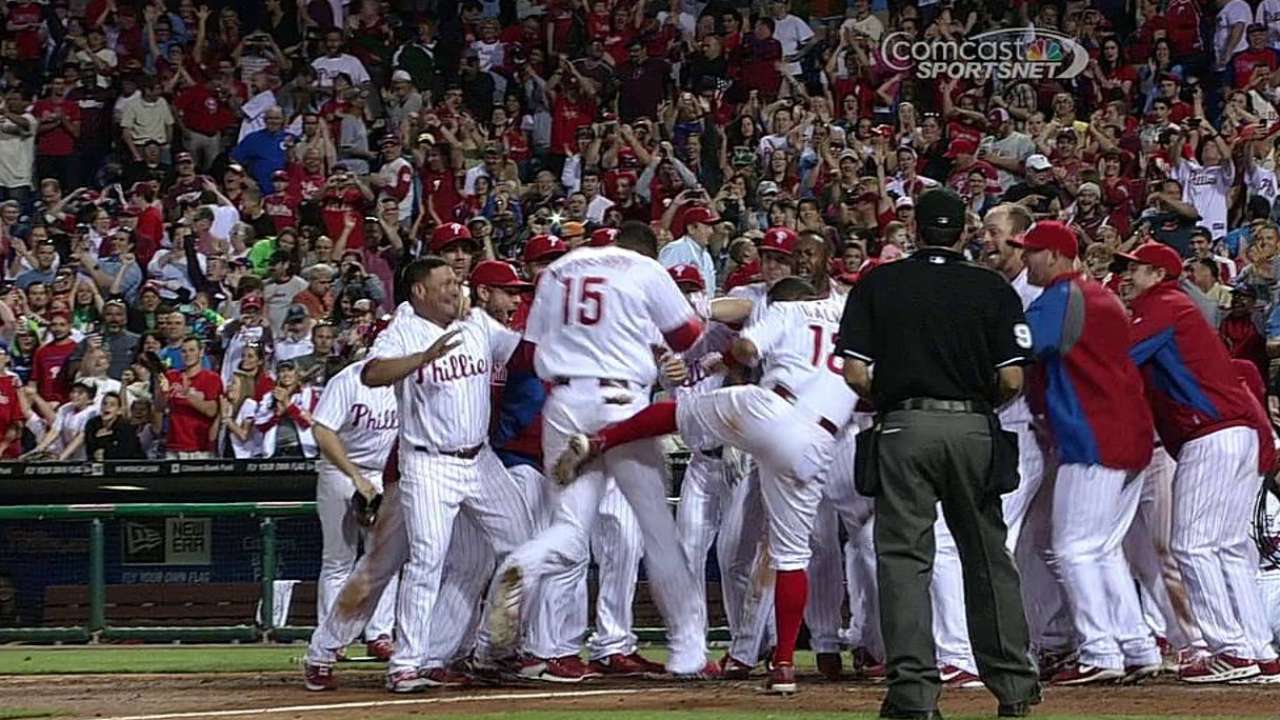 PHILADELPHIA -- The crowd at Citizens Bank Park on Tuesday had been hyped since second-base umpire Bob Davidson made a controversial call in the bottom of the eighth inning.
Phillies fans had not been galvanized like this in a long time.
"It definitely brought energy to the stadium," John Mayberry Jr. said.
"Electric," Ben Revere said.
But Mayberry took that liveliness to an entirely different level. He hit a game-tying home run in the 10th inning and a game-winning grand slam in the 11th inning in a 7-3 victory over the Marlins. Mayberry is the first player to hit two extra-inning home runs in one game since Baltimore's Mike Young in 1987. He is the first player in baseball history to hit two extra-inning home runs in one game with the second home run a walk-off grand slam.
"It feels pretty good, I can't lie to you," Mayberry said. "That's definitely a first. This is one of those days I'll remember forever."
Mayberry's heroics are even more impressive, considering he started the game on the bench. He pinch-hit in the seventh inning and remained in the game as a defensive replacement for Delmon Young in right field. Mayberry became the fourth player in Phillies history to hit two home runs in a game as a substitute. He joined Ryan Howard (May 14, 2006, at Cincinnati), Steve Jeltz (June 8, 1989, vs. Pittsburgh) and Jack Knight (June 24, 1926, vs. New York Giants).
He also is the first Phillies player to hit a walk-off grand slam since Dale Murphy on Aug. 6, 1991, against the Cubs.
The victory puts the Phillies (29-30) in position to be .500 for the first time since April 14 with a victory Wednesday. Can they finally get there? They only need to beat the Marlins, who are on pace to lose 115 games.
"We're going to be trying like [heck]," Phillies manager Charlie Manuel said.
The Phillies tied the game in the seventh at 2 with doubles from Howard, Young and Erik Kratz. Revere reached on an error to start the eighth, but Michael Young grounded a ball to Marlins third baseman Ed Lucas. Revere slid headfirst into second as he appeared to break up the double play. But Davidson, 60, said Revere interfered with the play, intentionally wrapping his arms around Marlins second baseman Derek Dietrich.
Replay showed that never happened.
"What did I do?" Revere asked Davidson.
"You grabbed his leg," Davidson replied.
"How?"
"You grabbed it?"
"Are you serious?"
Revere could shake his head and laugh afterward. The Phillies won.
"It's ridiculous, but I enjoyed the fans," Revere said. "I never heard that. Some of the coaches said they never heard an umpire get it like that. It was funny. I'm glad we won the game, because if that was the reason we lost, I'd be so mad. It was clear I didn't grab his leg. I know he was standing right there and he said he did see it, so I was like, 'You may need some glasses or something.'"
Said Manuel, who is nearly 10 years older than Davidson: "I don't know what he was seeing. Bob's kind of getting a little old."
The crowd booed every pitch, every call that went against the Phillies the rest of the night. They were into the game. They desperately wanted to see a victory.
The Marlins took a 3-2 lead in the 10th when Juan Pierre walked, advanced to second on a sacrifice bunt, stole third and scored on a wild pitch from Phillies left-hander Antonio Bastardo. But Mayberry extended the game when he hit a solo home run to left-center field against Marlins right-hander Steve Cishek in the bottom half of the inning to make it 3-3.
"I threw him four straight heaters, so I just tried to put him away with a slider," Cishek said. "It just backed up on me. I didn't get away with it. He got all of it. Hats off to him. That's a big momentum shift for us, and it [stinks] for us."
Domonic Brown, who had homered in nine of his previous 10 games, reached first base on an error from Marlins left-hander Edgar Olmos to start the 11th. Pinch-hitter Kyle Kendrick advanced Brown to second on a sacrifice bunt. Olmos, who was making just his second appearance in the big leagues, intentionally walked Freddy Galvis before walking Kratz to load the bases.
Mayberry took care of the rest.
"I had a feeling it was going to sneak over there," Mayberry said of the ball that cleared the left-field fence.
Todd Zolecki is a reporter for MLB.com. This story was not subject to the approval of Major League Baseball or its clubs.