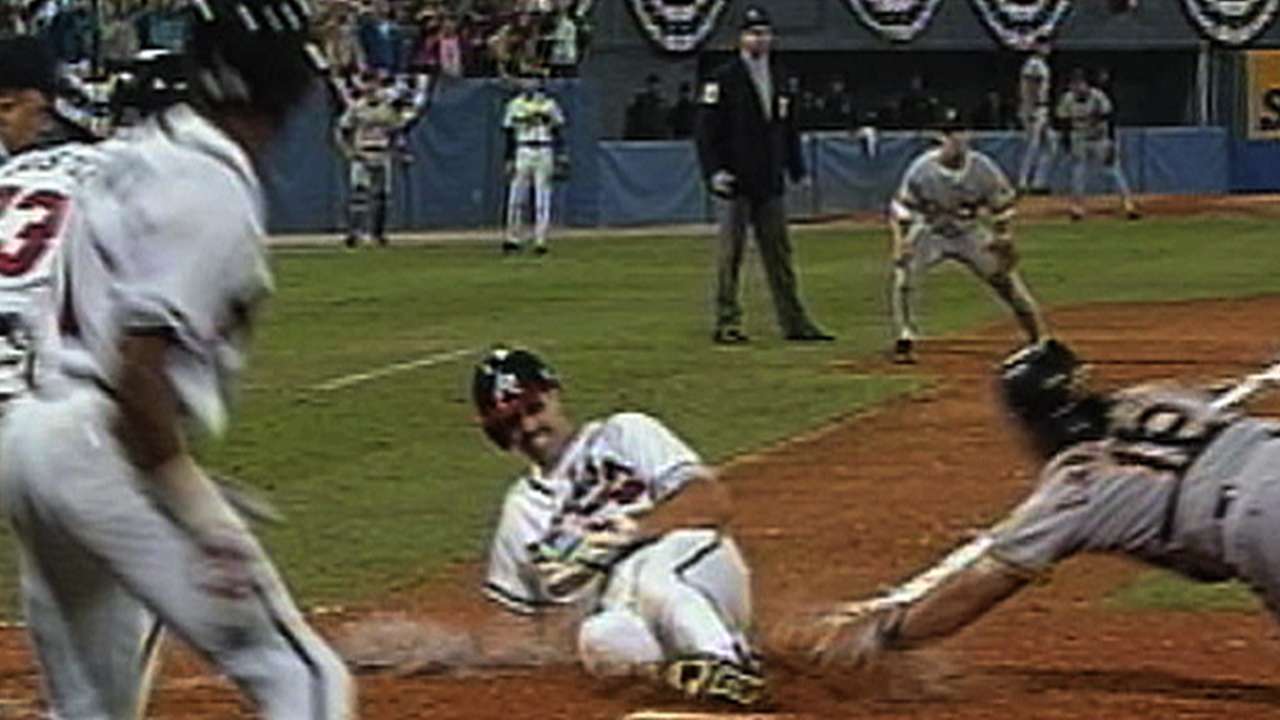 ATLANTA -- With a heavy dose of pitching, along with just enough clutch hitting, speed and grit, the surging Pirates suggest they'll get it right this time. They want us to believe they won't spend the second half of another season evolving into their slumping predecessors of the past two years, but we are wise to doubt.
The Pirates have this problem: their past. Like their past 20 years.
During that stretch, the Pirates have finished with a winning season zero times, and that ranks as the professional sports record for most consecutive losing seasons.
OK, OK. The Pirates could end that streak this season. Then again, your favorite aunt could win the lottery next week, and NASA could discover elephants on Mars. Who knows? What we do know is, until the Pirates exorcise their Sid Bream demons by playing in October (or at least by finishing with more victories than losses for the regular season), you have to greet their current run of goodness with a yawn.
Sid Bream. Sid Bream. Remember the name?
After a few seconds of silence in the visitors' clubhouse at Turner Field, Pirates center fielder Andrew McCutchen squinted to buy more time, but he wouldn't give up.
"I know the name. I hear the name, and it's sort of clicking to me. I just can't pinpoint exactly who he is," said McCutchen, responding like most of his teammates to the question: What was Bream's significance to the plight of the Pirates franchise over the past two decades?
In case you didn't know, Bream was the Pirate-turned-Brave who forgot during Game 7 of the 1992 National League Championship Series inside old Atlanta-Fulton County Stadium that he was the slowest guy in baseball.
On a two-out single to left field, he went on a frantic sprint (well, relatively speaking) from second to home in the bottom of the ninth inning to give the Braves a miracle victory. He did so by sliding just ahead of the throw from Gold Glover Barry Bonds.
That was the Pirates' last winning season.
Crazy, isn't it?
"It is, but it happens in sports," said McCutchen, the face of a Pirates team that is so close this year to snapping that streak.
Still, we've seen this before with the Pirates -- like last season and the season before that. In 2012, they soared through the first week of August with a 63-47 record to sit 2 1/2 games from first in the NL Central. They finished 18 games out. In 2011, the Pirates were in first place in the middle of July with a 51-44 record, but they finished 24 games out.
So prepare to yawn, because here we are again with the Pirates ranking among baseball's elite before the All-Star break. In fact, heading into the second game of their three-game series with the Braves on Tuesday night, the Pirates' 35-23 record trailed only the St. Louis Cardinals and the Cincinnati Reds for the best record in the NL.
While the Pirates were 3 1/2 games behind the Cardinals in the NL Central, they were just a game behind the second-place Reds -- which means, if the past is indicative of the future, Pirates fans better enjoy their team's early success while it lasts.
"Oh, yeah, we know what happened to us in the past, but the whole thing is a process," said McCutchen, 26, in his sixth season with the Pirates after reaching two All-Star Games and winning a Gold Glove. He also finished third last year in NL MVP Award voting.
Added McCutchen: "We had the opportunity to turn it around last year, but it didn't happen. But it made us stronger, and we're definitely a much stronger team all the way around this year."
No question there, especially with a Pirates pitching staff that is among the best in the Major Leagues. In addition to trailing only the Cardinals and the Reds (there are those two teams again) in team ERA in baseball, the Pirates are peerless with an opponents' batting average against. They're on pace to finish with the lowest such figure in the Major Leagues in 45 years. Then there is closer Jason Grilli, who began Tuesday night's action with a Major League-high 22 saves in 22 chances.
Hitting? Well, that remains a work in progress for the Pirates who rank in the bottom third of baseball in most offensive categories. Even so, they've discovered how to manufacture runs when they've needed them, partly due to that newfound grit, along with two of the league's top basestealers in Starling Marte and McCutchen.
Russell Martin knows about grit, by the way. Not only is he a tough-minded catcher with a Gold Glove, three All-Star Game appearances and a Silver Slugger Award on his resume, but there is this: Prior to signing a free-agent contract with the Pirates before this season, he was with the New York Yankees for two years.
The Yankees know about winning.
Let's just say many of the guys Martin watched up close and personal in pinstripes knew the secret for keeping momentum as a team from spring through autumn.
Martin hopes to bring that secret to the Pirates.
"What you learn from playing with the Yankees is that great players go through the same routine every day, and that's whether their previous day was a good one or a bad one," Martin said, referring to the likes of Derek Jeter, Mariano Rivera and Andy Pettitte. "With the Yankees, their preparation is the same. Their attitude is the same. It doesn't matter whether it's [Robinson] Cano, CC [Sabathia] or [Mark] Teixeira.
"They all come to compete day in and day out. And I see it here. I see guys doing a lot of those things here. But it's still early. You have to stay consistent with your whole routine. The Yankees do it in Spring Training, and they do it in September."
The Pirates still are trying to do it.
Terence Moore is a columnist for MLB.com. This story was not subject to the approval of Major League Baseball or its clubs.