Tulo's late HR erases Escalona's miscue as Rox win
Reliever's mistake in seventh plated Reds' go-ahead run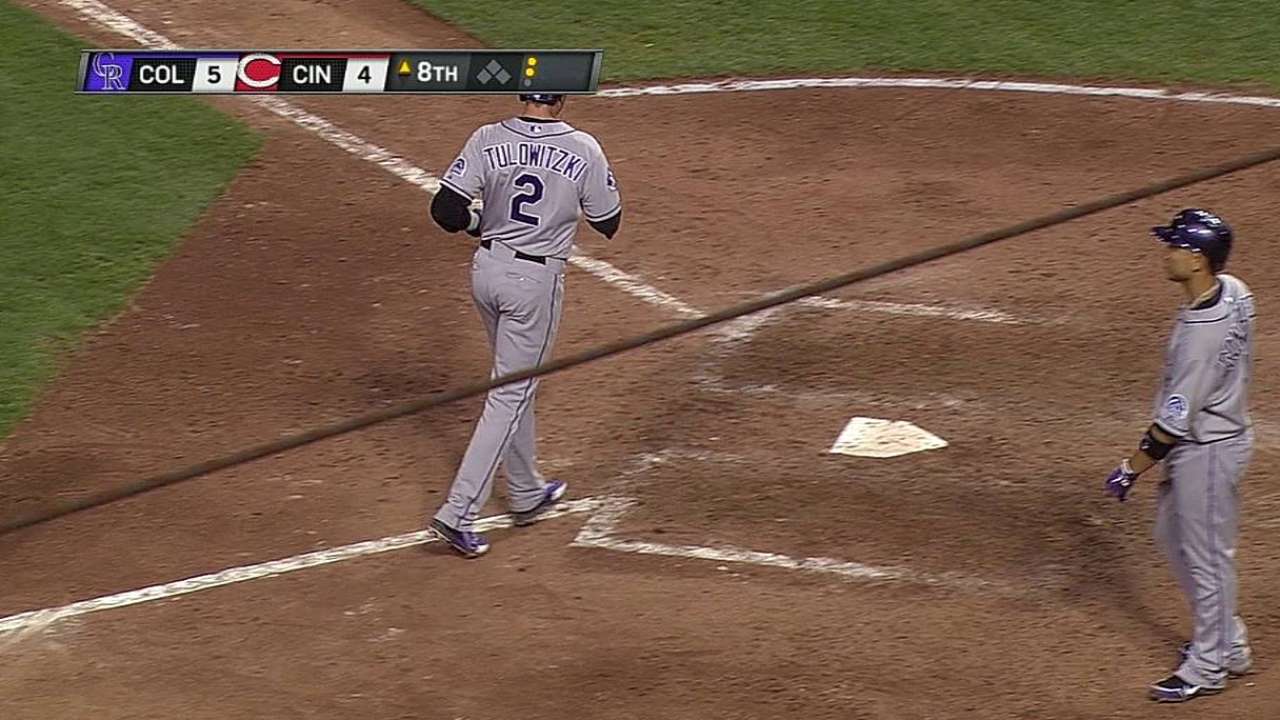 CINCINNATI -- Knowing that teammate Edgmer Escalona's mental lapse would not be soon forgotten, Troy Tulowitzki made sure that the Rockies could shake their heads and laugh at the memory.
Tulowitzki's two-run homer in the eighth -- an inning after Escalona plated the Reds' go-ahead run with a balk -- gave the Rockies a 5-4 victory over the Reds on Tuesday night at Great American Ball Park in front of 27,031.
With runners on the corners and one out in the seventh, Escalona faked a pickoff move to third and wheeled toward first. According to an offseason rule change, pitchers have to step behind the rubber before that maneuver, so the play gave the Reds a one-run lead.
"We lose this game, it's going to be talked about a lot," said Tulowitzki, whose homer with two outs and a full count against Sam LeCure (1-1) was his 13th of the season. "It's already going to be talked about. We figured it was going to happen to someone. We didn't know it was going to be on our own team.
"But if you win the game, it's going to be talked about a lot less than if you lose the game on it."
There was plenty to talk about after the Rockies' victory, which gave them their third win in the last four games.
Rockies reliever Josh Outman (2-0) struck out Joey Votto and Jay Bruce after the Reds took the lead. With the advantage in the ninth, closer Rex Brothers earned his second save by extending his scoreless streak to 24 games covering 22 1/3 innings. Jonathan Herrera went 3-for-4 with a two-run double in a spot-start. Starting pitcher Juan Nicasio forced 11 ground-ball outs while giving up three runs and five hits in six innings.
The Reds can talk about Homer Bailey's seven resourceful innings with seven strikeouts and three runs.
But Tulowitzki is correct that the talk will be about Escalona's mistake.
And Escalona could discuss it with an ear-to-ear grin in a thankful spirit. He relayed that he wasn't so happy as he had an animated conversation with himself, right there on the mound. He said he simply became confused when catcher Yorvit Torrealba gave a pickoff sign to first base.
"I say, 'How can you forget that?'" Escalona said. "We talked about that all Spring Training. You've got to step off."
But he didn't. He freely admitted that he prayed continuously -- through Carlos Gonzalez's two-out walk and every pitch of the Tulowitzki at-bat, as LeCure came from 3-0 to a full count, then Tulowitzki hit the sixth pitch for a homer. More prayers went up when umpires went to the replay room to see if the fan who snatched the ball near the home-run line on the top of the fence in left had interfered.
"If we lost, I'm going to be upset, and everybody's going to be mad at me," Escalona said.
Interestingly, the Reds' chances to recover from Tulowitzki's homer were reduced by a mistake that was almost as embarrassing.
The Reds' Donald Lutz singled with one out in the eighth against reliever Matt Belisle, before Ryan Hanigan drove a Belisle delivery to the warning track in center. Lutz sped around the bases as if there were two outs, and he was at third with no chance to return to first when the ball landed in the glove of center fielder Dexter Fowler. Fowler threw to the infield, and Tulowitzki lobbed the ball to first for the final out.
"That's what you call a rookie mistake," Reds manager Dusty Baker said. "He'll probably never do it again. He'll probably keep track in his head. Nobody feels worse than big Lutz."
Escalona certainly didn't feel bad when he saw Lutz running.
"I said, 'Yes. Go, go, go, go,'" Escalona said. "Everything's lucky for us."
"That's what a team's for. When you make a mistake or something, guys pick you up," said manager Walt Weiss.
The victory was just the Rockies' second in 13 games when trailing after seven innings.
"More than anything, the Reds have the best home record [21-8], and it puts in a chance to win a series," Tulowitzki said. "Tomorrow, we can steal a series. If we don't, winning one game is a lot better than being swept."
Thomas Harding is a reporter for MLB.com. Read his blog, Hardball in the Rockies, and follow him on Twitter @harding_at_mlb. This story was not subject to the approval of Major League Baseball or its clubs.