Hefner's statement-maker erased by Parnell
Right-hander spins seven stellar innings before Nats rally in ninth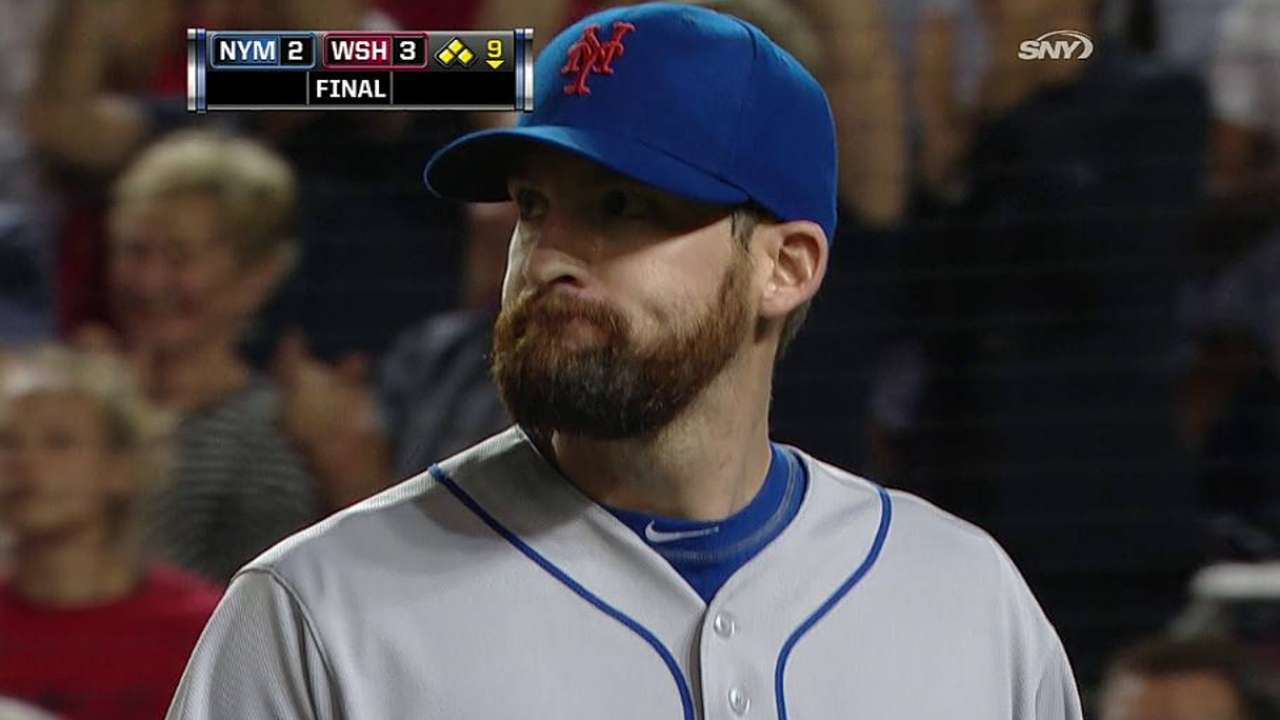 WASHINGTON -- Jeremy Hefner laughed and shook his head when asked if he felt like the unluckiest man in baseball. He had just taken a tough no-decision Tuesday night against the Nationals, losing the lead when Bobby Parnell blew his first save in his last eight attempts to drop the Mets to a 3-2 loss. Hefner remained 1-5 on the season despite some sturdy numbers. But he also understood the nature of baseball.
"That's the game," Hefner said. "On every team, somebody usually has to deal with this a little bit."
Call it bad luck, misfortune or whatever else. There was nothing Hefner could do about it, sitting on the bench as Parnell entered in the ninth inning of a one-run game, promptly allowing a leadoff double to Ryan Zimmerman. Two pitches later, Parnell fired a 97-mph fastball to the backstop, evidence enough for manager Terry Collins to believe his closer was "most likely" overthrowing.
From there, Parnell ran into a bit of rotten luck himself. Adam LaRoche shot a ground-ball single past a drawn-in infield. And after an intentional walk to load the bases, Steve Lombardozzi poked a shallow fly to left, where Mike Baxter could not position himself in place to catch it and make a strong throw home. Baxter's attempt was just a hair late, allowing LaRoche to score the winning run on a walk-off.
"I left a few balls over the middle that I didn't like," Parnell said. "They're a good-hitting team. That's a good part of their lineup. I didn't walk them or anything like that. They hit some decent pitches, but they [the pitches] could have been better."
They were regrets that Hefner did not share. Auditioning again to keep his job with top prospect Zack Wheeler primed for the big leagues, Hefner faced his greatest challenge in the sixth, battling Ian Desmond with the bases loaded and two outs. Because the shortstop had already homered off him on a changeup earlier in the game, Hefner adjusted. His one-strike sinker broke down and in on Desmond, who rolled over it for an inning-ending groundout to third.
Before running into that sixth-inning jam, Hefner was sublime. He retired 14 of the first 15 batters he faced to open the game, striking out five of them and cracking only on Desmond's solo shot in the second. Coming off an outing at Yankee Stadium in which he was good -- but not great -- Hefner, on this night, was spectacular.
"Jeremy pitched another very, very good game," Collins said. "Especially after giving up the home run, he just bounced back and worked hard and pitched very well."
But the Mets, as has become their custom in Hefner's starts, provided no margin for error. They scored their only runs off Jordan Zimmermann in the fifth, when LaRoche made a key blunder, pulling Desmond off the second-base bag on a would-be double play. Two batters later, Omar Quintanilla capitalized with a two-run triple.
It was all that Zimmermann allowed, and for a time it seemed like all the Mets would need. Hefner was that good, striking out seven batters against one walk and limiting the Nationals to mostly soft contact. Brandon Lyon fired a scoreless eighth before Parnell came on for the ninth having converted seven straight save opportunities.
"It's a little tough, but I'll take Bobby any day," Hefner said. "He's been great all year, and today he just had a bad day."
Though Hefner struggled to open this season, he has been far better of late, posting a 3.60 ERA over his last eight starts with 41 strikeouts and 13 walks in 50 innings. He was the odds-on favorite to retain his spot in the rotation until last week, when Dillon Gee awoke from his season-long struggles to whiff a dozen Yankees in a dominant performance. Yet from a wider lens, Hefner has been the better pitcher for the bulk of this season.
"It's kind of been building on my last few starts," Hefner said. "It's been good to have a good fastball, and locating it well has been key."
The Mets may ultimately need to choose between those two, with Wheeler on the cusp of his big league debut. Though the organization has yet to announce a date for their top pitching prospect's callup, it's possible he will only make one more start in the Minors.
When Wheeler arrives, he can only hope for some better luck than Hefner.
"We were at the stage of the game exactly where we would have drawn it up in the beginning, and that's having Bobby in there with the lead in the ninth inning," Collins said. "It just didn't work tonight."
Anthony DiComo is a reporter for MLB.com. Follow him on Twitter @AnthonyDicomo. This story was not subject to the approval of Major League Baseball or its clubs.