Brown needs Phils fans' support for All-Star Game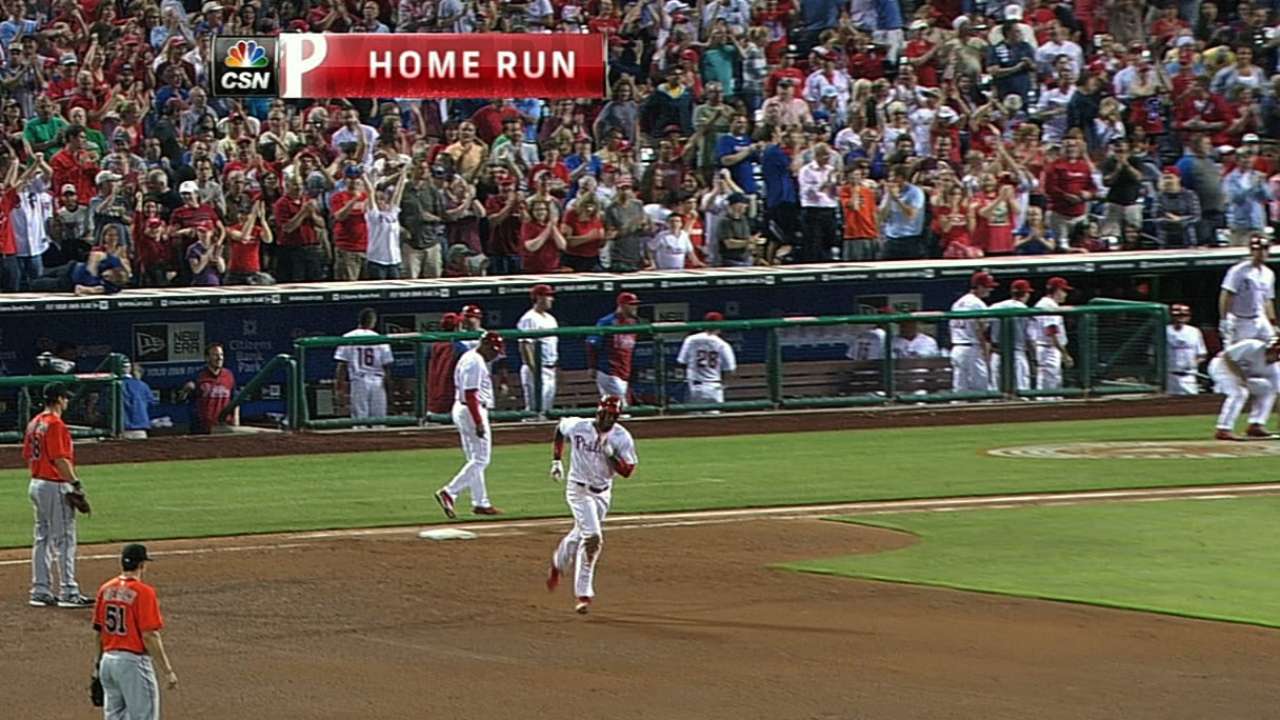 PHILADELPHIA -- Left fielder Domonic Brown had one of the best months by a Phillies player in recent memory in May, but it has not been enough to capture the attention of voters as they select who they want to start for the National League All-Star team.
Major League Baseball on Tuesday unveiled its first voting update for the NL All-Star team, and Brown did not rank among the top 15 outfielders. In fact, the only Phils player among the leaders at any position was second baseman Chase Utley. He ranks a distant third with 524,519 votes, trailing Cincinnati's Brandon Phillips (1,019,240) and San Francisco's Marco Scutaro (801,754).
MLB on Monday named Brown the NL Player of the Month for May and Player of the Week for the second consecutive week. He hit 12 home runs with 25 RBIs and a .688 slugging percentage in May, tying Miguel Cabrera for the most homers in the big leagues. Brown also led the Majors last week with seven home runs, 13 RBIs, 35 total bases and a 1.296 slugging percentage.
Brown is the first Phillies player to earn Player of the Month honors since Ryan Howard in August 2009. He is also the first Phillie to win back-to-back Player of the Week honors and the first to win the award twice in the same season since Utley in 2006 (May 1-7, July 24-30).
Asked about a possible spot on the All-Star team, Brown said, "That would be great, but I'm not thinking about it right now. I'm just thinking about trying to get above .500 and being first in the division."
Fans can vote for starters at MLB.com and all 30 club sites -- online or via mobile device -- using the 2013 All-Star Game MLB.com Ballot until July 4, at 11:59 p.m. ET.
Fans can submit 25 online ballots during the voting period, but also can earn a one-time bonus of 10 additional online ballots. To access these additional online ballots, you must be logged into your MLB.com account when you submit any online ballot. If you do not have an MLB.com account, visit MLB.com and register in accordance with the enrollment instructions for a free MLB.com account.
Fans also can participate in the Home Run Derby Fan Poll. Fans have the opportunity to select three players in each league who they would like to see participate in the Home Run Derby. The 2013 Home Run Derby -- part of Gatorade All-Star Workout Day -- will be broadcast live on ESPN, ESPN HD, ESPN Deportes and ESPN Radio in the United States beginning at 8 p.m. ET on July 15.
The 2013 American League and National League All-Star teams will be unveiled July 7 on the 2013 MLB All-Star Game Selection Show, televised nationally on TBS. Baseball fans around the world then will be able to select the final player on each team via the All-Star Game Final Vote sponsored by freecreditscore.com on MLB.com.
The final phase of All-Star Game voting again will have fans participating in the official voting for the Ted Williams All-Star Game Most Valuable Player Award presented by Chevrolet. During the Midsummer Classic, fans will vote exclusively online at MLB.com via the 2013 All-Star Game MLB.com MVP Vote, and their voice will represent 20 percent of the official vote determining the recipient of the Arch Ward Trophy.
The 2013 All-Star Game will be played at Citi Field on July 16. Come to MLB.com for extensive online coverage of the All-Star Week festivities.
The 84th All-Star Game will be televised nationally by FOX Sports, in Canada by Rogers Sportsnet and RDS, and worldwide by partners in more than 200 countries via MLB International's independent feed. ESPN Radio and ESPN Radio Deportes will provide national radio coverage of the All-Star Game. MLB Network and SiriusXM also will also provide comprehensive All-Star Week coverage. For more information, please visit allstargame.com.
Todd Zolecki is a reporter for MLB.com. This story was not subject to the approval of Major League Baseball or its clubs.