Indians pick deceptive lefty Crockett in Round 4
Indians pick deceptive lefty Crockett in Round 4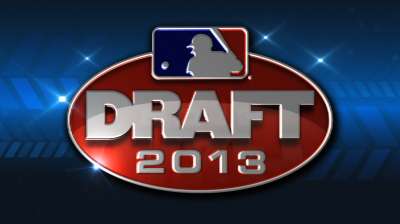 Kyle Crockett, a lanky left-hander picked by the Indians in the fourth round, has been a mainstay in Virginia's bullpen for three years. He moved into the closer's role this year, his junior season, and he executed his new responsibilities with confidence and poise.
A native of Poquoson, Va., Crockett increased his velocity during the spring, and his fastball now touches the low-90s. Hitters have routinely struggled to lay off of his sweeping slider. Crockett's best asset, however, is his excellent command. He didn't issue his first unintentional walk for the Cavaliers this season until May 12, a span of 39 innings.
"Unbelievable strike-thower," said Brad Grant, the Indians' director of amateur scouting. "Got a solid-average fastball, solid-average slider and he's got a changeup, too, to attack righties."
Crockett's deceptive, low-three-quarters delivery makes him tough on left-handed batters, and could explain why he stood out from other Draft-eligible southpaws with similar skill sets. Crockett has a steady demeanor on the mound and could make a quick ascent through the Minor Leagues before bursting onto the big league scene.
Mark Emery is an associate reporter for MLB.com. This story was not subject to the approval of Major League Baseball or its clubs.