Tigers go on the offensive, hand Moore first loss
Fielder plates four and Infante three behind an effective Sanchez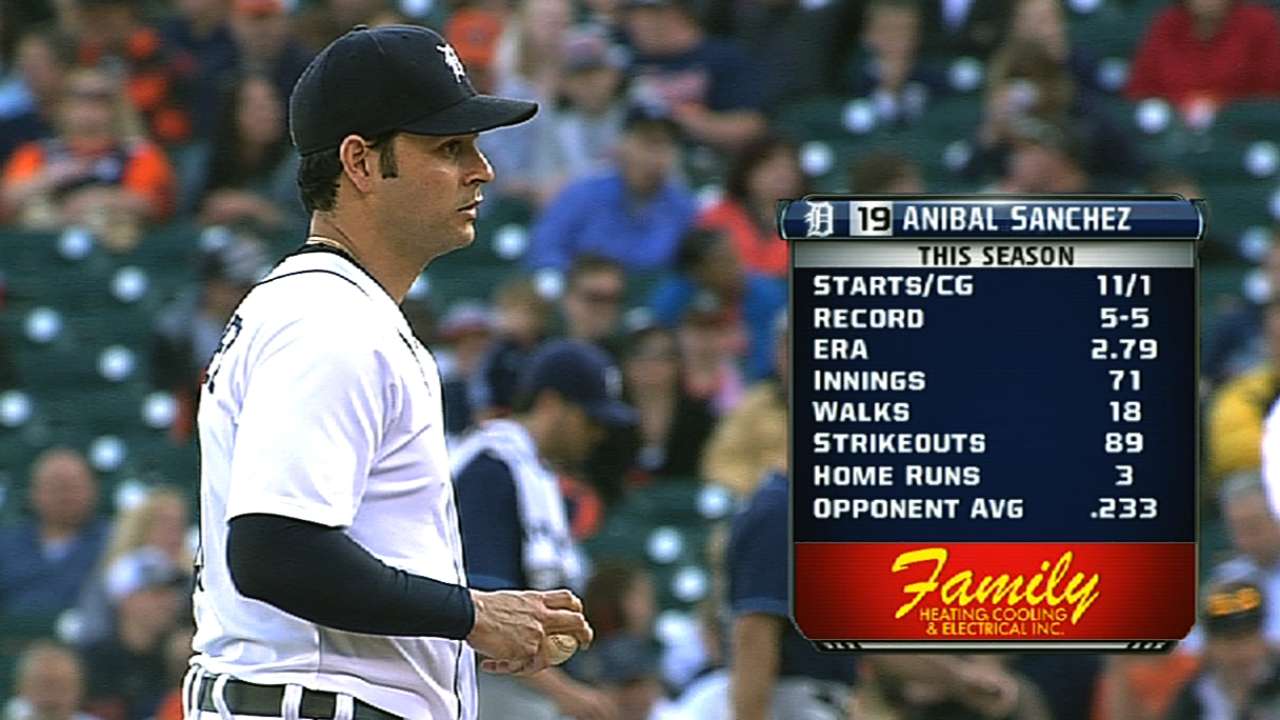 DETROIT -- Matt Moore came to town unbeaten. He hadn't even left a start trailing since last September.
But by the time the Tigers chased him on Tuesday, he not only had a five-run deficit, he'd made the second-shortest outing of his career. It was still the third inning.
By the time Anibal Sanchez had finished his seven innings of one-run ball, the gap had grown. And with Tuesday's 10-1 win, the Tigers' offensive struggles behind five losses over their previous six games seemed to have abated.
It was exactly what manager Jim Leyland was looking to see.
"We're not scoring runs," Leyland said before the game. "We scored them in that one lopsided game [on Saturday in Baltimore], but we're not scoring runs. I mean, that's one thing that we're supposed to be able to do."
They scored them early, but with at-bats that soon stretched Moore's outing into a long night.
"I do think we have a very good offense," Leyland said afterward. "We had some good at-bats up and down the lineup tonight."
It was part of the game plan they had against Moore, they just might not have anticipated it going this well.
The idea, players said, was to make Moore work and make him throw pitches over the plate. They soon realized he couldn't do it with any consistency.
"The video we watched, he was throwing strikes, he was getting ahead of guys," Torii Hunter said. "And today he just didn't have that touch, that feel. And we could see that, so we had to tell ourselves to be patient and wait for our pitch. We worked him pretty good early on."
Moore realized it as well.
"I wasn't throwing a lot [of pitches] close," Moore said. "So it was more, 'Wait until he throws a strike' and then, if I was doing that, they were geared up to hit."
Moore (8-1) overcame back-to-back two-out singles from Miguel Cabrera and Prince Fielder to hold Detroit scoreless in the opening inning, but he used 30 pitches to do it. By the time he got out of the second, he had thrown 34 more and had a three-run deficit.
"I don't know the difference for him, but I think that his control on the ball today was not too good, not too consistent today," Jhonny Peralta said. "He threw a lot of balls. After that he needed to come in right to the middle of the plate. So we had a good approach."
Peralta and Matt Tuiasosopo had back-to-back hits on 0-2 pitches, the latter an RBI double into the gap in right-center. Moore briefly recovered for a Brayan Pena groundout but walked three of the next four batters, the exception being an Omar Infante sac fly.
Back-to-back walks to Hunter and Cabrera extended the second inning for Fielder, who delivered a two-run single to center, punishing yet another opponent for giving Cabrera a pass. Fielder has followed Cabrera's last 10 walks by going 8-for-9 with a walk and 10 RBIs.
Moore didn't retire any of the five batters he faced in the third, including Avisail Garcia, who hit an RBI single. Infante escaped an 0-2 count for a bases-loaded walk and Moore's evening was done, having thrown 86 pitches for just six outs and a five-run deficit.
"I thought we did a good job on the man, who has been terrific to this point and will probably be terrific after this point," Leyland said. "It's one of those things sometimes, where the guy is so good he is due to lose at some point, and thankfully, it was against us."
Infante escaped another 0-2 hole to deliver a solo homer off ex-teammate Kyle Farnsworth in the fifth. Fielder padded the margin with a sacrifice fly in the sixth after Cabrera went from first to third on a wild pitch, and extended it further with a solo homer in the eighth.
The Rays' best hope for a comeback was another sudden Sanchez collapse, like the four-run seventh inning the Pirates posted on him last Wednesday in Pittsburgh. Instead, Sanchez pretty well cruised through his evening, allowing a run on four hits with a walk and nine strikeouts. Nobody reached scoring position against him after the third inning.
"They're pretty aggressive, so I tried to keep the ball down, throw the ball for strikes, mix it up," Sanchez said. "We talked about how aggressive they are, especially the righties, so I tried to make some pitches down that looked like a strike."
Or as Rays manager Joe Maddon put it, "We expanded our zone against Sanchez today, which we have not been doing. Whereas they were not expanding against us."
Evan Longoria tripled past a diving Hunter and scored on a Desmond Jennings sacrifice fly to send home Tampa Bay's lone run.
Jason Beck is a reporter for MLB.com. Read Beck's Blog and follow him on Twitter @beckjason. This story was not subject to the approval of Major League Baseball or its clubs.