Lack of command leads to Moore's first loss
Left-hander walks a career-high six in series opener at Comerica Park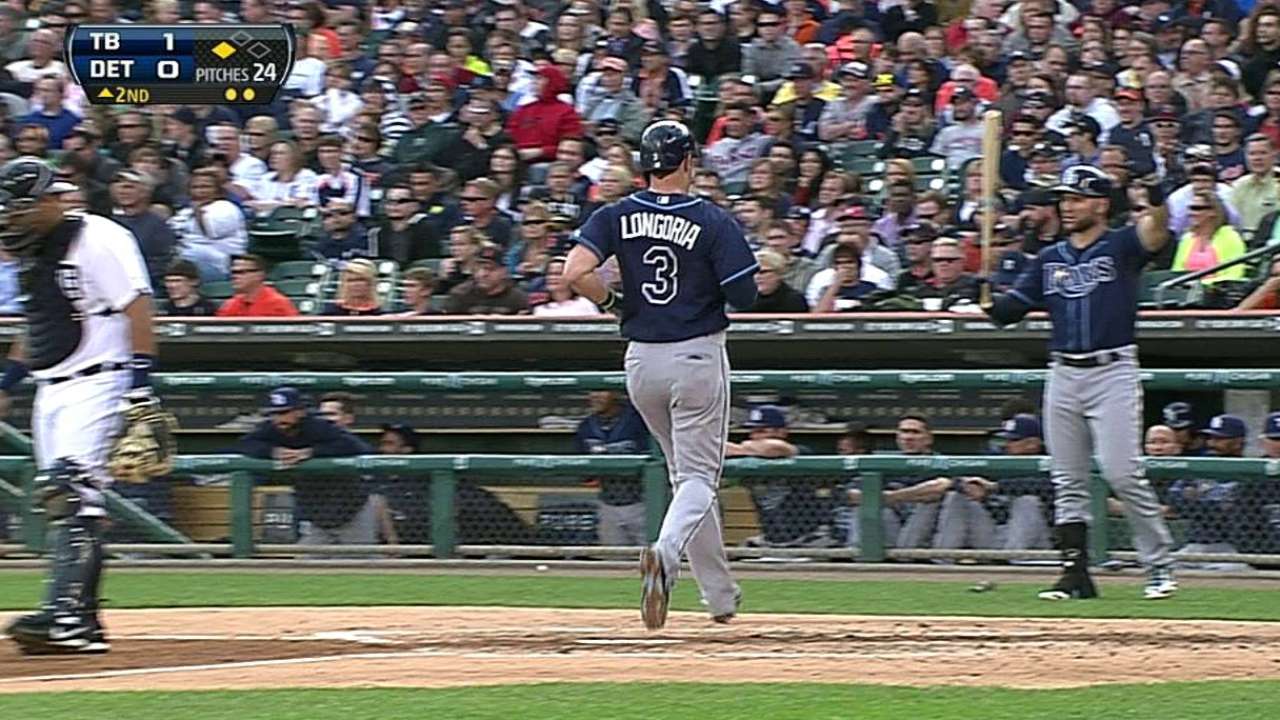 DETROIT -- Command issues were the problem, simple as that.
Matt Moore couldn't locate his pitches in the strike zone where he needed to. His inability to do so took away any hopes he had of remaining undefeated, and the Rays took a 10-1 loss to the Tigers on Tuesday night at Comerica Park.
"It had to happen sooner or later," manager Joe Maddon said. "That was a clunker in general. That was no fun. It was a no-fun game right there."
With the loss, the Rays fell to 31-26 and moved to 4-2 on their eight-game road trip.
Moore entered the game at 8-0, with a 2.18 ERA. At 23, he could have become the sixth-youngest pitcher exclusively used as a starter since 1916 to begin the season 9-0.
That idea quickly turned into a faded dream, even though Evan Longoria helped the Rays make it 1-0 in the second after hitting a triple to lead off the inning and scoring on Desmond Jennings' sacrifice fly.
But the lead came with a short shelf life, which was hardly a surprise given the fact that Moore needed 29 pitches to escape the first.
"It was something different," Detroit's Torii Hunter said. "The video we watched, he was throwing strikes, he was getting ahead of guys. And today he just didn't have that touch, that feel. And we could see that, so we had to tell ourselves to be patient and wait for our pitch. We worked him pretty good early on."
Moore followed his adventurous first by walking three and allowing three hits in the Tigers' four-run second.
Matt Tuiasosopo doubled home the Tigers' first run, Omar Infante's sacrifice fly drove home their second and Prince Fielder added a two-run single to put the Tigers up, 4-1.
"Somewhere there in the second inning, I lost my feel for my release point," Moore said. "It was kind of one of those things where I was trying a couple of different things, and I lost my release point."
By the time Moore took the mound for the third, his pitch count had reached 64. Predictably, more trouble followed.
Jhonny Peralta doubled to lead off the inning, then Moore walked the next two hitters. Avisail Garcia singled home one and Moore walked Infante to force home another. That was it for Moore after just two-plus innings and 86 pitches.
Although Detroit's hitters are an experienced and disciplined lot, laying off the pitches Moore threw out of the strike zone wasn't that difficult of an undertaking.
"I think [he] was that far off," Maddon said. "I don't think the pitches he threw would cause a lot of chase-and-miss."
Added Moore: "I wasn't throwing a lot [of pitches] close. So it was more, 'Wait until he throws a strike,' and then if I was doing that, they were geared up to hit."
Peralta concurred.
"I don't know the difference for him, but I think that his control on the ball today was not too good, not too consistent today," Peralta said. "He threw a lot of balls. After that he needed to come in right to the middle of the plate. So we had a good approach."

Alex Torres took over to clean up Moore's bases-loaded mess, getting a forceout at home before striking out Miguel Cabrera and Fielder to keep the Tigers from adding to the five-run lead built against Moore.
Meanwhile, Tigers starter Anibal Sanchez handcuffed the Rays for seven innings, allowing one run on four hits and a walk while striking out nine en route to his sixth win of the season.
"I like that guy a lot out there," Maddon said. "Sanchez knows how to pitch. He knows how to add and subtract. All of his pitches, he knows what to do with every one he's throwing. He's difficult on lefties, even more difficult on lefties than righties sometimes. He was really good.
"One thing we did, we expanded our zone against Sanchez today, which we have not been doing, whereas they were not expanding against us. Two different animals."
Moore's final line showed six earned runs on seven hits and six walks with a strikeout and his first loss of the season, and an ERA that jumped to 2.95.
"Six walks," Moore lamented. "The base hits were one thing. You can't defend walks, they're inexcusable.
"Pitchers are supposed to have short memories. I'll think about it tonight and get over it. … Speaking to my record, there were a lot of games that my team won for me. And this was one of those particular games that I lost for us."
Bill Chastain is a reporter for MLB.com. This story was not subject to the approval of Major League Baseball or its clubs.