Ibanez's homer ignites Mariners to win in opener
Saunders cruises as veteran DH keys pivotal third-inning rally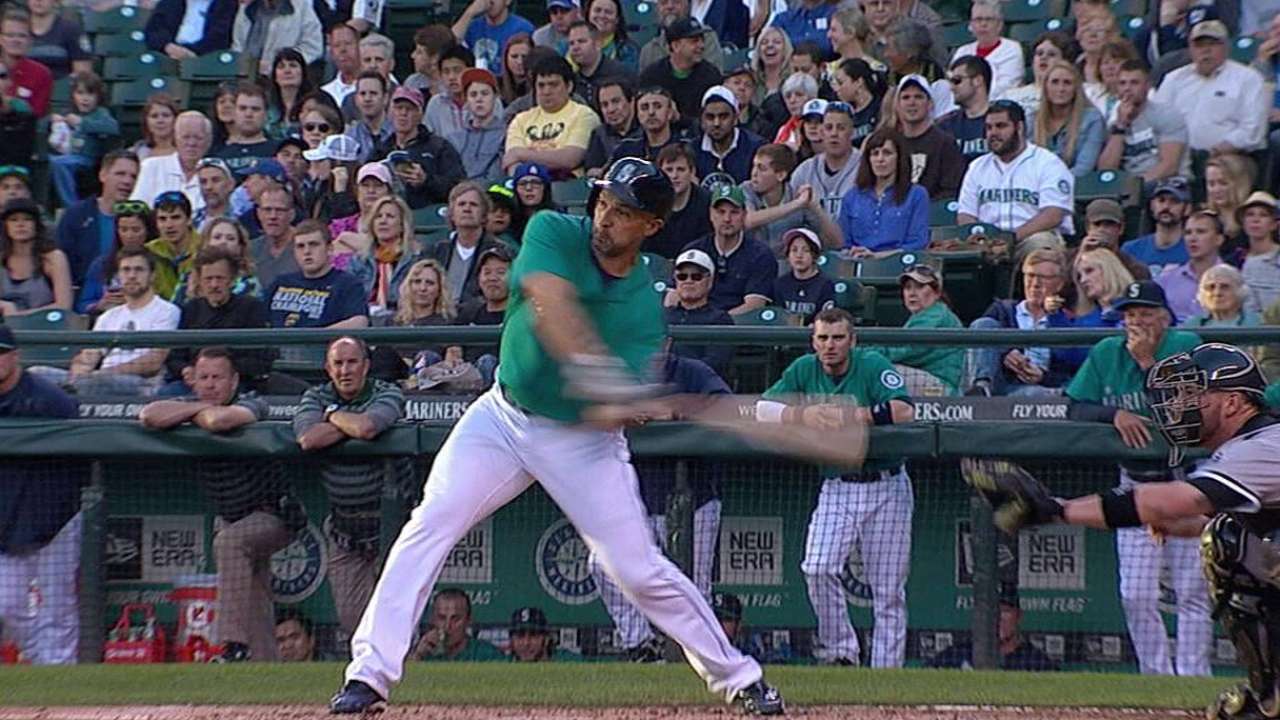 SEATTLE -- Raul Ibanez crushed his 10th home run of the season and Joe Saunders continued his Safeco Field excellence on Monday as the Mariners topped the slumping White Sox, 4-2, to kick off a 10-game homestand.
Ibanez punctuated a 13-pitch at-bat against John Danks in the third inning with a two-run blast to right field and now has hit double-digit home runs in 13 straight seasons. He's cracked eight home runs in his last 18 games and now ranks second to Kendrys Morales on the team in RBIs with 26.
No Seattle hitter has ever homered after a 13-pitch at-bat since such data was kept back to 1988, and it ties the D-backs' Paul Goldschmidt for the longest at-bat in the Majors this year that resulted in a homer.
"He threw everything except the curveball," Ibanez said. "He made some tough pitches. I was pretty much just battling and he was fighting. It was one of those fun battles. That's what the game is all about."
Ibanez swung through two strikes on his first two pitches, then fouled off seven pitches while working the count full before yanking a cutter out of the park.
"You just fight," he said. "That's pretty much all you can do when you're down 0-2 early on. At that point, you just forget the count, forget everything, and you're just hitting like you're playing Wiffle ball in the backyard. You're just trying to get a pitch to hit."
Danks, a seven-year veteran, said he threw everything he had at Ibanez, who turned 41 on Sunday and now has 281 career homers.
"He's a good hitter, don't get me wrong," said Danks. "He's done it for a long time at a very high level. It's not an easy at-bat by any means. But I just ran out of ideas. We went hard away, soft away, hard in, soft in.
"I thought I had him looking in and tried to throw a cutter away and it was up a little more than I would like. He's a good hitter and did what he was supposed to do. I felt like it was still a halfway decent pitch. I got beat and that's the way it goes."
Manager Eric Wedge called it a "game-changer" for his club.
"That was one of the best at-bats I've ever seen up there," Wedge said. "We've seen at-bats similar to that but left on left, fighting through so many different pitches, fouling them off, tough pitches -- I mean, neither guy was giving in. But for Raul to get him in the end there, it was a special at-bat."
Morales preceded Ibanez's blast with a run-scoring double high off the wall in straightaway center, raising his own RBI total to 34, as the Mariners jumped to a 4-1 lead in the third.
Kyle Seager kick-started that inning with a bunt single, just the second bunt hit of his career, as he extended his hitting streak to seven games.
The loss was the seventh straight for the White Sox, who fell to 24-31. Seattle is now 25-33 after snapping its own two-game losing skid.
Saunders improved to 4-5 with the victory, lowering his ERA to 5.20 in the process, as he allowed just one run on five hits over 6 1/3 innings.
The veteran southpaw has been sensational at Safeco Field over his career, now 10-1 with a 2.18 ERA in 15 starts. This year, he's 4-1 with a 2.25 ERA in six home starts compared to 0-4 with a 9.00 ERA in six road outings.
"First and foremost it's nice to get a win to start off the series," said Saunders. "We've been struggling of late, so it was to play some good, consistent baseball, stuff that myself included have been lacking. It was nice to go out there against a good-hitting club and get a 'W.'"
Saunders gave up his lone run in the top of the second when Dayan Viciedo doubled in front of a diving Michael Saunders in center and then scored on Jeff Keppinger's base hit.
But the 31-year-old slammed the door from there on out, helped by a nice defensive effort by Brendan Ryan in the sixth when he snared an Alexei Ramirez grounder up the middle and flipped it with his glove to Nick Franklin at second for the double-play relay.
"He's a wizard out there," said Saunders, who pulled back at the last second to let the ball get cleanly through to Ryan. "I know if a ground ball is hit to him, 99 percent of the time it's going to be an out."
Ryan wasn't taking any extra credit for that one, however.
" It only looked cool because I didn't use my hand, really," he said. "It's just a glove flip. It's awesome because it gets the crowd going, but he did all the hard work."
Yoervis Medina replaced Saunders and threw 1 2/3 innings of perfect relief. Closer Tom Wilhelmsen, who'd blown three of his last four save opportunities, came on in the ninth and walked leadoff hitter Alex Rios before striking out Paul Konerko and Viciedo. He then gave up an RBI single to Adam Dunn before getting Keppinger to fly out to center for his 13th save of the season.
"This was pretty important," Wilhelmsen said. "You've just got to battle through your struggles and it felt pretty good, as I have in the past. It's just nice to see for once things go the right way in the ninth for a little bit."
Wilhelmsen walked the first three batters in his last outing while letting a 4-2 lead get away in Minnesota. But after walking Rios, he said something flipped on for him.
"I just said, 'This is not happening again. This is just not happening again,' and I kind of loosened up actually and just, I don't know, let my arm go and was able to get a couple."
Greg Johns is a reporter for MLB.com. Follow him on Twitter @GregJohnsMLB as well as his Mariners Musings blog. This story was not subject to the approval of Major League Baseball or its clubs.