Estrada leaves Brewers' loss with injury
Right-hander strains left hamstring in fifth; Weeks homers, triples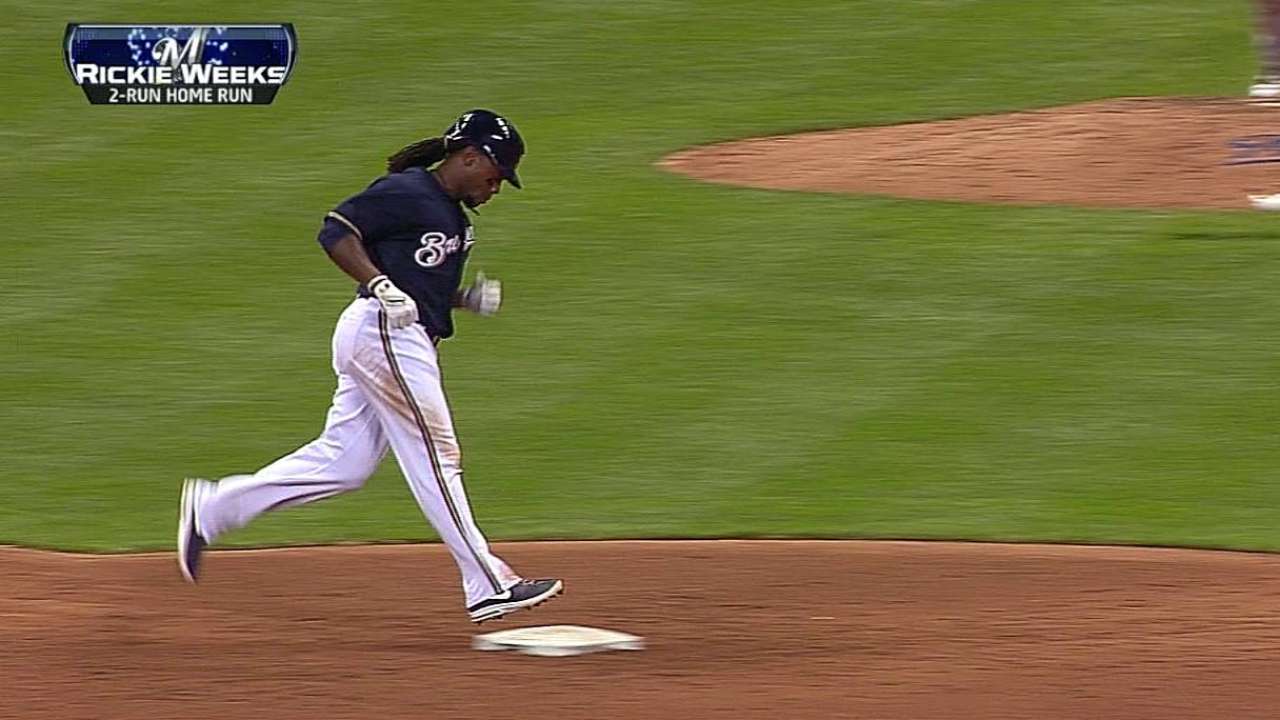 MILWAUKEE -- When things go bad for the Brewers, the hurt really piles on. Not only did the A's tack a season high 19 hits on Milwaukee in a 10-2 Interleague loss at Miller Park, but the hosts suffered another injury to an already ailing pitching staff.
Brewers starter Marco Estrada left Monday's game with a left hamstring strain in the midst of Oakland's six-run fifth inning. The team says he is day-to-day and he is in jeopardy of missing his next start. The Brewers are already missing closer Jim Henderson and starter Hiram Burgos, and Kyle Lohse just got back from an elbow injury.
Estrada was the lone Brewers starting pitcher that started to pull things together in a rough May, but the A's toyed with him for five runs on nine hits before he exited with nobody out in the fifth.
"This couldn't have come at a worse time," Estrada said after falling to 4-4 on the season. "We've been struggling, and I felt like I had things under control. Next thing you know, this happens.
"We're just digging ourselves into a bigger hole right now, and it's starting to get to that point where it's starting to get a little late."
The A's jumped ahead 8-0 after four and a half innings, and their 19 hits are the most the Brewers allowed since the Twins had 20 in a 14-inning game in Minnesota on June 17, 2012. Oakland finished 9-for-18 with runners in scoring position and still stranded 10 runners.
The A's have won 10 of 11 and four straight, while Milwaukee lost its second straight after matching a franchise worst month, winning percentage-wise, with a 6-22 May. The Brewers have lost eight of 10.
"We've got to pitch better," Brewers manager Ron Roenicke said. "We've had some nice performances, Wily [Peralta] the other day. But we've got to pitch a lot better. We gave up a lot of hits today. They swung the bat really well."
Milwaukee dropped to 21-35, becoming the fastest Brewers team to reach 35 losses since the 2002 team was 17-35. That season, coincidentally, was the last time the Brewers played the A's, and Milwaukee finished with 106 losses.
The Brewers trailed from the get-go, as Coco Crisp lined his 10th career leadoff home run to right field on Estrada's second pitch.
Brandon Moss added a solo homer in the second, and the A's pulled away with a six-run fifth, sending 11 hitters to the plate to make it 8-0. The A's had seven hits in the inning, including five in a row to start the frame.
A's catcher John Jaso had the first and last hits of the inning, both singles.
"I know, as a catcher, the goal is to stay out of big innings," Jaso said. "If they put up one run, that's OK, but once they start putting up crooked numbers that's when you start getting in trouble. Stringing hit after hit together, we haven't been able to do that all year, so it was nice to see."
The Brewers had a tough time putting any numbers on the board against A's starter Tommy Milone. The left-hander tossed seven innings, allowing five hits and two earned runs while striking out four and walking none.
Milone improved to 6-5 and lowered his ERA to 3.91.
"[Milone had] real good command on the fastball and a great changeup," Roenicke said. "Mixed in his curveball when he needed to, but real good command on the fastball. We squared up some balls, but certainly not enough to overcome how many runs they scored on us and how many hits they got."
Milone's only blemish came on a 1-0 changeup to Rickie Weeks that ended up in the left-field stands for a two-run homer. Weeks learned earlier in the day he would be sharing time with recent call-up Scooter Gennett at second base, and responded with his fourth homer of the year and first since May 15th.
"Obviously it's frustrating, but we're professionals and we have to come in here and play every day," Weeks said. "I don't think anybody is getting down right now. I wish it would turn around ASAP, but I guess it's just one of those things."
Weeks nearly had his second home run on a ball that bounced high off the top of the left-field wall and then back into play in the seventh. Weeks stopped at third base for a moment before continuing home, but he was called back to third after a replay review.
It was the second time in consecutive days that a home run was called back for the Brewers. On Sunday, Jonathan Lucroy had a grand slam reviewed and overturned into a triple.
"It's kind of the way things are going," Roenicke said. "We're running into some things like that."
Three more hits and an error gave the A's their final two runs in the seventh and Hideki Okajima and Jesse Chavez closed the door with scoreless eighth and ninth innings for the visitors.
"I know we're going to turn it around," Estrada said. "Just like I keep saying, this team is way too good to keep playing this bad."
Kevin Massoth is an associate reporter for MLB.com. This story was not subject to the approval of Major League Baseball or its clubs.