Milone does it all as A's win fourth straight
Lefty pitches eight strong, has two hits; Crisp has four hits, homer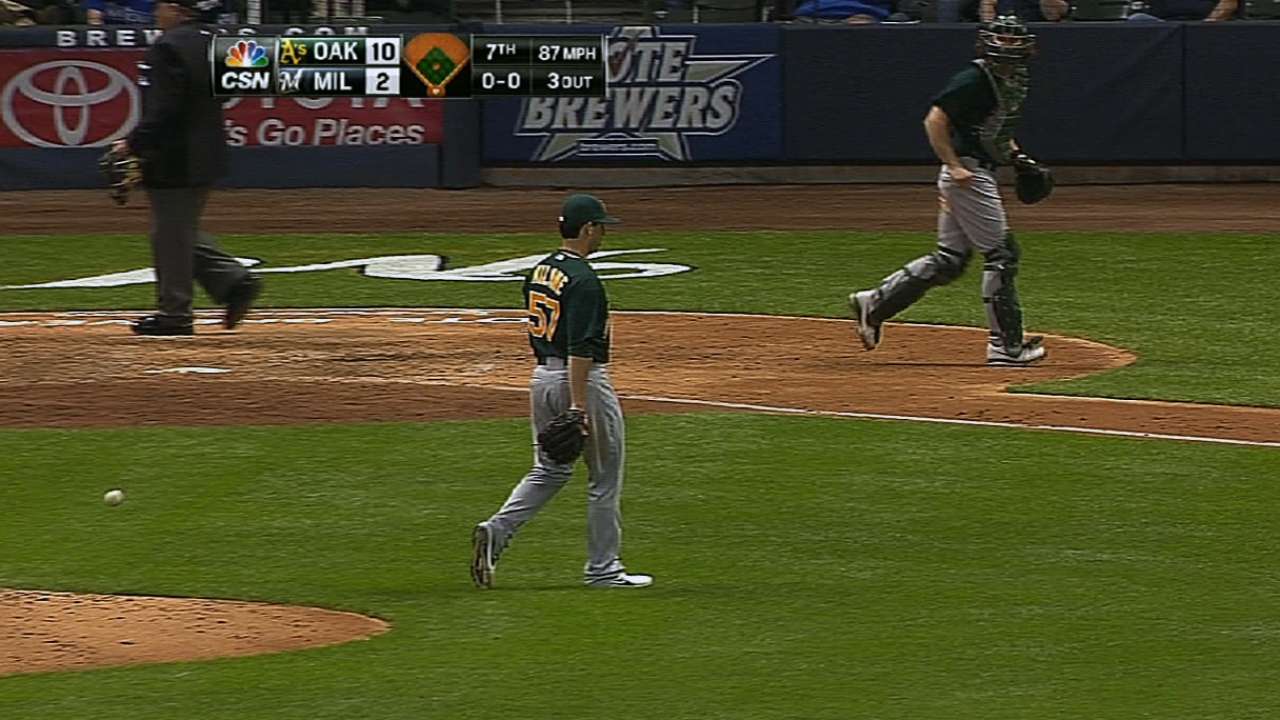 MILWAUKEE -- Making their very first trip to Miller Park, the A's may have already overstayed their welcome on Day 1.
Nevermind playing shy to their new hosts. The A's played it cool and treated Milwaukee's confines like a playground, casually racking up a season high 19 hits in a 10-2 win over the Brewers in Interleague Play on Monday.
Southpaw Tommy Milone had two of the 19 hits, the same total he held Milwaukee to through the first four innings, and he would only give up three more in his seven strong innings that predominantly showcased his changeup to a slew of right-handed hitters.
But, when looking back on this victory -- his sixth of the season and the team's fourth straight and 15th in 17 games -- Milone will think of his bat first. More specifically, what he did with it.
"Probably," Milone said, smiling.
His teammates surely will.
"We've always known Tommy can swing the bat," said Josh Reddick. "He did a heckuva job tonight."
Even Milone's battery mate, John Jaso, was more caught up in Tommy the hitter, rather than Tommy the pitcher.
"I thought Tommy was pretty good," Jaso said. "I thought he was better than his last start. He looked a little uncomfortable in the box last week. He had some runners on and got some RBIs tonight. I thought he was swinging the bat pretty good."
Realizing the question had been directed more so at Milone's performance on the mound than at the plate, Jaso paused before continuing.
"Oh yeah, he was pitching," he said with a grin. "Typical Tommy … But I think his highlight was in the batter's box. He was setting the bar pretty high for [Tuesday's starter A.J.] Griffin, which I like."
The A's are setting the bar high for everyone these days, and Monday ended with Oakland trailing the idle first-place Rangers by only 1 1/2 games in the American League West. They're a season high 11 games over .500.
These surging A's wasted little time getting on the board, with Coco Crisp setting the tone for what would be a wildly productive night with a leadoff homer off righty Marco Estrada. Crisp finished 4-for-5 with a walk.
Estrada gave up another solo shot in the second, to Brandon Moss, and he would strand four over the next two frames without any further damage, before experiencing plenty in a six-run fifth.
Milwaukee's right-hander was only around for part of the big inning, departing after allowing a two-run double to Jed Lowrie with a left hamstring strain. But the A's continued on with righty Burke Badenhop on the mound.
Josh Donaldson and Josh Reddick had back-to-back RBI singles and then the Brewers elected to intentionally walk Eric Sogard to bring up Milone, which proved costly.
Milone responded with an RBI single, and by game's end he was the first A's pitcher to pick up two hits since Edgar Gonzalez had two in San Diego on June 19, 2009.
"When he takes batting practice he looks like a hitter," said manager Bob Melvin. "Seems like every at-bat he's had this year, even in Spring Training, was a good at-bat."
Having already helped himself out, Milone got even more by way of a two-run single off the bat of Jaso, who was responsible for initially jump-starting the inning with a base hit, his first of three hits on the night.
Oakland added two more in the seventh off Donovan Hand -- adding to an abundance of support for Milone, whose lone mistake came in the fifth on a two-run homer to Rickie Weeks. The lefty gave up only four other hits and struck out four with no walks.
Weeks nearly had another homer in the seventh, but Melvin argued for a review of the play, and the umpiring crew, led by crew chief Jerry Layne, overturned the home run call and deemed it a triple.
Not that the A's needed any more help. They went 9-for-18 with runners in scoring position.
"Loved it," Reddick said. "As much as last series, as we didn't hit with runners on base and in scoring position, everyone did a great job with it tonight."
"It's something you constantly work on," Melvin said. "The last couple of weeks we haven't been great about it. The at-bats tonight were good by everybody."
Jane Lee is a reporter for MLB.com. Read her blog, Major Lee-ague, and follow her on Twitter @JaneMLB. This story was not subject to the approval of Major League Baseball or its clubs.