Brown stays hot to back Kendrick's complete game
Slugger homers for eighth time in eight contests; righty dominates Fish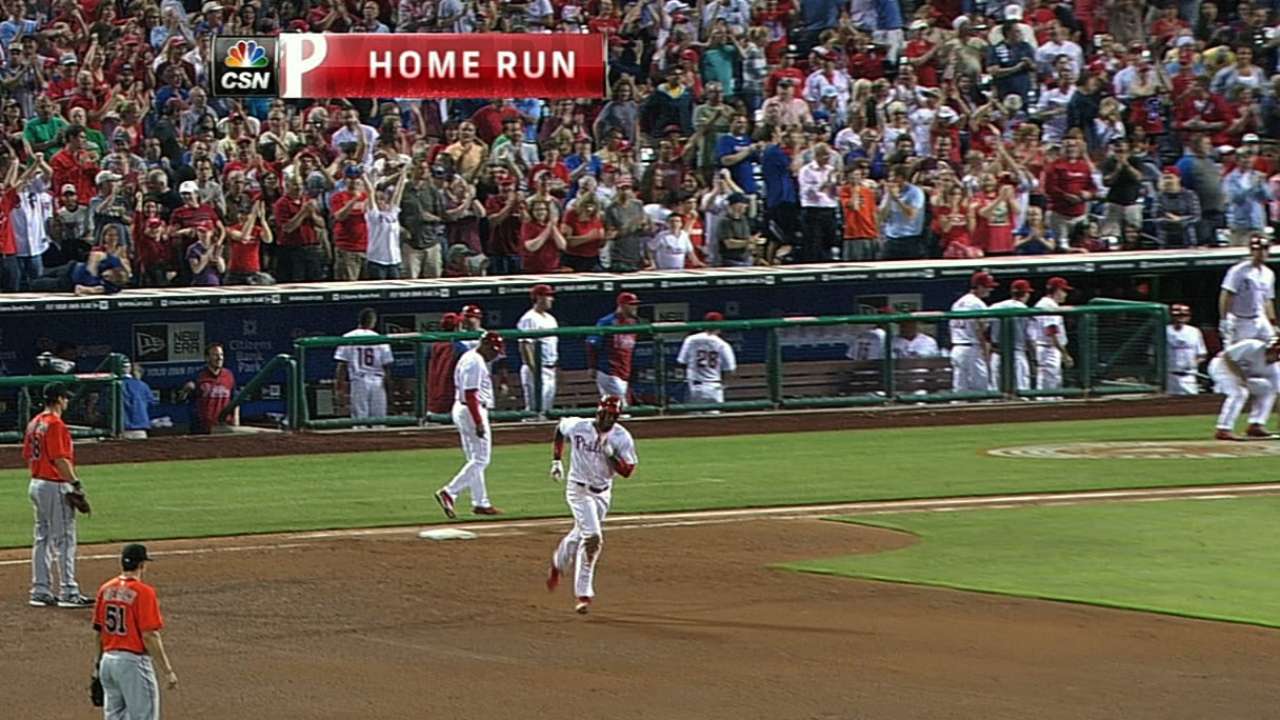 PHILADELPHIA -- Domonic Brown tossed his bat high into the air just seconds after he ripped a pitch into the first few rows of seats in right field at Citizens Bank Park.
The crowd roared as he circled the bases.
This is becoming routine for Brown, who hit his eighth home run in eight games and National League-leading 17th homer of the season in the sixth inning Monday in a 7-2 victory over the Marlins. Brown remained one of the hottest hitters in baseball, while Phillies right-hander Kyle Kendrick pitched splendidly, throwing the fourth complete game of his career, while also scoring the tying run in the fifth after his first big league triple.
"A home run is the greatest hit in baseball," Phillies manager Charlie Manuel said. "That's what a home run is. The crowd loves homers."
Brown is providing plenty, giving Phillies fans something to watch in a season that has been mostly tough to watch.
He earned National League Player of the Month and Player of the Week honors earlier Monday before he became the first Phillies player to hit nine home runs over a 10-game stretch since Bobby Abreu from May 8-18, 2005. It is hard to believe, but Brown was hitting .206 (13-for-63) with one double, two home runs, six RBIs and a .623 OPS in 20 games through April 23. He is hitting .329 (47-for-143) with six doubles, two triples, 15 home runs, 36 RBIs and a 1.053 OPS in 37 games since.
"I'm not really big on numbers," Brown said. "I kind of go off my at-bats. I go and watch my at-bats every day and see which ones are good and eliminate the bad ones and just keep improving at not giving at-bats away. That's really the main objective -- not giving any at-bats away."
He worked an impressive eight-pitch at-bat against Marlins right-hander Tom Koehler in the sixth. He fouled off five pitches before striking a 2-2 changeup and sending the pitch into the stands. This one got Brown's juices flowing. He tossed his bat into the air as he took a wide turn and stutter stepped before reaching first base.
He greeted Ryan Howard at home plate and bowed before returning to the dugout.
"You're throwing him good pitches and he's finding ways to fight them off," Koehler said. "And then when you make your mistake, he's really punishing it. That's what he did there. He fouled off some good curveballs in that at-bat, and I floated a changeup up there. Catchers don't usually catch high changeups. You don't want to get beat there with that pitch. But at the same time, that's what he's supposed to do."
It seems the Marlins might be rethinking their plan of attack for Brown.
"A guy like that, we've got to pitch around him," Marlins manager Mike Redmond said.
Kendrick attacked the Marlins, who have the worst offense in baseball. He allowed six hits, two runs, one walk and struck out five to improve to 6-3 with a 3.12 ERA. He retired the final 15 batters he faced.
Kendrick has allowed two or fewer earned runs in nine of his 12 starts this season.
He also tripled and scored in the fifth inning when the Phillies took a 3-2 lead. Kendrick's headfirst slide into third got the attention of Manuel, who joked that he hoped Kendrick would have swallowed a mouthful of dirt so he does not try that slide again.
"It was fun," Kendrick said. "Obviously, the hit was awesome. My dad was here, so I'm sure he enjoyed it. [Erik Kratz] called a good game, I was pounding the strike zone early and I was able to keep my pitch count down. It was a fun night, that's for sure."
Kratz and Delmon Young also homered as the Phillies scored seven runs in consecutive games. They play two more games against the Marlins, and there is no reason the Phillies should not be thinking about a sweep. The Marlins are on pace to finish an abysmal 45-117.
Brown looks like he can lead the way.
"In the last two or three weeks, he really has put a lot of energy in our game," Manuel said. "If you look at [what] he can do in a game, especially from an offensive standpoint, that definitely creates a lot of energy. Then the crowd likes it and they get behind you, too. There's more of a roar and an aura in the stadium and everything becomes a great feel. It's energy."
Todd Zolecki is a reporter for MLB.com. This story was not subject to the approval of Major League Baseball or its clubs.