Hamilton gets 'recharge day,' pinch-hits late
Angels outfielder working on drills with hitting coach Eppard in cage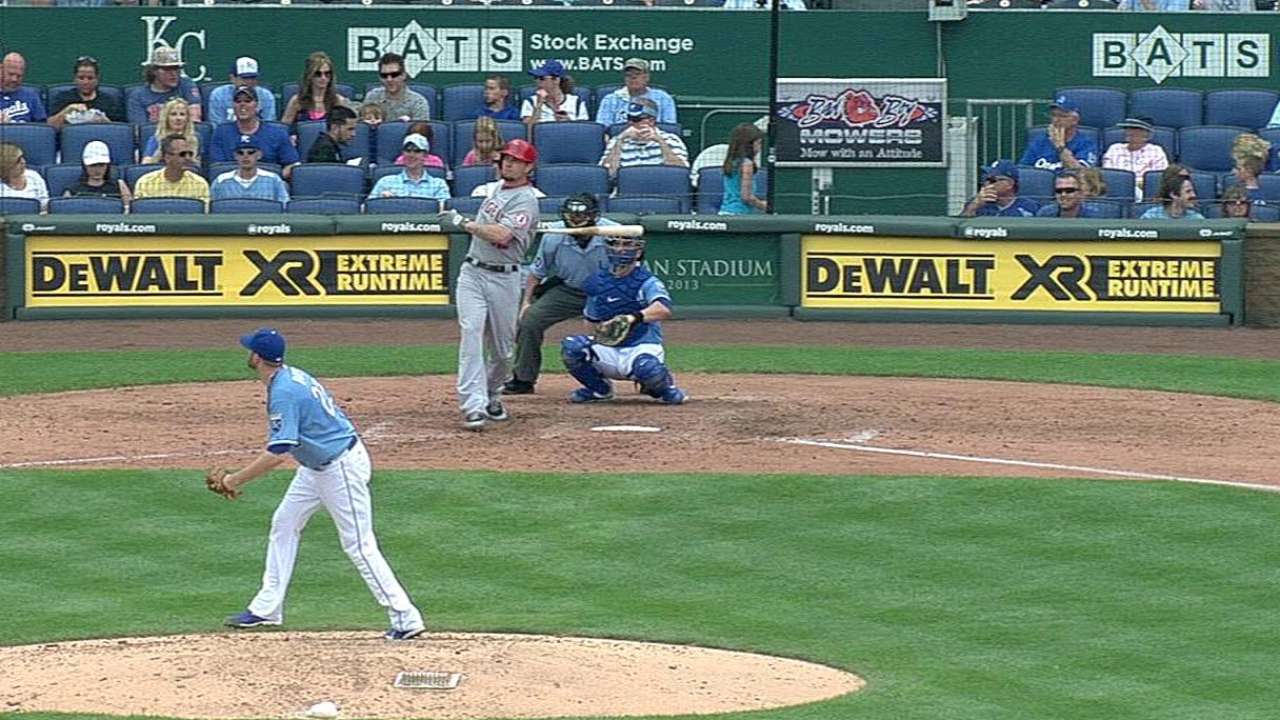 ANAHEIM -- Mike Scioscia wants Josh Hamilton to take a step back, again. The Angels skipper held his struggling slugger out of the lineup for Monday's series finale against the Astros, opposite lefty Erik Bedard, in hopes that "a recharge day" would allow Hamilton to finally shake his perpetual slump.
It's the third such mental day off for Hamilton, who sports a .216/.277/.380 slash line through the first two months and has shown little signs of turning things around.
"I think we've been trying to grind it and get him there and it's just not quite getting far enough where we'd want him to," said Scioscia, who emphasized that it's only for one day, but also sounded as if he'd stay away from using Hamilton as a pinch-hitter. However, Hamilton did pinch-hit in the ninth inning of Monday's 2-1 loss, drawing a walk.
The benching comes one day after Hamilton went 0-for-4, with two hard lineouts, then admitted he's never slumped this long and responded to a reporter's question about getting back on track by saying: "I can't predict the freaking future. Do you want me to go say I [stink] and sit in my locker and never try to do it again?"
Scioscia said the comments had nothing to do with deciding to give Hamilton a day off.
"There's some drills he's working with [hitting coach] Jim Eppard in the cage," Scioscia said, "and this gives him a day to attack those drills and maybe come out with a little adjustment to his approach, which might get him closer to get him locked in."
Hamilton used the day to try to turn back the clock -- to 2010.
He and Eppard talked recently about getting the most out of his batting practice, and the two decided that Hamilton needs to go back to the pregame routine that worked for him three years ago, when he won the American League's Most Valuable Player Award while with the Rangers.
That routine: 80 swings, give or take, before coming on the field for pregame batting practice, and getting the absolute most out of each one.
It's a minor, somewhat trivial, tweak, but Hamilton believes it can get him back on track.
These days, he'll try anything.
"It's amazing how you can get away from things that have worked for you," said Hamilton, his 61 strikeouts putting him on pace for a career-high 171. "It's just a learning process of figuring out, year by year, what works for me, remember it, write it down and put it together."
This is the fifth start Hamilton has missed this season. Two of them, coming last week against the Dodgers, were related to back spasms. The other three -- May 4, May 18 and Monday -- were similar mental days off.
In hopes of smoothing out his swing, Eppard wants Hamilton to get more out of his pregame work and not simply go through the motions in batting practice.
"My long-term philosophy is there has to be a purpose behind what you do," Eppard said. "We're making the purpose more clear, and greater, and by doing that, I think that we now have him on the right road. We're just going to continue to work at it, get better at it."
Alden Gonzalez is a reporter for MLB.com. Read his blog, Gonzo and "The Show", and follow him on Twitter @Alden_Gonzalez.
This story was not subject to the approval of Major League Baseball or its clubs.