Astros sweep Halos, stretch winning streak to six
Carter homers, Barnes gets go-ahead RBI to back Bedard's sharp outing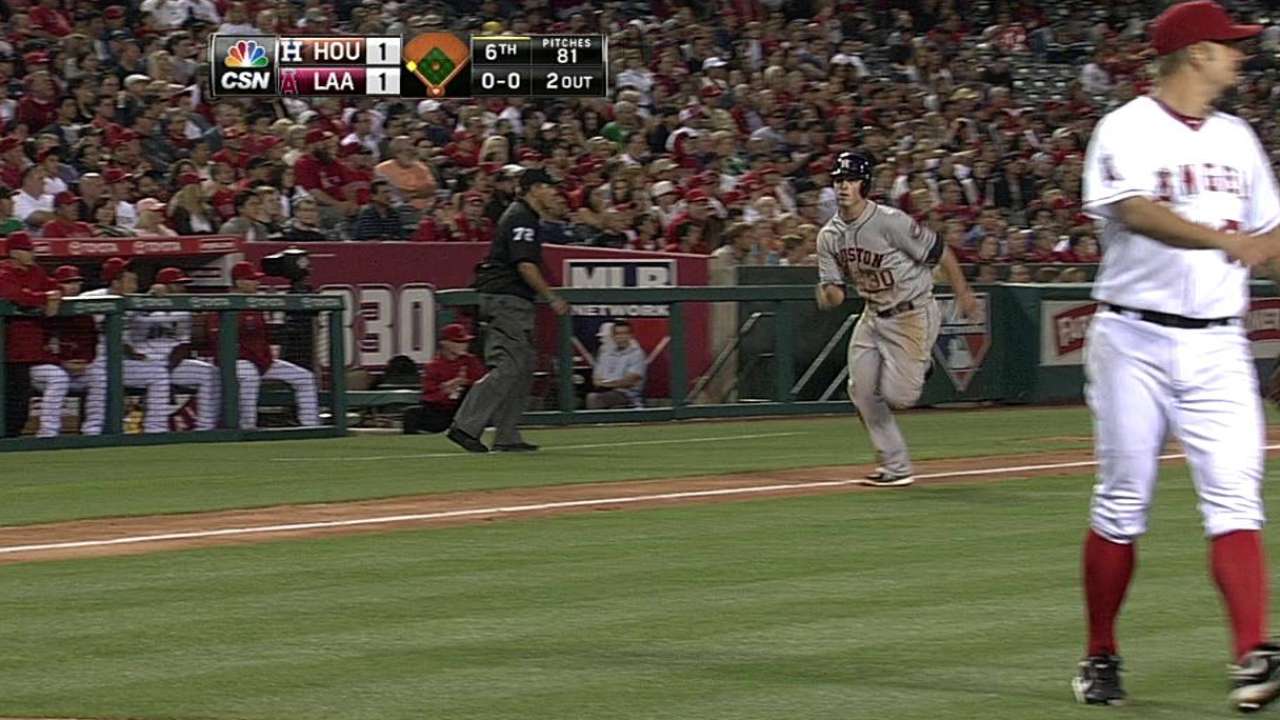 ANAHEIM -- Set aside the preseason predictions, set aside the minuscule payroll and simply focus on the games played between the white lines. The result is something very few expected.
Following Monday's 2-1 victory over the Angels at Angel Stadium, the Astros have won six straight games -- the longest active streak in the Major Leagues.
There are many surprised at the club's recent surge, but manager Bo Porter is not among them.
"I look at the talent in that room and I know the talent that we have in that room -- I know the potential of it," Porter said. "It was all a matter of these guys playing to their potential and us coming together as a team. You're starting to see we're coming together."
Erik Bedard continued the recent string of strong starting pitching and the offense executed in their limited opportunities as the Astros completed a 6-0 road trip, their first trip of 6-0 or better since 1999.
Bedard pitched seven innings and allowed just one run on five hits, notching his first victory since last Aug. 12. After the Angels scored their lone run via a Mike Trout sacrifice fly in the third, the left-hander retired 14 of the next 17 batters to finish his outing.
"I was just throwing strikes, trying to get them off balance and get some easy outs," Bedard said. "Got a couple of those and kept the pitch count down."
Bedard has given up just 10 runs in his last 33 innings. In each of his past five starts, he has given up two earned runs or fewer.
Monday's contest concluded a four-game sweep of the Angels -- the Astros' first four-game sweep of an American League opponent.
"It's nice to win," Bedard said. "We played great. We had some good starting pitching and that's what you need to win ballgames. Play defense, have good starting pitching, score a couple runs and hopefully, at the end of the day, you get a win."
Bedard's outing was just the latest in a string of strong pitching as Jordan Lyles, Bud Norris and Dallas Keuchel had stifled the Angels' supposedly prolific offense in the first three games of the series.
"We're not getting the big hits that we've been getting for the last week or so and obviously they pitched us really well," Angels first baseman Albert Pujols said. "You look on the other side and say, 'How can these guys beat us four times?' But it's part of the game. They pitched us well and caught more breaks than we did."
Angels starter Joe Blanton kept Houston hitless for 4 2/3 innings, but that streak ended when Chris Carter came to the plate.
Carter -- who is 11-for-32 with five home runs against the Halos this season -- blasted a home run to left field to tie the game at 1.
"I think it comes down to executing," Porter said. "These guys are taking heed to all the information the staff is giving them and they're using their skill sets to be successful."
The Astros won for only the second time in the past seven seasons when they collected three or fewer hits, but were able to do so because of the execution Porter mentioned. While Carter provided the first run, Houston had to use perfect execution and a bit of "small ball" to scratch across the second run.
Matt Dominguez led off the inning with a double, advanced to third on Marwin Gonzalez's sacrifice bunt and scored on Brandon Barnes' go-ahead sacrifice fly.
Blanton tied a career high with 11 strikeouts and limited Houston to three hits in eight innings, but took another tough loss as he fell to 1-9.
The Angels' lone run came when J.B. Shuck doubled down the left-field line and scored on Trout's sacrifice fly.
"I said it back a month ago, I said, 'We're going to hit our stride and we're going to start winning those games that we were finding ways to lose,' and now we're starting to find a way to win because I think the guys are maturing," Porter said. "They understand what it takes to win games and they're really locking into the situations throughout the course of a game."
William Boor is an associate reporter for MLB.com. This story was not subject to the approval of Major League Baseball or its clubs.