Stults delivers strong start, but LA shuts down bats
Lefty allows just two runs in seven frames against Dodgers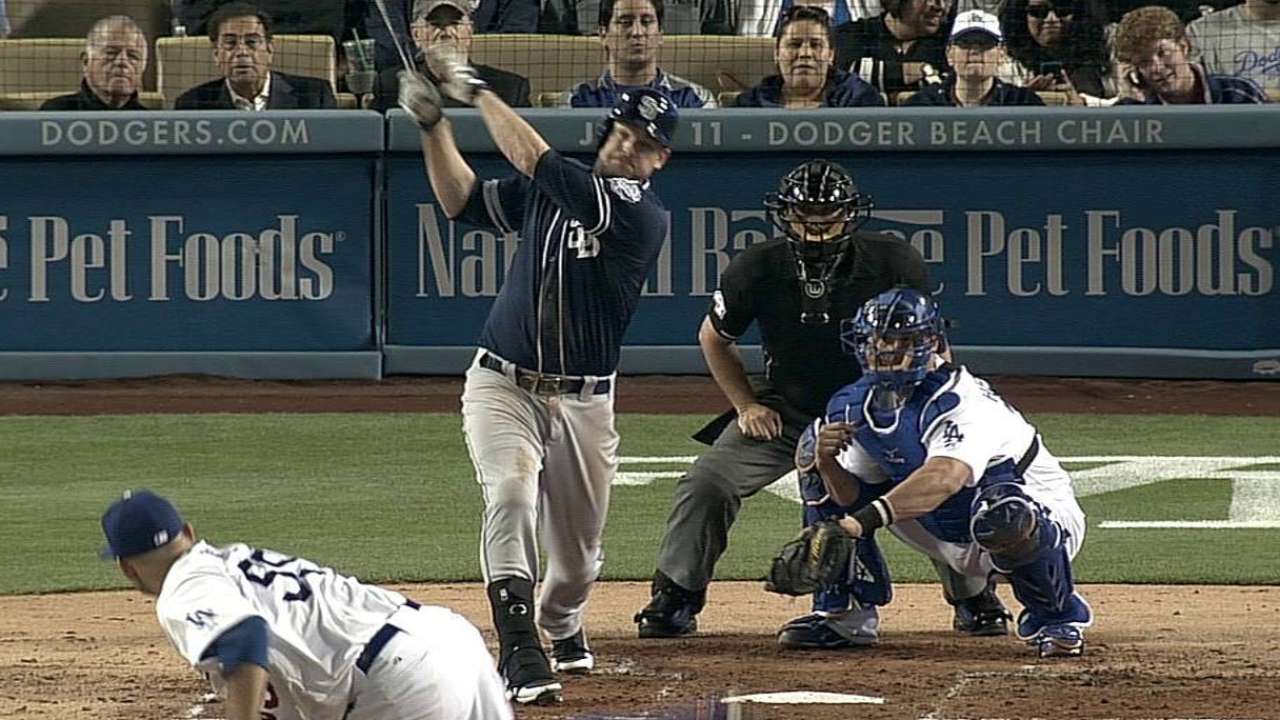 LOS ANGELES -- Carlos Quentin's much-hyped return to Los Angeles was about as quiet as the Padres offense was on Monday night.
The left fielder didn't play because of a sore left shoulder, the Padres bats went ice cold against Dodgers spot starter Stephen Fife and the Friars dropped their series opener at Dodger Stadium, 2-1.
Dodgers prospect Yasiel Puig, making his big league debut, stole the show, ending the game by making a tricky catch at the warning track, then throwing out a retreating Chris Denorfia at first base with a picture-perfect strike from about 260 feet away.
The play epitomized the entire night for the Padres, who put plenty of men on base, but killed their own rallies as quickly as they had started them. Denorfia had a great jump and likely would have stolen second base, but Kyle Blanks lined a warning-track shot off Dodgers closer Brandon League, leaving Denorfia in no-man's land.
"He was running -- that's a big part of our game," Black said of Denorfia. "It just happened that the right fielder has a strong arm and made a very accurate throw. You don't see that play very often. Deno reacted well, hustled back, I think the play was made by the strength of the arm and the accuracy of the throw. "
Left-hander Eric Stults turned in a gritty performance that was all the Padres could have asked for. After a weekend series against the Blue Jays that saw San Diego relievers work a total of 20 innings, Stults lasted seven solid frames, allowing just a pair of homers and four other hits that would prove harmless.
Had the Padres not needed a pinch-hitter in the eighth, it's likely Stults would have come back out for more, having thrown just 90 pitches.
"Any time you start, you want to work deep into the game, and you want to finish the game," Stults said. "I didn't change my mindset as far as how I wanted to approach. I'm a contact guy, so if I could keep my pitch-count low early, that helps me work deep into the game."
The Dodgers jumped out in front in the first inning when Adrian Gonzalez sent a Stults fastball deep into the visitors' bullpen down the right-field line. Earlier in the frame, Puig notched his first career big league hit, but Stults erased him by getting Nick Punto to ground into a double play.
Scott Van Slyke doubled the Los Angeles lead in the second by leading off the frame with a line-drive home run to left field. From then on, Stults was in control.
"Eric threw great," Black said. "Seven innings, two runs -- I'll take that every time from every one of our starters. You do that night in, night out, this team is going to win a lot of games. "
And the Padres certainly had their chances to win Monday's contest. They knocked eight hits and drew three walks, but were done in by four double plays -- including the last one turned by Puig.
"How can you not be surprised by that ending?" said Dodgers manager Don Mattingly. "We've seen games end like that, but not when the kid's out there, who has been hyped since the beginning of Spring Training. It is Hollywood."
It wasn't the first time on Monday that the Dodgers nabbed Denorfia at first base. In the top of the fourth, with men on first and second and one out, Los Angeles catcher Ramon Hernandez nailed Denorfia after he had strayed too far off first base. Blanks struck out on the next pitch, ending the once-promising frame.
The Padres scored their lone run in the top of the sixth after Alexi Amarista doubled down the right-field line. Chase Headley, who was mired in an 0-for-18 slump, broke out of it with an RBI single to right.
Jedd Gyorko followed with a single of his own, before Denorfia bounced into a 6-4-3 double play, ending the threat. It was Gyorko's first-career start in the cleanup spot, and he went 2-for-4.
"To me it doesn't really matter where I bat in the order," Gyorko said. "My approach is going to be the same. It won't change depending on where I bat in the order."
Gyorko was one of the few Padres who looked comfortable against Fife, who went 5 1/3 innings and allowed just one run on five hits to notch his first Major League win.
"He had good command," Gyorko said. "He had the good curveball, he had good life on his fastball.
"But we just didn't really bunch any hits together. We had a couple hits here, a couple hits there, but we couldn't put anything together."
Puig's night (he also had two hits) overshadowed Quentin's first game on the active roster against the Dodgers since he charged the mound after being hit by a Zack Greinke fastball, breaking the pitcher's collarbone and drawing an eight-game suspension. Quentin briefly entered the on-deck circle in the seventh inning, but the frame ended before he could come to the plate.
AJ Cassavell is a reporter for MLB.com. Follow him on Twitter @ajcassavell. This story was not subject to the approval of Major League Baseball or its clubs.