Jackie's glove nets $373,002 during auction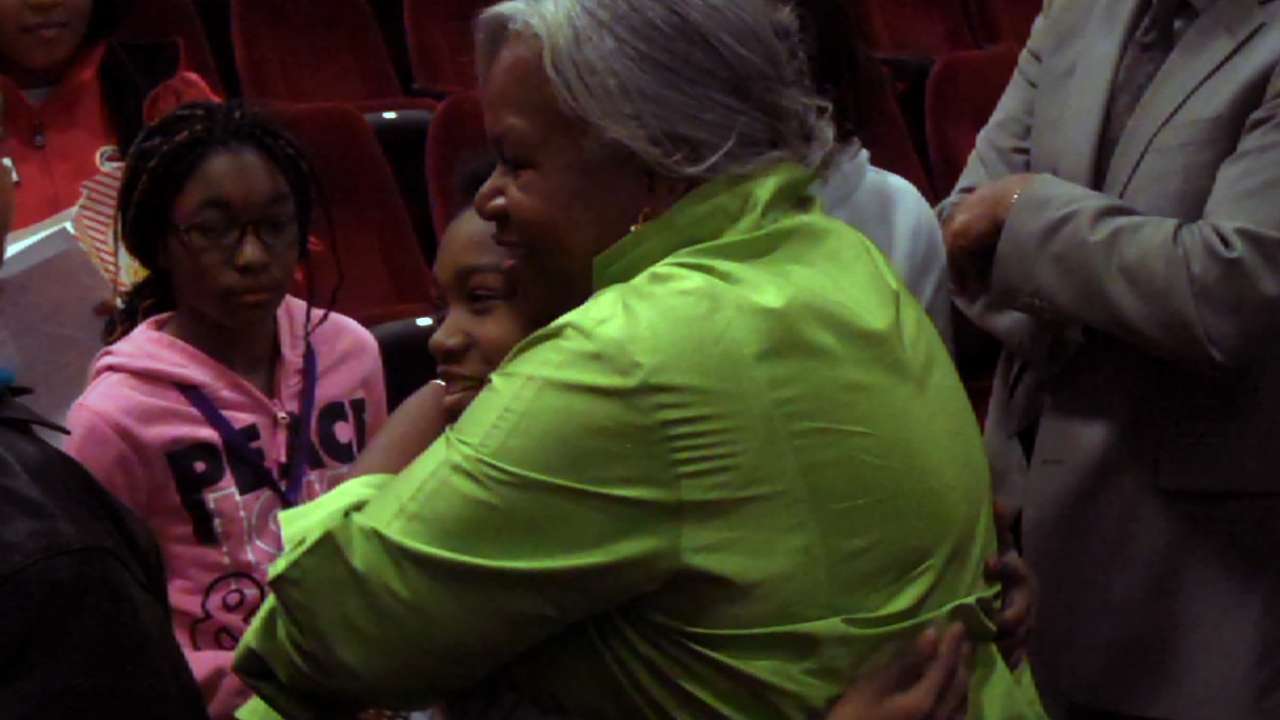 The glove Jackie Robinson is believed to have worn while playing third base for Brooklyn in the 1955 and '56 World Series was auctioned for $373,002 on Monday.
Steiner Sports Memorabilia, which ran the auction, said the same winning bidder also grabbed Robinson's 1956-used Louisville Slugger bat for $114,000.
The glove was "photo-matched" extensively by Steiner to determine its authenticity, and by all accounts, it would have at least three extra aspects of significance:
• It was used in Game 5 of the 1956 World Series at Yankee Stadium, where Don Larsen of the Yankees threw the only Fall Classic perfect game.
• It was used in Robinson's final game: Oct. 10, 1956, Game 7, a 9-0 loss at home to the Yankees. He retired after the season.
• Although Robinson did not play in the Dodgers' Game 7 victory over the Yankees in the 1955 World Series, he played at third in the previous six games and had it with him in the dugout that day, so it is an artifact of Dem Bums and their long-awaited breakthrough.
"It's the last glove he wore," Brandon Steiner, founder of Steiner Sports, told ESPN at the start of the auction. "It has extensive wear. He probably used it a long time. Today's players use different gloves five or six times a season. There were guys [then] who used gloves five or six years."
The closing price still fell just shy of the record for highest auction price for a baseball glove. That honor went to a glove billed as the last one Lou Gehrig used, commanding $387,500 in a Sotheby auction of Barry Halper's collection in 1999. However, that "last glove" authenticity is questioned, as another glove believed to have been Gehrig's last one is in the Hall of Fame.
The Steiner auction also included Mickey Mantle's 1960 contract with the Yankees for $60,000; the contract sold for $39,930. Proceeds from this item will go to Hurricane Sandy relief, split evenly between those affected in New York and New Jersey.
Go to MLB.com Auctions to bid on a constant array of game-used items, including many of those Memorial Day jerseys featuring the digital camouflage design licensed by the U.S. Marine Corps. Or speaking of Jackie Robinson, the No. 42 jersey Nick Swisher wore for Cleveland on April 16 is also available for bidding.
Mark Newman is enterprise editor of MLB.com. Read and join other baseball fans on his MLB.com community blog. This story was not subject to the approval of Major League Baseball or its clubs.