Davis leads AL first basemen in All-Star voting
Jones second among outfielders; Hardy, Machado, Wieters in hunt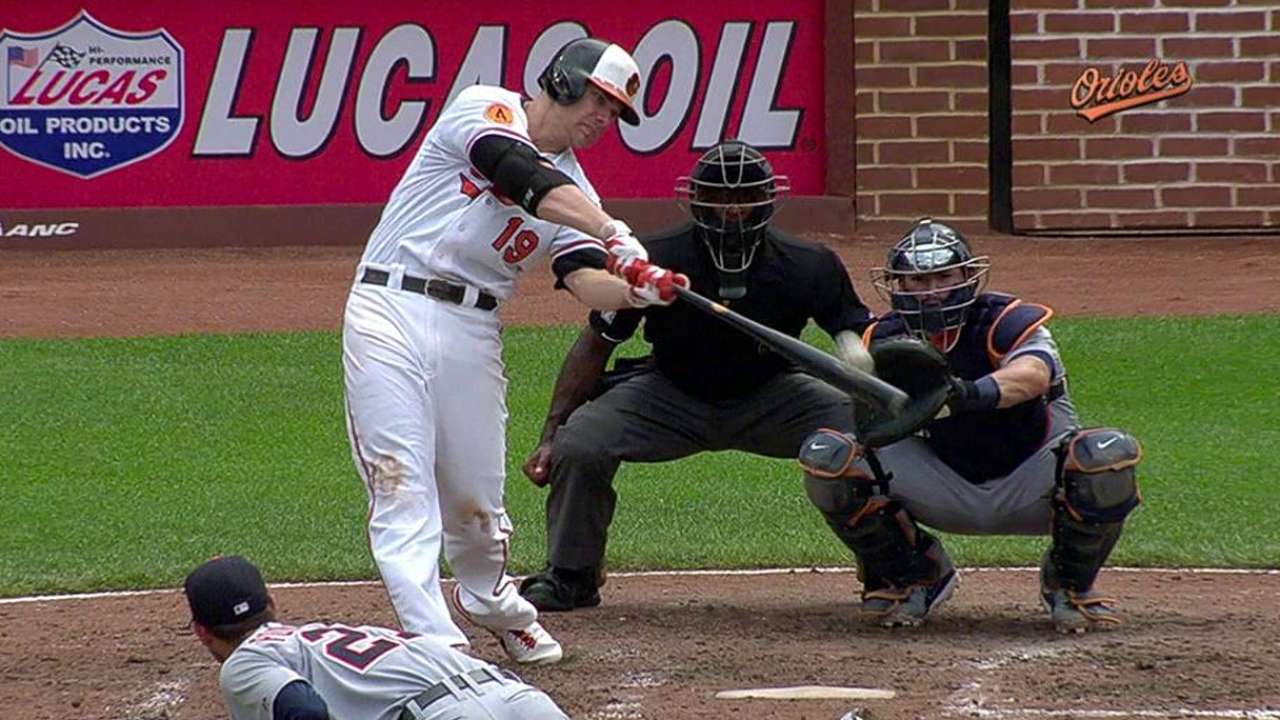 BALTIMORE -- Orioles first baseman Chris Davis and outfielder Adam Jones were among the leaders in their respective categories as the first American League balloting updates for the 84th All-Star Game were released on Monday. Baltimore, which had three All-Stars last season, was well represented on the ballot at nearly every position.
Davis, who hit his Major League-leading 20th home run on Sunday, is vying to become the first O's first baseman to earn a starting nod for the AL team since Eddie Murray in 1985. Davis has 1,176,016 votes and is currently ahead of Tigers slugger Prince Fielder (1,059,300) and Red Sox first baseman Mike Napoli (380,448).
Jones is second among outfielders behind the Angels' Mike Trout, garnering 1,181,875 votes. The two-time All-Star would join Hall of Famer Frank Robinson, Ken Singleton and current vice president of baseball operations Brady Anderson as the only fan-elected Orioles outfielders in All-Star history. Tigers right fielder Torii Hunter rounds out the top three, with Baltimore's Nick Markakis ranked sixth and Nate McLouth seventh.
O's shortstop J.J. Hardy (717,103) is a close second to the Rangers' Elvis Andrus, who has 727,555 votes, while catcher Matt Wieters -- seeking his third consecutive All-Star appearance -- trails the Twins' Joe Mauer 863,450 to 715,055.
Third baseman Manny Machado trails Tigers reigning AL Triple Crown winner Miguel Cabrera, who has 1,500,165 votes. The 20-year-old Machado, in his first full season, has 723,943 votes.
Fans can cast their votes for starters at MLB.com and all 30 club sites -- online or via your mobile device -- using the 2013 All-Star Game MLB.com ballot until Thursday, July 4, at 11:59 p.m. ET.
Fans may submit 25 online ballots during the voting period, but can also earn a one-time bonus of 10 additional online ballots. To access these additional online ballots, you must be logged into your MLB.com account when you submit any online ballot. If you do not have an MLB.com account, visit www.mlb.com and register in accordance with the enrollment instructions for a free one.
Fans can also once again participate in the Home Run Derby Fan Poll, where they'll have the opportunity to select three players in each league who they would most like to see participate in the Home Run Derby. The 2013 Home Run Derby -- part of Gatorade All-Star Workout Day -- will be broadcast live on ESPN, ESPN HD, ESPN Deportes and ESPN Radio in the United States beginning at 8 p.m. ET on Monday, July 15.
The 2013 American League and National League All-Star teams will be unveiled on Sunday, July 7, on the 2013 MLB All-Star Game Selection Show, televised nationally on TBS. Baseball fans around the world will then be able to select the final player on each team via the All-Star Game Final Vote sponsored by freecreditscore.com on MLB.com.
The final phase of All-Star Game voting will again have fans participating in the official voting for the Ted Williams All-Star Game Most Valuable Player Award presented by Chevrolet. During the Midsummer Classic, fans will vote exclusively online at MLB.com via the 2013 All-Star Game MLB.com MVP Vote, and their voice will represent 20 percent of the official vote determining the recipient of the Arch Ward Trophy.
The 84th All-Star Game, played at Citi Field on July 16, will be televised nationally by FOX Sports, in Canada by Rogers Sportsnet and RDS, and worldwide by partners in more than 200 countries via MLB International's independent feed.
MLB.com will provide extensive online coverage of the All-Star Week festivities, while ESPN Radio and ESPN Radio Deportes will provide national radio coverage of the All-Star Game. MLB Network and SiriusXM also will also provide comprehensive All-Star Week coverage. For more information, please visit allstargame.com.
The Orioles have launched a ballpark "Vote Orange Rewards Program" to encourage fans to vote while at Camden Yards. Fans who complete at least 50 paper ballots and submit them by the sixth inning at each home game will be eligible to win an autographed photo and have their name displayed on the center-field video board as the "Voter of the Game."
Rewards for higher vote totals include buttons, T-shirts, autographed baseballs, a catered suite and an on-field visit for batting practice. The top voter during the seven-week program will have the opportunity for a meet and greet with one of the O's 2013 All-Stars.
Brittany Ghiroli is a reporter for MLB.com. Read her blog, Britt's Bird Watch, and follow her on Twitter @britt_ghiroli. This story was not subject to the approval of Major League Baseball or its clubs.