Longo needs voting boost after All-Star update
Third baseman ranks fourth at his position with AL ballot totals unveiled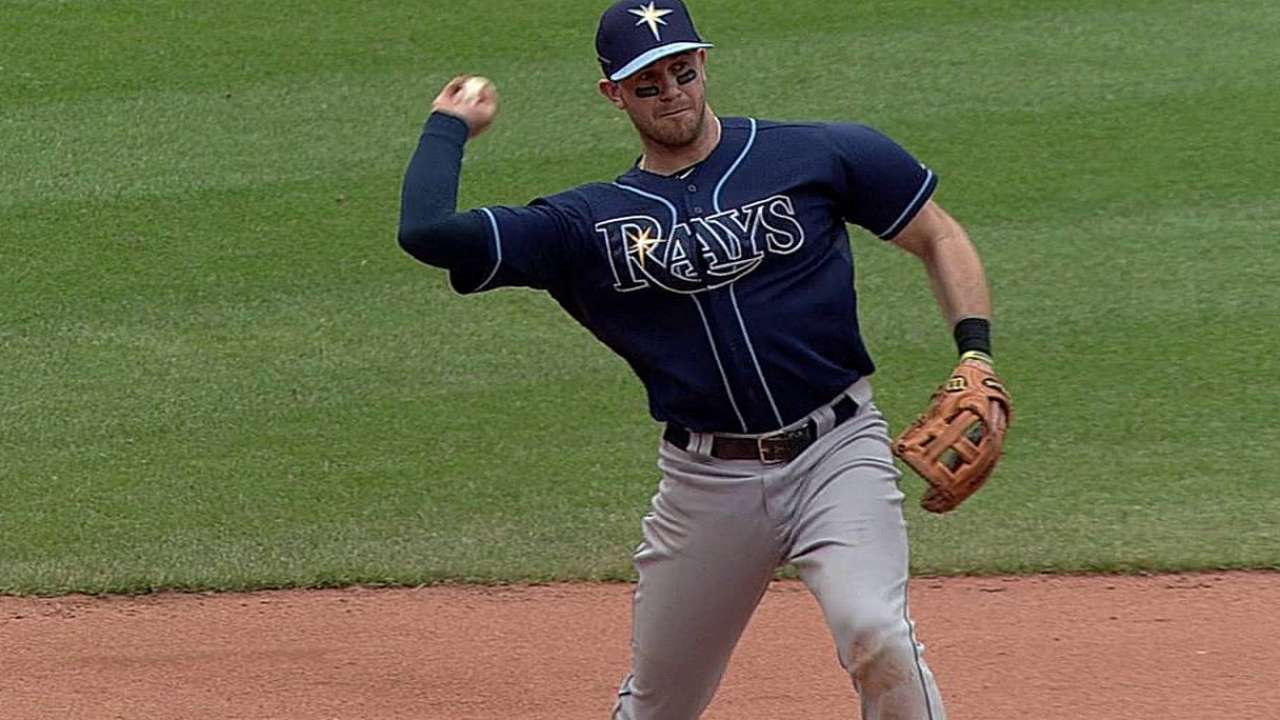 DETROIT -- Evan Longoria is going to need some help from Rays fans if he's going to get elected as a starter to this year's Midsummer Classic. American League votes were released Monday, and Tampa Bay's third baseman ranked fourth at his position.
Fans can cast their votes for starters at MLB.com and all 30 club sites -- online or via your mobile device -- using the 2013 All-Star Game MLB.com Ballot until July 4 at 11:59 p.m. ET.
Detroit's Miguel Cabrera, who won the AL Triple Crown in 2012, leads all AL third basemen with 1,500,165 votes and has set the overall pace in AL balloting. Manny Machado of Baltimore and Adrian Beltre of Texas, had 723,943 votes and 600,271, respectively, to rank Nos. 2 and 3 in the third-base race.
Meanwhile, Longoria, who is playing like an AL Most Valuable Player Award candidate, has 454,047 votes, with New York's Kevin Youkilis at 235,388.
Fans may submit 25 online ballots during the voting period, but can also earn a one-time bonus of 10 additional online ballots. To access these additional online ballots, you must be logged into your MLB.com account when you submit any online ballot. If you do not have an MLB.com account, visit www.mlb.com and register in accordance with the enrollment instructions for a free MLB.com account.
Fans can also once again participate in the Home Run Derby Fan Poll. Fans will have the opportunity to select three players in each league who they would most like to see participate in the Home Run Derby. The 2013 Home Run Derby -- part of Gatorade All-Star Workout Day -- will be broadcast live on ESPN, ESPN HD, ESPN Deportes and ESPN Radio in the United States beginning at 8 p.m. ET on July 15.
No other Rays were ranked among the top five at the infield or catcher positions, and none of the team's outfielders ranked in the top 15.
James Loney has been having a quality season at first base, and utility man Kelly Johnson, while playing mostly left field, has also been doing well.
No doubt the fact that several of Tampa Bay's players flip around at different positions will make it difficult for them to be elected -- that should entice Rays fans to get out and vote more for their team.
The 2013 American League and National League All-Star teams will be unveiled on July 7 on the 2013 MLB All-Star Game Selection Show, televised nationally on TBS. Baseball fans around the world will then be able to select the final player on each team via the All-Star Game Final Vote sponsored by freecreditscore.com on MLB.com.
And the voting doesn't end there. The final phase of All-Star Game voting will again have fans participating in the official voting for the Ted Williams All-Star Game Most Valuable Player Award presented by Chevrolet. During the Midsummer Classic, fans will vote exclusively online at MLB.com via the 2013 All-Star Game MLB.com MVP Vote, and their voice will represent 20 percent of the official vote determining the recipient of the Arch Ward Trophy.
The 2013 All-Star Game will be played at Citi Field on July 16. Come to MLB.com for extensive online coverage of the All-Star Week festivities.
The 84th All-Star Game will be televised nationally by FOX Sports, in Canada by Rogers Sportsnet and RDS, and worldwide by partners in more than 200 countries via MLB International's independent feed. ESPN Radio and ESPN Radio Deportes will provide national radio coverage of the All-Star Game. MLB Network and SiriusXM also will also provide comprehensive All-Star Week coverage. For more information, please visit allstargame.com.
Bill Chastain is a reporter for MLB.com. This story was not subject to the approval of Major League Baseball or its clubs.