A lot of red at the top of Power Rankings
Cardinals maintain lead, followed by rival Reds and first-place Rangers, Red Sox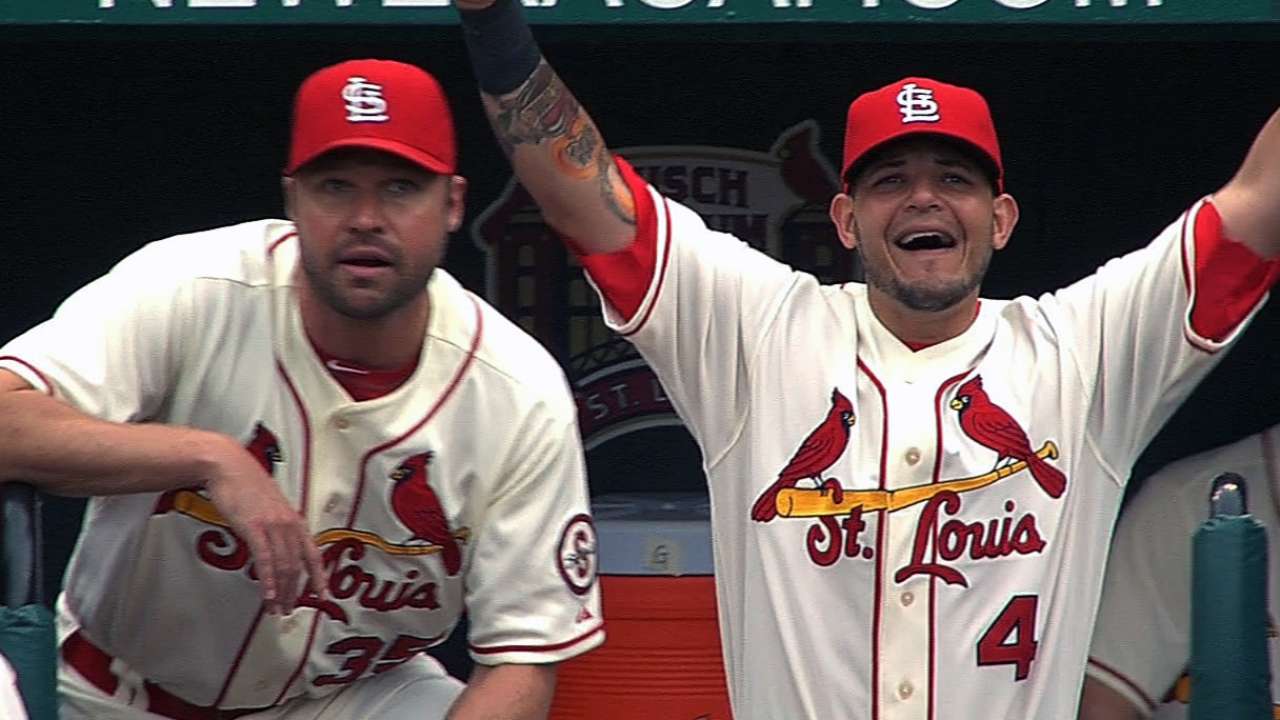 It's a good time to be a baseball fan in the National League Central.
Folks who love the Cardinals, Reds or Pirates are starting to believe their team's division is the best in all of baseball. They might be right.
After all, St. Louis has the best record in the Major Leagues, Cincinnati has arguably the best hitter in the game in Joey Votto and Pittsburgh has pitched itself into the conversation.
But has the NL Central replaced the American League East as the fabled best division in baseball?
Let's talk about that possibility.
How do the Cardinals match up against the Red Sox? What about the Reds and the Yankees?
What's more, can anyone match up against the Rangers and Yu Darvish?
The A's, who are 3-3 against the Rangers and have outscored them 23-18 this season, certainly think they can.
And don't count out the division-leading D-backs or Braves this season, either.
Once again, it's time to hear your voice and your vote.
MLB.com has set up a panel of experts to vote on the top 15 teams each week. The group includes MLB.com vice president and executive editor Carlton Thompson, VP and executive producer Jim Jenks, columnists Mike Bauman, Hal Bodley, Anthony Castrovince, Richard Justice, Matthew Leach, Terence Moore and Tracy Ringolsby, reporters Barry M. Bloom, Marty Noble, Jesse Sanchez and Lyle Spencer, and MLB Network analyst Mitch Williams.
Agree? Disagree? The power to rank the teams is yours.
1. Cardinals
The Cards have the best record in baseball but are in a dogfight against the Reds and Pirates for the top spot in the NL Central. Expect a highly contested race all season. St. Louis opens a three-game series in Cincinnati on Friday, and the Redbirds will finish the season with 24 of their final 60 games against their two primary contenders.
Last week: 1
2. Reds
Votto hit .388 with six home runs, 16 RBIs and a .492 on-base percentage in May. He's played in every game this season, so don't expect him to be out of the lineup anytime soon. However, second baseman Brandon Phillips sat out Sunday with a left forearm contusion and might miss this week's series against the Rockies.
Last week: 3
3. Rangers
The Rangers have the best record in the AL and are enjoying the comforts of playing at home, sporting an 18-8 record at Rangers Ballpark in Arlington. Yu Darvish continues to pitch like an All-Star, going 7-2 with a 2.77 ERA while leading the big leagues with 111 strikeouts.
Last week: 4
4. Red Sox
The first-place Red Sox have won their last two and seven of their past 10 games. The club will get a boost on both sides of the ball, because Jacoby Ellsbury, who missed the three-game weekend series against the Yankees with groin tightness, is expected back in the lineup against Texas in a series that starts Tuesday.
Last week: 2
5. Braves
The Braves have a comfortable lead in the NL East and have been getting contributions from players up and down the lineup. Jason Heyward, Dan Uggla and B.J. Upton have all struggled offensively, but it's only a matter of time before the offense starts to click on all cylinders.
Last week: 5
6. A's
The A's have won 14 of their past 16 games and continue to cut into the Rangers' lead in the AL West. Jarrod Parker has shined lately, going 4-2 with a 3.28 ERA over his past six starts after going 0-4 with an 8.10 ERA to start the season.
Last week: 11
7. Pirates
Yes, the Pirates are for real. The starting pitching has been solid and the bullpen has been outstanding. Their offense could use a boost, evidenced by the lineup shifts in Sunday's series finale against the Reds.
Last week: 9
8. D-backs
Patrick Corbin's pitching and Paul Goldschmidt's hitting have been among the many highlights for the NL West-leading D-backs. They could use more production from catcher Miguel Montero, but Gerardo Parra is making up for it with great all-around play.
Last week: 8
9. Tigers
Miguel Cabrera is already a favorite to win the AL MVP Award again, and he has fans believing another Triple Crown is within reach. He hit .379 with 12 home runs and 33 RBIs last month. Cabrera's 44 hits were the most in by a Tigers player in May since Ron LeFlore had 45 in May 1976.
Last week: 6
10. Rays
Matt Moore is 8-0 with a 2.18 ERA and will go for his ninth win of the season Tuesday against the Tigers. What's more, the Rays are 17-7 since May 8, the best record in the AL during that span, and they enter the week trailing the first-place Red Sox by only three games in the AL East.
Last week: 13
11. Rockies
The Rockies are 2 1/2 games behind the first-place D-backs in the NL West and they have their eyes set on the top spot. It's hard to blame them for being optimistic. Sunday's victory was Colorado's 30th win of the season. The Rockies didn't win their 30th game last year until June 29.
Last week: 14
12. Orioles
Chris Davis leads the Major Leagues with 20 home runs and the Orioles are playing with swagger. The first baseman has four home runs and 11 hits in his past six games, and his team has won 10 of its past 13 games.
Last week: 10
13. Yankees
Andy Pettitte is coming off the disabled list, and it could not come at a better time. The Yankees have lost their last two and seven of their past 10 games. They trail the first-place Red Sox by three games.
Last week: 7
14. Indians
The Indians are pitching their way to the top. They are 23-8 when one of their starters goes at least six innings, and staff ace Justin Masterson has accomplished that in 11 of his 12 starts. Overall, Cleveland's rotation has 3.46 ERA over its past 35 games,
Last week: 15
15. Giants
Strong starting pitching has always been the calling card in San Francisco, and the trend has continued this season. The Giants are 15-6 when their starter delivers a quality outing and 14-21 when he does not.
Last week: 12