Volquez homers, but Friars fall to Jays in 11
Right-hander hits first career long ball; bats blanked by Jays' bullpen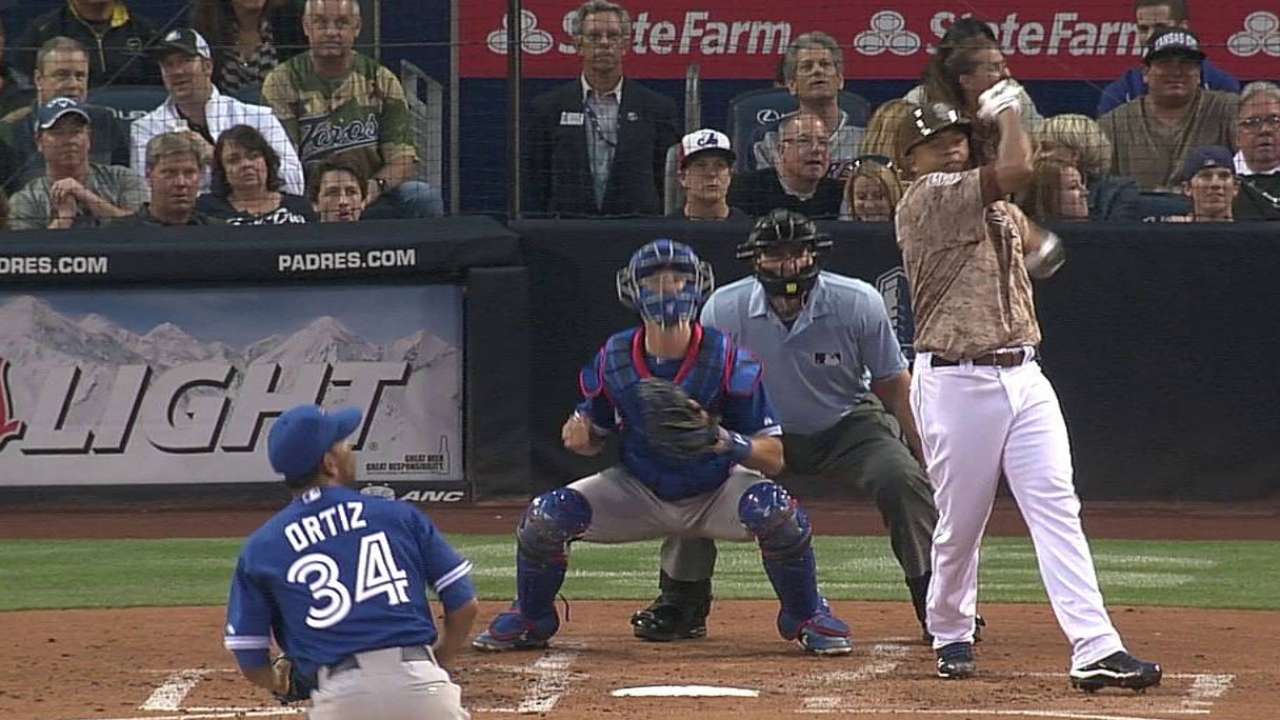 SAN DIEGO -- The Padres and Blue Jays don't play each other often, so many of the Padres' hitters had never faced the Blue Jays' bullpen.
That unfamiliarity worked in the Blue Jays' favor as the Padres' hitters managed two singles in nine innings against six relievers, leading Toronto to a 7-4 victory in 11 innings Sunday at Petco Park.
"When they went to their 'pen, we couldn't solve any of their guys," Padres manager Bud Black said. "We just couldn't muster any offense. Can't explain it, but their bullpen did a nice job this series."
"They executed their pitches and you have to give them credit," Padres second baseman Jedd Gyorko said. "It's just kind of one of those days where we couldn't put it together."
The Blue Jays hadn't scored since the fifth inning until Mark DeRosa's 428-foot home run into the second deck in left field broke an 11th-inning tie and brought to life a loud Blue Jays contingent of the 20,384 fans who chanted "Lets go Blue Jays" as their team avoided a three-game sweep.
The Blue Jays added two more runs against reliever Brad Boxberger (0-1), who was making his first appearance after being officially called up earlier in the day.
It was the second extra-inning game of the series after the Padres won the first on Friday in 17 frames, but lost this game mainly because they did not score a run after the second. Blue Jays closer Casey Janssen got the victory after tossing a scoreless 10th.
"It's a different guy every night," said Blue Jays reliever Aaron Loup, who recorded his second save of the season. "There's no one guy pitching any better than the other guy, we're kind of all just picking each other up as much as we can and pitching as well as we can any given night."
Starting pitcher Edinson Volquez's first career home run gave the Padres an early lead as part of a four-run second inning. He couldn't stop smiling as he smacked hands with first-base coach Dave Roberts and began to round the bases after his three-run shot gave the Padres a 4-1 lead.
"I couldn't believe it went out," said Gyokro, who scored from second on the homer after his own RBI double.
The Blue Jays intentionally walked Will Venable to get to Volquez, who deposited the first pitch from Ramon Ortiz into the left-field stands. It was the second time a Padres pitcher has homered this season. Eric Stults went deep on April 15 against the Dodgers in Los Angeles. Volquez called it lucky and Black agreed.
"You know what they say," Black said. "A moving bat is a dangerous bat, and that's what you saw."
However, that four-run second inning would be all the Padres' offense could deliver and Volquez would not be able to hold the lead. Toronto struck for a solo home run by Edwin Encarnacion in the third inning and a two-run double by Adam Lind to tie the game in the fifth.
Volquez walked three and struck out seven in five innings on 97 pitches.
"I was kind of disappointed a little bit with my breaking balls tonight," Volquez said. "I was all over the plate."
The Blue Jays relied so heavily on their bullpen because their starting pitcher, Ortiz, didn't make it out of the third inning. After a seemingly harmless pitch taken by Chase Headley to lead off the frame, Ortiz slammed his glove down behind the mound and dropped down into a crouch holding his hands over his face.
The 40-year-old Ortiz was in tears as he left the mound, and if the injury to his right elbow is as serious as his reaction indicated, it could potentially put an end to his Major League career. Ortiz is the second-oldest pitcher to make a start in the Majors this season after being recalled on Saturday to replace an injured Brandon Morrow.
"It was a well pitched game in the middle part of the game," Black said. "They didn't get much against our guys, we didn't get much against their guys, but they broke through."
Jamal Collier is an associate reporter for MLB.com. This story was not subject to the approval of Major League Baseball or its clubs.