Bullpen, DeRosa deliver 11-inning victory
Ortiz exits in third, six relievers combine for nine shutout frames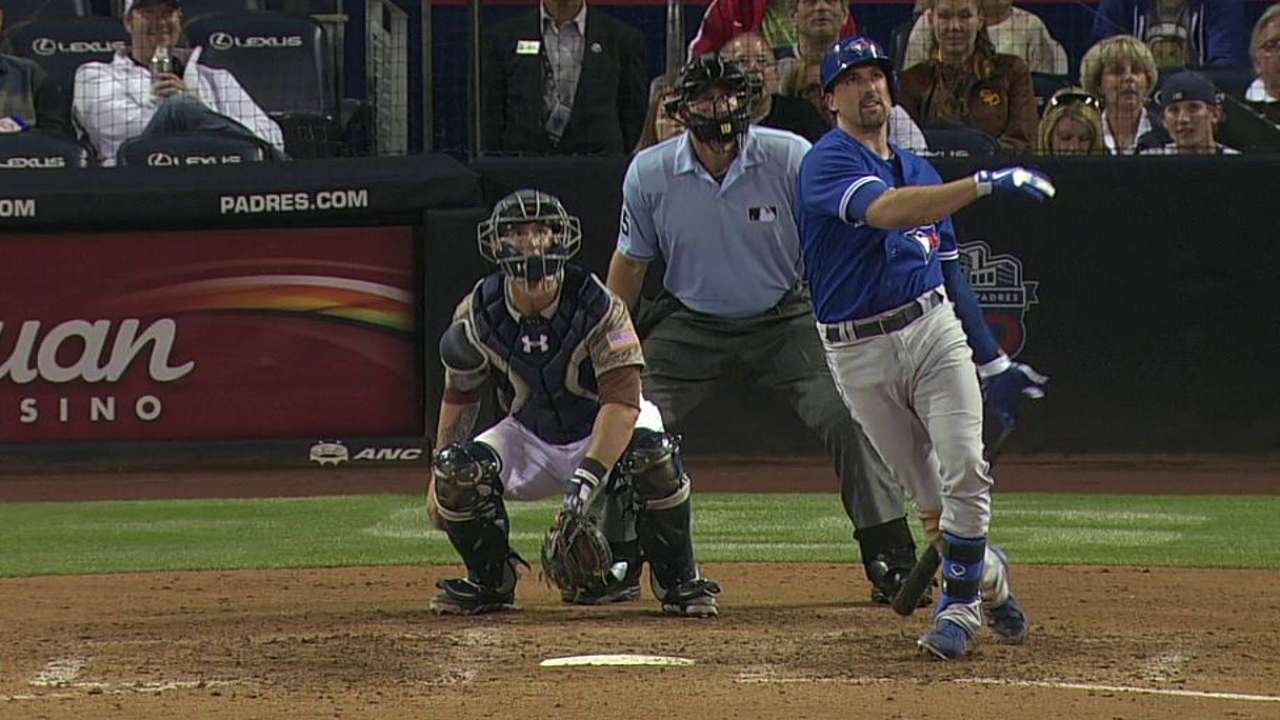 SAN DIEGO -- The city of San Diego played host to the Rock 'N' Roll Marathon this weekend, but the real test of wills took place at Petco Park.
The Blue Jays and Padres played a total of 37 innings over the course of three days as both teams were pushed to the brink. Toronto almost came away from the grueling series with nothing to show for it, but one swing of the bat ensured at least one game would be salvaged.
Mark DeRosa finally gave the Blue Jays something to cheer about when he recorded a solo home run during the top of the 11th inning to lead his team to a 7-4 victory over San Diego Sunday in a game that lasted almost four hours.
"To be honest, I stepped out and had a little conversation with myself," DeRosa said of his homer, which came off inexperienced reliever Brad Boxberger on a 3-1 pitch. "There was part of me that wanted to take and go to 3-2, see if I could work a walk.
"National League style of ball, that's what you're looking to do, pass the baton. But I saw the first four pitches and saw him good, took a flyer that he would throw it where he threw it."
DeRosa got the pitch he was looking for and then unloaded on the poorly located fastball down the middle. The estimated distance on DeRosa's fourth homer of the year was 428 feet and it put the Blue Jays in front by one.
The Blue Jays went on to add a pair of insurance runs and while the extra breathing room helped everyone relax, it wasn't needed considering the way Toronto's bullpen has been performing of late.
The club's relief corps was forced to throw nine innings on Sunday and 22 2/3 innings during the three-game series, but was nearly flawless the entire time. Blue Jays relievers allowed just one run on 10 hits and eight walks while striking out 16 over that span.
A heavy workload isn't anything new for this group. The Blue Jays lead the Major Leagues in innings pitched by relievers with 219 2/3. It's not exactly the category a team wants to be leading, but the fact is the relievers have become a major strength.
"We're proud of it, but then again we're only as good as the next one, so when the phone rings, and we get up, we have to do it again. Otherwise, it'll be an opposite interview," said right-hander Steve Delabar, who threw one scoreless inning.
"We come to the field and try to prepare ourselves the best we can, physically. When the game rolls around, mentally we lock in and whenever the phone rings we get up and get going."
The bullpen was pressed into duty earlier than expected on Sunday night when right-hander Ramon Ortiz had to depart in the third inning with a right elbow injury. Ortiz, who allowed four runs in his first two innings, threw a pitch to leadoff hitter Chase Headley and then slammed his glove to the ground while appearing to be in severe pain.
The 40-year-old Ortiz left the ballpark and will head to Florida for an MRI. There was no immediate word on the extent of his injury, but everybody in the Blue Jays' clubhouse was fearing the worst and hoping for the best.
Once Ortiz departed, the Blue Jays used six relievers to throw nine scoreless innings. The group, which included Brad Lincoln, Esmil Rogers, Delabar, Brett Cecil, Casey Janssen and Aaron Loup, allowed just two hits and four walks to keep San Diego off the scoreboard and help secure the victory.
"We weren't able to solve them," Padres manager Bud Black said. "We looked as if we were having some good swings against Ortiz and then when they went to their 'pen, we couldn't solve any of their guys. We just couldn't muster any offense, can't explain it, but their bullpen did a nice job this series."
The Blue Jays will now enjoy a much-needed off-day on Monday before opening a two-game series in San Francisco. The timing couldn't be any better as it comes on the heels of a grueling series that was as mentally exhausting as it was physical.
Toronto upped its record in extra innings this season to 3-5. That seemed rather improbable earlier in the game when the Blue Jays fell behind 4-1 in the second. But they began to battle back in the third when Edwin Encarnacion recorded his 16th home run of the season with a solo shot to left.
Toronto went on to add two more in the fifth on a towering double to center by Adam Lind. It was part of a three-hit night for Lind, who has arguably been the Blue Jays' most consistent hitter of late. Lind has multiple hits in each of his past three games and he's now hitting .323 on the season despite batting just .226 on May 3.
Lind's double allowed DeRosa to become the hero in the 11th, but in reality it's a moment that never would have arrived if not for yet another standout performance by the group that very rarely receives a lot of positive attention.
"They've been great all year, they truly have been great all year and we certainly needed them to be that way to keep our heads above water," DeRosa said of the relievers. "There's not much you can say, we trust every guy that [manager John Gibbons] is bringing out there.
"Delabar's been great, Cecil's been amazing, Casey's been amazing, the list goes on and on. You never want to use them that much, but tonight was the exception of that rule."
Gregor Chisholm is a reporter for MLB.com. Read his blog, North of the Border, and follow him on Twitter @gregorMLB. This story was not subject to the approval of Major League Baseball or its clubs.