Fowler's HRs back increasingly impressive De La Rosa
Center fielder hits two of four Rockies blasts to take series from LA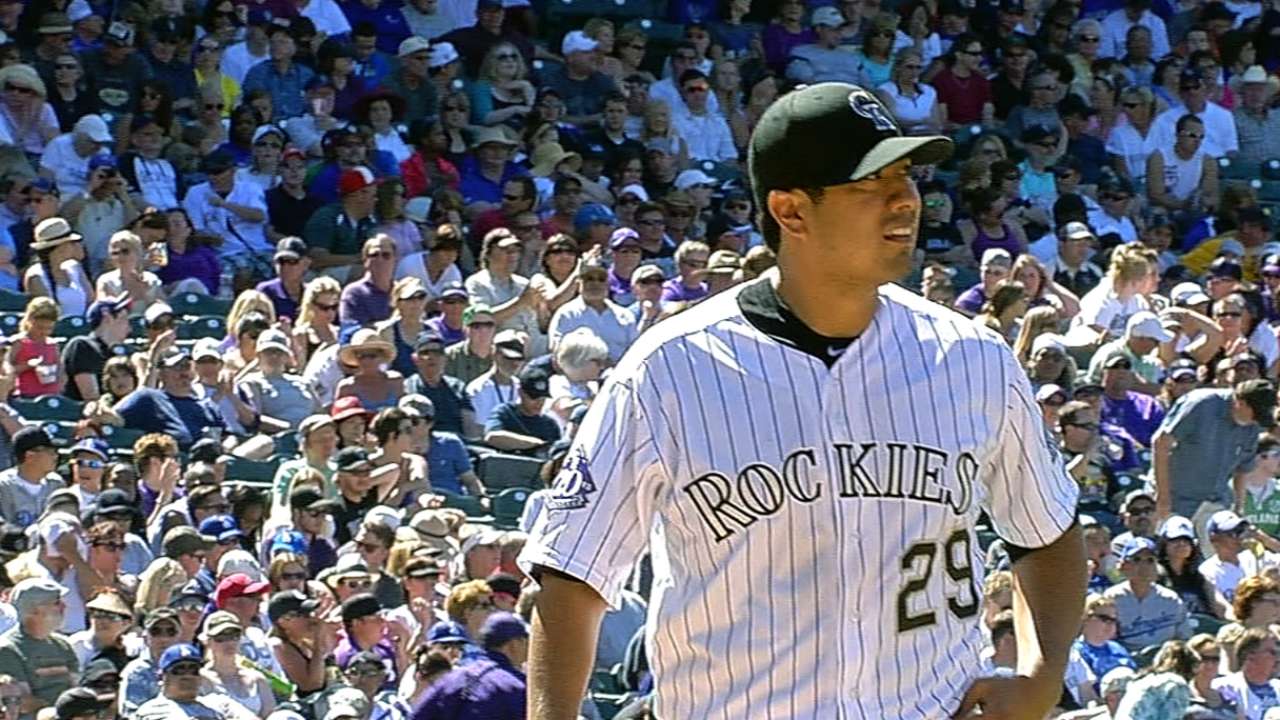 DENVER -- Before Sunday, Jorge De La Rosa had never cracked the Dodgers' spell. But the Rockies starter gave up just two runs over seven innings and was buffeted by four home runs in a 7-2 win at Coors Field.
De La Rosa (7-3) stepped onto the mound Sunday with a dismal 0-8 record and 6.66 ERA in 10 career starts against Los Angeles. With the offense cranking out runs behind him, he used his 94 pitches wisely to strike out five and walk only two, lowering his ERA to 3.10. He is a perfect 5-0 in six starts since May 7.
Sunday's win gave the Rockies two of three in the series and put them in a tie with the Giants for second place in the National League West, 2 1/2 games behind the D-backs. The victory was also Colorado's 30th win, which it did not earn until June 29 last year.
"We played in a lot of tight games lately," manager Walt Weiss said. "It was nice to get out in front and hold the lead and put the game away. It's a nice way to win."
Dexter Fowler, Saturday's hero with a 10th-inning, walk-off single, jolted the Rockies offense with a leadoff homer to right-center. It was his second leadoff home run of the year and the sixth of his career -- and his afternoon was just beginning.
When Fowler saw a low slider from Dodgers starter Matt Magill in the sixth, he sized it up for his second home run into the back of the visitors' bullpen to put the Rockies in control with a five-run lead.
"It was awesome," Fowler said. "Never seen the guy before, but just looking for a good pitch to hit. He made some good pitches and I just put the barrel on it."
Fowler already hot bat --- he entered with a .415 on-base percentage, second highest in the big leagues -- and said he has excelled recently by keeping things simple.
"See the ball, hit the ball," he said. "When I get thinking too much, that's when I get in trouble."
Fowler capitalized on a rough outing for Magill, who struggled to find the strike zone hours after the Dodgers recalled him from Triple-A Albuquerque to make a spot start for a banged-up Hyun-Jin Ryu. The rookie became the first pitcher in the modern era (since 1916) to walk nine and allow four home runs in a single start, allowing six earned runs in six innings in the process.
Michael Cuddyer handed the Rockies a 5-2 lead in the fifth, when he splashed a belt-high slider from Magill (0-1) into the fountains beyond the center-field wall. The right fielder has seven RBIs over his past seven games.
The Rockies did their best impression of the Blake Street Bombers with former slugger Andres Galarraga recognized as he threw out the ceremonial first pitch before the game.
"I think we had some guys trying to impress the Big Cat," said Weiss, Galarraga's former teammate.
First baseman Todd Helton led off the fourth with a homer to right-center to put the Rockies up, 3-2. Though Helton is hitting just .231, two of his five homers this year came in this series.
Two batters later, shortstop Jonathan Herrera -- playing in place of Troy Tulowitzki, who got the day off -- walked, before DJ LeMahieu scored him on a single to center.
"I just couldn't find it today," said Magill, who had a 5.50 ERA in four previous starts. "I didn't feel my legs underneath me. I knew it would be a battle from the beginning. I just tried to go as long as I could. "
Carlos Gonzalez, who made a highlight reel-worthy leaping grab at the left-field fence on a Juan Uribe fly ball in the first, tried to reel in another web gem in the second. But this attempt came up short.
Skip Schumaker hit a fly ball to left field that flew beyond the glove of a diving Gonzalez and bounced around the left-field corner. Though Gonzalez threw out Schumaker as he slid into third, Schumaker was credited with a double that scored runners from first and second to tie the game at 2. It extended Schumaker's hitting streak to 10 games.
De La Rosa said the Dodgers had their eyes out for changeups and other breaking pitches, and to keep them guessing, he leaned heavily on his fastball.
"Command was very good," De La Rosa said. "I think I made that mistake with Schumaker, the changeup, but after that, I think I made better pitches, and that's why I made quick outs."
Adam Ottavino finished what De La Rosa started, holding the Dodgers hitless and striking out four of the six batters he faced in the final two innings. The Rockies used four different relievers in each of their past two games, but his efficient outing helped keep the bullpen arms fresh.
"I just wanted to get it over as quick as possible so I don't have to worry about getting anymore guys up in the bullpen," he said. "No anxiety, just want to make it nice and easy for us."
Ian McCue is an associate reporter for MLB.com. This story was not subject to the approval of Major League Baseball or its clubs.