Angels frustrated after falling again to Astros
Wilson fans nine in hard-luck loss as rally comes up short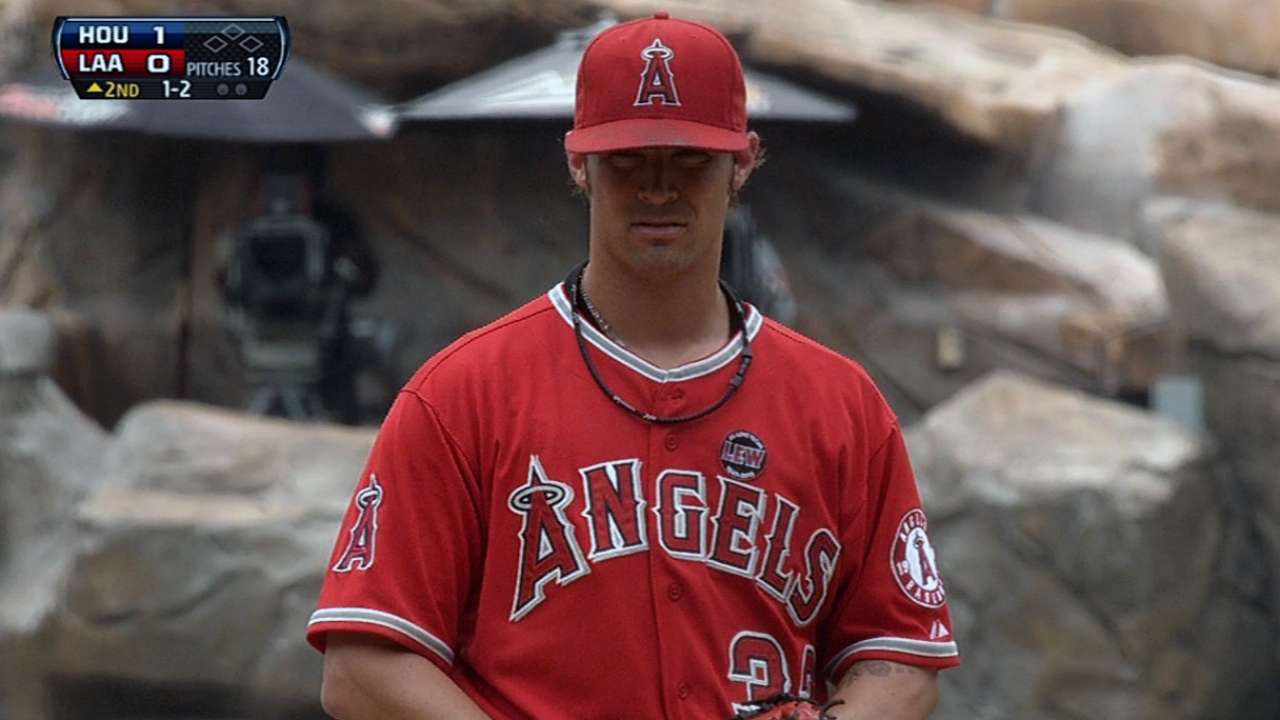 ANAHEIM -- It looked like the Angels had finally found their groove heading into this weekend, winners of 10 of their previous 12, climbing their way to four games below .500, pitching well and finally getting healthy.
Then came the Astros, with their last-place record, $21 million payroll and Major League-worst ERA.
And now the Angels are reeling again.
"That's the frustrating thing about our season so far is that we really haven't been consistent," C.J. Wilson said Sunday, after a 5-4 loss he did everything he could to prevent. "If we were 6-4 out of every 10 games, obviously throughout the course of the whole year that'd be very good. But the benefit of having a somewhat streaky offense is it's going to go in a funk every once in awhile. And we've also had some games where we've run into pitching that has been outstanding."
The Astros' pitching isn't outstanding. In fact, they have the highest ERA in the Majors (5.12) and it isn't even close.
The Angels, who came into the season with the hype of sporting baseball's most potent offense, have now averaged a shade over three runs in nine games against their newest division rival.
"We've played like trash against them, to be honest with you," Wilson said after giving up three runs in 7 1/3 innings of the losing effort, his ERA now 3.93. "We just haven't played well. That's really what it comes down to. It's frustrating because we've been put in the position to win those games and have not come through."
Sunday's defeat was their third in a row of this four-game series. A few hours after getting blanked by Bud Norris and Co., the Angels totaled two runs against Jordan Lyles, gave an effective Wilson very little margin for error and failed to capitalize on premium run-scoring opportunities, ultimately dropping to 25-32 and 10 1/2 games back of the Rangers in the American League West.
Their record against the Astros, who are 17 games below .500 despite winning four straight: 3-6.
"You guys [the media] make a lot of who we're playing; the fact of the matter is you're playing a Major League Baseball team," Angels manager Mike Scioscia said. "They've got good players, and you have to play well to beat them -- any game that comes into the schedule. Right now, they're beating us in every aspect, and we're not helping ourselves by doing what we need to do on a consistent basis."
The Angels had their chances. After Wilson exited with runners on second and third and one out in the eighth, Michael Kohn recorded back-to-back strikeouts to preserve the one-run deficit, then Albert Pujols (double) and Mark Trumbo (walk) reached base to start the bottom half of the inning.
But Josh Hamilton flied out to center, capping another 0-for-4 day at the plate, and Howie Kendrick grounded sharply into an inning-ending double play.
"I'm trying to figure it out, man," said Hamilton, now with a .216/.277/.380 slash line in a season that's 57 games old. "Even if you felt good and you're not getting results, you start tinkering with things, trying to figure out how I can get results. I've told you guys before, you can feel good and suck and not get it done, and you can feel horrible and get hits. It's not a magic fix or cure."
The Astros added a couple runs in the ninth against Garrett Richards, capitalizing on a throwing error by third baseman Alberto Callaspo -- one of two on the day -- and using a two-run, bases-loaded single by Matt Dominguez to make it a 5-2 game.
Hank Conger's ninth-inning two-run homer made it a one-run game, with none out and the top of the order on deck.
And then the Angels did nothing against Hector Ambriz.
"It was a really unfortunate game because we need to win," Wilson said. "We need to beat everybody, especially teams in our division. When you lose a one-run game, it's frustrating. Last night, we didn't score. Today, we lost by one. Hopefully the postgame pizza gets everybody a little more offensive for tomorrow."
Alden Gonzalez is a reporter for MLB.com. Read his blog, Gonzo and "The Show", and follow him on Twitter @Alden_Gonzalez. This story was not subject to the approval of Major League Baseball or its clubs.